Trend Watch: Are the Trail Blazers title contenders?
The calendar has turned over to December, which means one full month of the NBA season is officially in the books. What have we learned so far and what should we be keeping an eye on?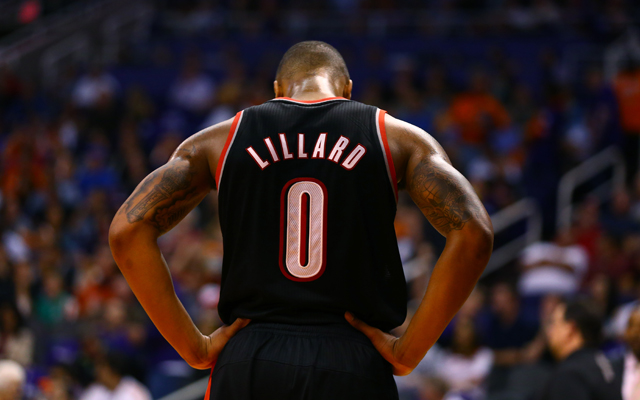 The calendar has turned over to December, which means one full month of the NBA season is officially in the books. What have we learned so far and what trends should we be keeping an eye on? 
The Trail Blazers might not be the real deal, yet
They're 15-3, on top of the Western Conference and have wins to their name against the Pacers and Spurs. The Blazers have been nothing short of fantastic. 
But overall, they've played a pretty soft schedule taking on eight Eastern Conference teams along with six games against the Lakers, Suns and Kings. (And they've lost twice to the Suns.)
It's not to say the Blazers aren't a contender, it's just that we might want to wait and see a little still. They have a big one at home tonight against the Thunder, which can go further in making statements about their validity. What the Blazers have done is restructure an all-time terrible bench with a couple quality veterans like Mo Williams and Dorell Wright, while developing their top tier players. 
Now with LaMarcus Aldridge, Damian Lillard, Nicolas Batum, Wesley Matthews and a serviceable center in Robin Lopez, Portland features a good starting five and a passable second unit. They can score with the best teams in the league, averaging 107.4 points per 100 possessions (third in the league), but defensively, they're inconsistent, allowing 103.1 (22nd overall). 
After they beat the Pacers on Monday, there was a lot of folks ready to throw their name into the contender hat and while they very well might be there, it still seems a bit premature. Let's see them against the likes of the Thunder, Clippers, Grizzlies, and Rockets (who they've lost to already) before going all in with it. 
The Eastern Conference remains a complete dumpster fire
Only two teams in the conference now have a positive point differential. TWO. 
Check this via Tom Haberstroh of ESPN.com: "The Knicks are three games out of first place in their division and three games away from 0-16." 
There are currently 13 teams in the East at or below .500. There are 12 in the West at or above .500. The East is so bad even the Houston Texans are like, "Man, you guys stink."
That said...
The Wizards look kind of OK finally
They're 9-9 and with a game ahead against the Bucks, could be over .500 in December for the first time since the Gilbert Arenas era. 
And I don't know if this a good thing or a bad thing (probably bad), but they might be the third best team in the East. 
Put them together healthy and you've got a point guard maybe taking the leap in John Wall, a budding scoring star in Bradley Beal, a terrific interior tandem in Marcin Gortat and Nene, and a few capable role pieces like Trevor Ariza, Martell Webster and Trevor Booker. 
The Wizards' breakout -- if we can call it that -- has seemingly been coming for a couple of years know but it's been derailed by a number of things. This season, even with some bad luck, they're pressing on and still playing well. Helps that they're playing a lot of Eastern Conference teams, but let's conveniently ignore that. 
The Thunder might have the best bench in the league
They traded their Sixth Man of the Year James Harden. Then they didn't re-sign his replacement Kevin Martin. And yet somehow, the Thunder's second unit appears to be better than ever. 
With Reggie Jackson and Jeremy Lamb, along with staple Nick Collison, captain intangible Derek Fisher and bruising rookie Steven Adams, the Thunder have assembled a deep second unit that's not just holding the line until Russell Westbrook and Kevin Durant check back in. It's a group that's increasing leads and making up deficits. 
Consider this stat about Jackson, who could be an emerging Sixth Man candidate: With Jackson on the floor, the Thunder are allowing 91.2 points per 100 and scoring 109.7. With him off, allowing 105.2 and scoring just 98.2. He's got a net efficiency rating differential of 18.5, which is 13.2 higher than Kevin Durant. 
Tuesday against the Kings, Lamb scored 14 on 5-8 shooting and Jackson had 13 on 5-10. As a tandem, they're averaging 20.7 points, 6.1 rebounds and 4.8 assists in about 44 minutes a game. Neither may have the starpower as their predecessors, but in terms of effectiveness, the Thunder might have their deepest team yet. 
Can the Pelicans survive six weeks without Anthony Davis?
The simple answer is no. They won their first game post-Brow, but sustaining that over the period of a month and half is just too much to ask for a team as thin up front as they are. 
The drop-off with Davis on the bench is pretty noticeable, specifically on the defensive end where the Pelicans go from allowing 102.8 points per 100 with him on versus 106.8 with him off. 
The shame is, the Pelicans just got through digging out of a little early season hold to now sit at 9.8, poised to get into the Western playoff discussion. Now they've got to survive six weeks with Ryan Anderson starting at power forward alongside Jason Smith. Which isn't bad by any means, but the result is the Pelican bench takes a beating with basically only Jeff Withey and Lou Amundson as the available bigs on it. A little foul trouble any given night and the Pelicans are sunk. 
Get well soon, Brow. 
Stats via NBA.com/stats
Cavs star chose to be very secretive when talking to Lakers rookie after Thursday's game

New York announced Porzingis would not return shortly after star forward left game

Teletovic missed the final three months of 2014-15 season with Nets recovering from same i...
Keep it right here for all of the news, notes, scores and highlights from around the leagu...

The NBA's City edition Nike jerseys are bold and very different

The Wolves may be smoke and mirrors, but the Pacers have the look of a team that can hang in...