Trend Watch: Five big deadline day questions
The trade deadline is approaching, which means that teams may or may not trade players. Here are five teams that have big trade questions ahead of them on Thursday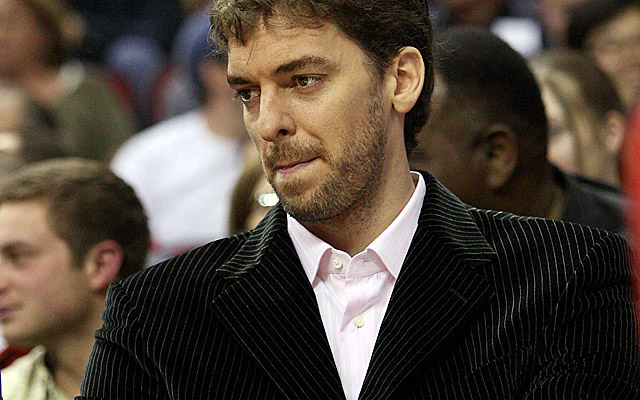 The trade deadline is approaching, which means that teams may or may not trade players. So for this week, Trend Watch becomes Trade Watch.
Here are five teams that have biggest questions ahead of them on Thursday:
1. Should the Lakers trade Pau Gasol?
Whether it's Pau Gasol or someone else, the Lakers need to take advantage of their current assets and get some return. They have virtually the entire roster on an expiring deal, and among Jordan Hill, Jodie Meeks, and Steve Blake, there are decent players there that could help a contender. 
So get some return on your short-term investment. Get draft picks, whether they're for this season or next. Get a young player in return. Get something. Letting those deals just expire with the idea you'll fix everything in free agency is nice, but it's a bit of a pipe dream, unless LeBron or Melo truly are heading to LA. 
The big question though that hangs over is what to do with Gasol. Everyone's on the fence about it, but you can put me on the side that says trade 'em. He's your most valuable asset by far and unless you genuinely have him part of your future building plan, then what's the point? He's 33 years old and while he showed in January he still has some terrific basketball left in him, those days are going to come more and more inconsistently. 
Gasol could certainly pull a first-round pick form somewhere, maybe even two. Consider a potential deal with the Suns that absords Emeka Okafor's expiring deal and two of their four first rounders. That's a deal you do if you're the Lakers all day every day.
So what's the hesitation? I think they let the name of the organization get in the way. The idea of a smart, patient, steady rebuild isn't the way of the Lakers, particularly when Kobe Bryant is 35 and anxious to get back to the Finals.
But this has to be a process, because outside of using a Jedi mind trick to get LeBron to sign this summer, there isn't a quick fix. The best way to restock in today's NBA is through draft, devlopment and financial flexibility. The Lakers could potentially have all of that if they play their cards right on Thursday.
Pulling the plug on Gasol would be painful, and would certainly ruffle feathers. But rebuilding is always painful and is going to include hard truths and harder choices. Gasol has accomplished a lot in LA, and there's no question that Kobe will be opposed. And there's also this: Is there a guarantee that Gasol re-signs with the Lakers in the offseason anyway? Common sense says yes, because of his loyalty and history with the team, but again, he's 33 and if he can see the writing on the wall, maybe he looks elsewhere. 
The Lakers have a big opportunity to set themselves up to be in a stronger rebuilding position than ever. It's not just having picks, it's having youth and talent that's productive on rookie scale deals. Nothing is more valuable in today's NBA. You have to maximize it all if you want to dig out of the kind of hold they're in. 
2. Do the Raptors keep Kyle Lowry? 
This situation is more complicated than most. On the one hand, Lowry has experienced a resurgance, turning into maybe the East's best point guard as the Raptors have settled into their role as the conference's third-best team. 
On the other hand, his price tag is going up, and up, and up. 
Masai Ujiri has been down this road before in trying to sort out what to do with a coveted player at the deadline on an expiring. And while Lowry does not equal Melo, he does have a history of playing the odds and taking the low-risk path. 
But this is different. The Raptors are experiencing a new world in which they're... good. And to break up a good thing now wouldn't feel right. Especially because with the current state of the East what it is, there's a very real and good chance that not only will the Raptors have homecourt in the opening round of the playoffs, but that they could be headed into the second round to play the Heat. 
That might be a death sentence, but at the same time, that's some incredible experience and something a tortured fanbase would truly cherish the chance at. If it's me, I'm holding on to Lowry for dear life and seeing what happens this season. It's probably the wrong move for the long-term future of the franchise, but it's the best move for right now.
3. Is now the best time to deal Rajon Rondo?
The Celtics are in an obvious rebuild. Danny Ainge has done an exceptional job of acquiring assets and picks while still maintaining a clear vision. 
But so much of it gets cloudy when it comes to Rajon Rondo. It's not that the Celtics have a contingency plan in place, but the fact Rondo becomes an expiring deal the summer of 2015 complicates things. There haven't been any apparent issues with him and Brad Stevens, but Rondo is a major competitor and isn't likely to be comfortable sitting idle as the franchise goes through a painful reconstruction. 
Do you move him now, or later? There was a recent report that said Rondo could be had for two first round picks. So it sounds like he's available. But there's also this option: You don't move him at all. I don't quite get the insistence in including Rondo in every deadline discussion just because the Celtics stink. Here's the thing: Trade Rondo, and immediately Ainge's job will be to find a player just like him. A franchise cornerstone that you can build around. 
Why give that away? The Celtics are already headed for a high lottery pick and have assets galore set up down the road. But they've already accomplished the hardest part in rebuilding a roster -- they have a star. Give up Rondo and you're going to then be looking for him all over again.
4. What do the Pacers do with Danny Granger?
OK, so I said this is "five teams that should make a trade," but I'm not entirely sure the Pacers should. They obviously have an issue with Danny Granger, and there are major pros and cons to dealing him versus keeping him.
Dealing him, you get something back for a player that's assuredly gone in the summer. And whether it's a draft pick (or two) or maybe even a contributor, might as well get something instead of nothing.
At the same time, keep him and you've got a guaranteed $14 million coming off your salary cap number this summer, which would be very helpful in trying to keep Lance Stephenson. The Pacers need every penny they can get. 
So if they made a move sending Granger elsewhere it would need to include a couple things: 1) an expiring deal in return or 2) assets that don't carry any actual cash value. The smartest trade would probably be for a first round pick that creates a huge trade exception, so that the Pacers can get something without taking on any salary. 
But then again, is Granger worth giving up for that? Or is there a chance he could help towards winning a title? The Pacers have obviously been extremely successful without him, but since he's returned from injury, he's been steady in the rotation, averaging around 23 minutes a game. He's a big body to throw at LeBron, he can hit a 3 and there's the chance he could get hot and win you a playoff game. Remember: This is a guy that averaged almost 26 points a game in a season and has been an All-Star. He can play. 
Is it worth sending him off just to try and get something in return? So here's maybe the smartest play: Hang on to him the rest of the season and this summer, much like the Thunder did with Kevin Martin, get creative and when Granger signs with his new team, work to make it a sign-and-trade, creating a trade exception. At least it's something back and you sort of get the best of both worlds. 
5. Are the Knicks going to trade Carmelo Anthony?
No. Quit asking.
The Warriors rookie threw down an off-the-backboard dunk while up 25 late in the fourth qu...

The third member of the club might come as a surprise

LaVar said Lonzo won't lose again this week, and Marcin Gortat found that pretty funny
Eric Bledsoe is going to be traded at some point and these tweets will explain how it got...

Curry's outburst will cost him some money, but he won't miss any games

A look at the ups and downs for various suitors as Bledsoe has left the team.