Trend Watch: Five to watch for 2014
The year of 2013 is in the books, and what a one it was for the NBA. What can we look forward to watching for in 2014?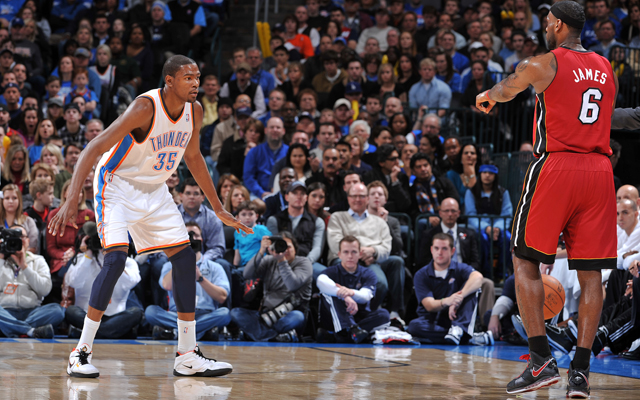 The year of 2013 is in the books, and what a one it was for the NBA. Ray Allen 's shot, the Miami Heat 's second straight championship, devastating injuries, great games, budding superstars -- it was quite the memorable one.
But what can we expect for 2014? Here are five big trends to keep an eye for the new year:
1. Is the West going to stay cluttered?
The Oklahoma City Thunder are hurting without Russell Westbrook , but appear to be good enough to at least somewhat maintain their pace. The San Antonio Spurs are a little more inconsistent than they've been in years past. The Los Angeles Clippers are good, but not great. And the Portland Trail Blazers , while surprising and impressive, lack necessary depth it seems to remain atop the pile. 
So here's what we've learned so far: It's pretty wide open.
When healthy, the Thunder appear to have separated a bit as the West's best team. But there's too much uncertainty around them and a Durant only-led Thunder are ripe for the taking. So with Westbrook out, the West is up for grabs a bit, though with all but two teams five or more games back, the Thunder, Blazers and Spurs will have to do a bit of stumbling to open the door for the Clippers, Houston Rockets or Golden State Warriors . 
On the tail end, the Minnesota Timberwolves and New Orleans Pelicans are pushing, but still three back of the Dallas Mavericks for the eight-seed. The Phoenix Suns don't seem to be letting off the gas pedal quite yet and while it will be tough for them to maintain what they've done, they at least seem firmly in the Western mix. 
The West truly is the anti-East. It's just as messy, but for a whole different kind of reason.
2. Who's the first coach fired?
Amazingly, even with the disappointment felt all over the league, specifically in the city of New York, not a single coach has been canned yet. Mike Woodson holds on for dear life. Jason Kidd's seat is as hot as the surface of the sun, yet he remains. 
So who's the first to go? Odds are it'll be either Woodson or Kidd, but the Washington Wizards are probably only a five-game skid away from Randy Wittman feeling the heat again. Or maybe Mo Cheeks, who's clashed a bit with his roster.
I think what's changed this season isn't increased patience among ownership groups and front offices -- it's just that there are so many first-year head coaches in the league. There were 14 coaching changes last offseason, and even with the eagerness for some teams to win, you have to give a guy a little bit of a shot.
Plus, with some front offices putting rosters on the floor that are maybe supposed to be losing, some of these losing coaches might even deserve a raise. 
3. Kevin Durant is going to be LeBron James ' only MVP challenger.
There are other players worthy of getting a mention in the discussion -- Anthony Davis , Kevin Love , LaMarcus Aldridge , Paul George . But in terms of who can actually dethrone the King from his perch atop the NBA's premier award, it's Durant and Durant only. 
And really, if you could only take a snapshot of the first two months and ignore all other variables, Durant probably has had a better open to the season. Despite a home loss to the Blazers on New Year's Eve, the Thunder have outperformed the Heat the first two months and Durant's numbers are at least comparable to LeBron's. LeBron's efficiency numbers are outrageous and he has a slight edge in PER, but Durant is averaging more points and rebounds, and just two assists fewer. Durant's had six games this season with at least 30 points, 10 rebounds and five assists -- LeBron has had none. 
But that's where the MVP debate is. LeBron owns it so much and has separated from everyone for so long that we're left searching for reasons to make a case for someone else. But here's what could make it happen for Durant: With Russell Westbrook out the next few weeks or months, he'll have the opportunity to earn a little bit in that "valuable" category. If he can carry the Thunder and help them maintain the top one or two spots in the West without his superstar running buddy alongside, he'll score major perception points. 
And that's what it's going to take. Because LeBron rules the NBA and it's his award to lose. He's reinventing himself, going from a nightly triple-double threat to the most destructively efficient player in the world. He could be heading for his fifth MVP in six years, joining only Bill Russell and Michael Jordan to have that many, and one off Kareem Abdul-Jabbar for most all-time. And unless Durant can reach new levels himself and change the way the media thinks about this award, it's probably going to happen.
4. What will the Eastern Conference playoff picture look like?
Through the first two months, the trend emerging in the East has been obvious: There are two good teams -- Miami and Indiana -- and everyone else shuffling around. How many wins will the third seed finish with? The current team in third -- the Atlanta Hawks -- are on pace to go 46-36. That seems a little shocking but consider this: Last season's third place team in the East -- the Brooklyn Nets -- went 49-32. So it's not extremely unusual. 
But in Atlanta's case, who has separated a bit as the third best team, the Hawks will be without Al Horford the rest of the season. So getting to 45 wins could be difficult. Winning 40 or 41 may be enough for third. 
What is a little eye-opening is that the fourth-seed is likely to be under .500, and maybe well under. The Toronto Raptors currently lead the Atlantic with a 14-15 record and with the way the Nets and New York Knicks are floundering, it's possible a team that won 35 games could have homecourt advantage in the first round of the playoffs. 
Here's how bad it is in the East: The Milwaukee Bucks , who are currently the worst team in basketball, are only six games out of a playoff spot with about 50 games to go. They could realistically go on a five or six game winning streak and be right back in the postseason picture. 
And it doesn't seem to be changing any time soon. The Boston Celtics are 13-18 and sitting in eighth, on pace to go 35-47. That's horrific. But it's the way of the East right now.
5. Who's tanking?
You should be following EOB bro Zach Harper's weekly Power Tankings, but the emerging trend so far this season is that tanking is for losers. 
Take the Suns for example. A team by all appearances set to be intentionally terrible to possibly add an elite talent to a young, budding roster. Instead, that young, budding roster is 19-11 heading into 2014 and sitting fifth in the West. 
Or take the Sacramento Kings . A team positioned to be bad to add another lottery pick. Well, they are bad at just 10-20, but they aren't trying to lose -- we think. They added Rudy Gay and appear to want to be better this season. 
The Eastern Conference terribleness is complicating the tanking because a team like the Raptors seem to want to be bad, but they can't help get in their own way. It's like that Seinfeld episode where George can't get himself fired. "I never thought I'd fail at failing ... I feel like I can't do anything wrong." That's the Raptors and so many other teams early on this season in tanking.
Or here's another thought: Maybe tanking is mostly a myth. There's no doubt that some front offices position to put a roster together that may be less than competitive, but in terms of the players on the floor intentionally losing? That's no happening. These guys are playing for contracts and pride. And with young teams like the Philadelphia 76ers , the Orlando Magic and others, they're trying to develop young players all at the same time. 
Is there a tanking problem in the NBA? Maybe. Probably. But look at a team like the Thunder. Sometimes it's just the best way to build. 
Rap mogul supports the vision the outspoken father has for his brand and sons

Deciding who to watch on League Pass can be difficult, but these rankings promise to help

Veteran forward signed a one-year deal with the Knicks in offseason
Knicks forward had his truck stolen out of his driveway

The Celtics will send No. 34 to the rafters in Boston when they take on his old rival

It's never too early to look at June's NBA Draft