Trend Watch: Heat, Thunder and a showdown of superstars
The Thunder play the Heat in what's probably the biggest game of the NBA season to date. Why? Because it's LeBron versus Durant.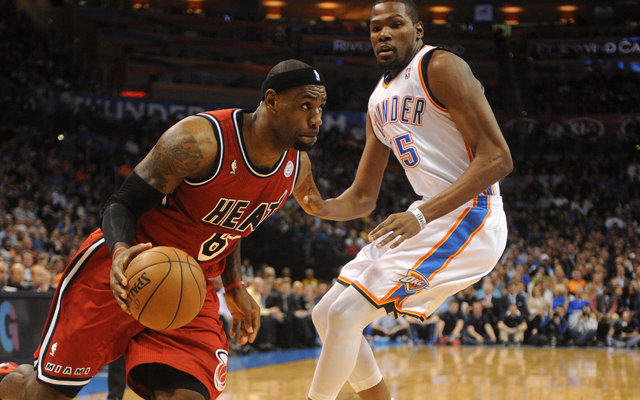 The Thunder play the Heat in what's probably the biggest game of the NBA season to date. Why? Because it's LeBron versus Durant. The Thunder have won eight straight. The Heat are two-time defending champions. The MVP award is going to one of these two players. It's as big as they come in the regular season. 
Let's look at a few trends centering around these two juggarnauts:
The defensive gap is closing
The long-standing trump card in comparing LeBron James and Kevin Durant, besides championships, has always been defense. LeBron's great at it, Durant average at best.
Except, that might not be true anymore. 
Defense is a tricky thing to evaluate, because it's so subjective. There really aren't indisputable stats to use to illustrate defensive dominance, and our eyes can lie to us based on biases and reputation. 
That's why the numbers are important. They're part of the overall snapshot of trying to capture just how well a player is performing on the defensive end. Watching the games is step 1. But understanding what you're seeing is step 2, and in order to do that, the numbers help. 
So how does LeBron compare to Durant this season? Name a defensive measure, and Durant is better right now. The common box score stuff -- steals, blocks, defensive rebounds -- check, Durant. Advanced stats like defensive rating and Defensive Win Shares -- Durant again. (And significantly too, I might add. LeBron's Defensive Win Shares -- a stat used as an estimate of wins contributed by a player solely on his defense -- is 1.8, to Durant's 3.0. LeBron's defensive rating -- points allowed per 100 possessions when a player is on the floor -- is 103.9 to Durant's 99.7.)
The Heat are allowing 98.0 points per 100 possessions when LeBron is sitting on the bench, compared to the 103.9 with him on the floor. His defensive rating is second worst on the Heat for players that have appeared in at least 30 games, only ahead of Michael Beasley. The Thunder are better defensively with Durant on the bench too, but the margin is slim, and OKC's still good with KD out there (96.7 off, 99.7).  
And then there are MySynergySports stats. Now, a disclaimer: Sometimes these can mislead because of limited sample size, and misunderstanding situations. But still, across the board, they're kind of eye-opening. 
Overall, Durant's allowing opponents 0.78 points per play (ppp) and only letting them shoot 34.3 percent. LeBron is allowing 0.86 ppp and letting them shoot 38.3 percent. But here's the one that pops: In isolation, opponents are scoring just 0.48 ppp against Durant, shooting an anemic 9-43 against him (20.9 percent). Against LeBron, it's 0.92, shooting 42.1 percent. Numbers may lie sometimes, but there's a lot of truth jumping out with a margin like that.
So, is Durant a better defender than LeBron? Of course not. Not saying that, nor implying it. But with defensive evaluation so reputation based, maybe we do need to release some previous prejudices and stereotypes and reconsider. Durant used to be a bad defender. He's not anymore. He's a really good one, and if the citation you use to suggest LeBron is completely superior to him is the defensive end, maybe you too should reconsider.
Stars without their stars
This season, both Durant and LeBron have had to deal with playing without their superstar teammates. Durant has had to do more of it, as Russell Westbrook's missed 21 games. Dwyane Wade, on the other hand, has missed 13. 
The Thunder without Westbrook: 15-6. 
The Heat without Wade: 7-6. 
The Thunder appear to be not just surviving, but thriving without their All-Star point guard, while the Heat have struggled with lesser opponents. For the Thunder, the explanation as to why they've been so good is simple: Kevin Durant has gone bananas. His January numbers are obsence (36.9 points, 6.2 rebounds, 6.1 assists and a PER of 36.8), but really, Durant's taken his play to new levels all season when Westbrook's been off the floor. 
Per NBA.com/stats, with Westbrook off the floor, per 40 minutes, Durant is averaging 36.5 points on 52.7 percent shooting. With Westbrook on, 28.6 on 48.7. Durant's usage rate skyrockets from 28.3 with Westbrook on to 34.6 with him off. Nobody would suggest Durant is better without Westbrook. It's just there's more of the offense for him to use and explore, and more of anything for Durant is always a good thing. 
For LeBron, with Wade off the floor, per 40 minutes, he averages more points (29.9 to 25.9 with him on), but his efficiency dips, if only slightly (58.8 percent from the field with him on, 57.4 percent with him off). LeBron shoots a lot less, and obviously his usage drops. For him, it's not that he's failing to maintain or even go to another level without Wade. It just reveals that the rest of his team around him isn't nearly as effective without both stars pressuring the defense together.
MVP ramifications
The award certainly isn't on the line tonight, especially since Durant has added such a distance in the last few weeks. But for LeBron, a Thunder win in which Durant plays well may mostly end it. There would still be some 30 games to go, and a lot could happen (like a 30-game Heat win streak, but OKC going into Miami and beating the Heat without Westbrook would be quite the statement.
Especially since, including the Finals, the Thunder have lost to the Heat six straight times. LeBron's best shot at reclaiming the MVP chatter from Durant is to simply beat him both times this season and push that to eight. Then the narrative becomes Durant can't beat LeBron, and even if Durant puts up the numbers, LeBron wins. 
But a win tonight for OKC? It might just be all over.
The smallball battle
In the 2012 Finals, in which the Heat won 4-1, the series was painfully close, decided by a handful of plays that seemed to fall Miami's way rather than OKC's (other than Game 5, which was a slaughter).
But one of the more disturbing trends to emerge in the series was Scott Brooks' and the Thunder's steadfast refusal to play Miami small. Erik Spoelstra was in a mode of starting Chris Bosh at center and LeBron at power forward, but Brooks stuck with his regimented starting five, trotting Kendrick Perkins and Serge Ibaka out together for extended minutes. 
In wasn't that Perkins couldn't match up. It's that the Thunder couldn't score. In the five games, the Thunder scored only 99.5 points per 100 possessions with Perkins on the floor, versus 111.0 with him off. In the two games last season against the Heat, more of the same. Just 96.1 points per 100 with Perkins on, 108.8 with him off. And last season, Perkins defense didn't matter as Miami piled up 115.2 points per 100 with him on the floor. 
So the question is, will Brooks and the Thunder finally adjust to this? The answer is going to be no, which only means there will be plenty of questions to ask after the game if the Heat make it a seventh straight win.
Russell was awarded the Presidential Medal of Freedom in 2011 by Barack Obama

T.J. Warren gets paid big money by the Suns in a four-year deal

Melo didn't hold back on his feelings about President Donald Trump and urges for help in Puerto...
The Wizards star says the NFL won't change until important players like Brady and Rodgers speak...

Popovich spoke at length about sports, race, culture, and politics during Spurs media day on...

Carmelo Anthony finds the idea of coming off the bench very funny