Trend Watch: Time for the Lakers to embrace tanking
The Lakers are falling fast, the Clippers are getting by without Chris Paul and a bunch of teams are starting to show their tanking colors.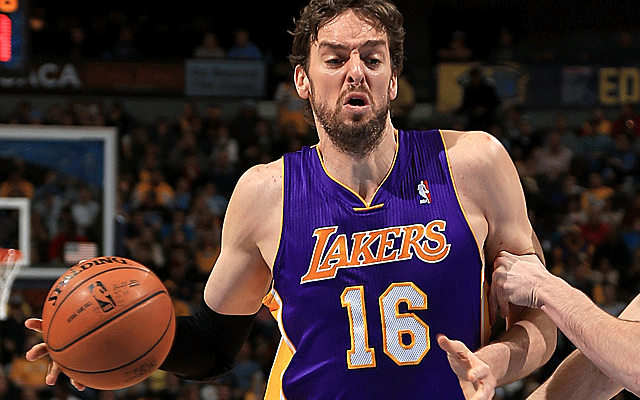 Another check in on what's trending in the NBA over the last week, including tank wars starting to heat up and why the Los Angeles Lakers should consider joining in. 
Time to call it, Lakers
I'm ready to. Time of season, 12:21 p.m. ET, January 15, 2014. It's over Lakers. This season isn't going anywhere. It's not getting any better. You're 14-24 and now 7.5 games out of eighth in the West. You've lost five straight. And even with Kobe Bryant back in a few weeks, he's not going to save you and turn this thing around.
It's time to embrace tanking.
Imagine what the Lakers could have going for them. They only have three guaranteed deals on the books for next season, assuming Nick Young opts out ( Steve Nash , Kobe Bryant and Robert Sacre ) for a total of about $40 million.
(Wait a second, Nash, Kobe and Sacre total up to $40 million, or the same amount the Miami Heat are paying LeBron and Wade this season? Oh dear.)
Point is, the Lakers have some money to play with in free agency. They could sign one max player, and have a little left over. They aren't scared of the tax, so sign-and-trades are wide open as well as the mid-level exception. So they could quickly retool the roster in free agency.
But imagine bottoming out this season and landing a top five pick in the draft. The Lakers need to face the reality that Kobe is not going to be Kobe much longer and it's time to find the new Black Mamba in L.A. Hunting stars in free agency is fine, but building through drafting a long-term franchise cornerstone is the way to go.
With so many potential game-changers in this draft, the Lakers could bring in Andrew Wiggins, Julius Randle, Jabari Parker, Dante Exum or Aaron Gordon to go WITH Kobe and whoever the add in free agency. If they were only willing to give up on this season, they might have the opportunity to get the best of both worlds. A decent roster rebuilt through the open market this summer, plus a future star to develop as the long-term franchise savior.  
Plus, knowing the Lakers and their good fortune, I'm sure the No. 1 pick would land in their pocket anyway. 
So trade Pau Gasol , talk Kobe into resting a little longer and just dig in for a couple months of Xavier Henry , Nick Young and Jordan Hill running the show. It'll hurt now. I get it. You're the Lakers. You don't tank. You win.
But how does Andrew Wiggins wearing No. 22 in purple and gold for the next 15 years sound to you?
Heat defense is better without LeBron?
Just an emerging season trend worth watching: With LeBron James off the floor, Miami is allowing 96.3 points per 100 possessions, which would rank them second overall in the league. With him on the floor, they're allowing 103.9 points per 100 possessions, which is middle of the road. 
What's the deal with that?
The easy explanation is that LeBron -- and the Heat -- are a bit complacent and/or downright bored. They're riding the wave of back-to-back championships so getting up and excited for games against the Milwaukee Bucks on a Tuesday isn't exactly thrilling. 
But there's no doubt that the Heat are setting a few bad habits. LeBron's defense hasn't been glaringly bad this season, but it certainly hasn't been the suffocating blanket we're accustomed to. Fewer chasedown blocks, fewer game-changing steals, fewer lockdowns on opposing stars. 
Probably just a blip on the radar for LeBron and the Heat, but certainly something to watch.
Tank wars
The Boston Celtics have lost nine straight. The Philadelphia 76ers have lost four straight. The Orlando Magic have lost eight straight. And the Bucks have lost six straight. 
It took a little while to heat up, but the tank battle in the East is finally on.
The Los Angeles Clippers are getting by without CP3
Since Chris Paul 's injury, the Clippers are 3-1, with the lone loss coming in blowout fashion in the first game without him against the San Antonio Spurs . Now, their success could be thanks to a scheduling quirk that allowed them to play the Magic, Celtics and Lakers, but regardless, the Clippers aren't drowning in CP3's absence. 
They take on the Mavs tonight, which will tell us quite a lot about where they stand, and then it's a seven-game Eastern Conference road trip with only two games against winning records ( Indiana Pacers and Toronto Raptors ). 
With the rest of the Western Conference hurting, the Clippers don't necessarily need to win a bunch of games. But if they are interested in homecourt advantage in the opening round, they will have to watch the onrushing Golden State Warriors who are currently the healthiest team in the West. 
Chris Paul is about five weeks out from returning and if the Clippers can just tread water and continue doing what they're doing -- beating the teams they should -- they could be in fine position when their star comes back.
DeMarcus Cousins is an All-Star
I've never liked the idea of team performance holding back a player in making the All-Star team. Because the All-Star Game is something that recognizes individual excellence during a season, and you can have a terrific season on a terrible team. 
So with that, DeMarcus Cousins needs to be an All-Star. He's currently third in the league in PER (27.66) behind Kevin Durant and LeBron James and is averaging 23.5 points, 11.6 rebounds and 3.1 assists on almost 50 percent shooting. In six games so far in January, he's at 27.5 points and 12.7 rebounds. 
The guy is a complete monster. He's always walked a thin line between headcase and knucklehead, but he seems to at least be focusing his issues onto the court and taking it out on opponents. He may be the most unguardable player in the league six feet from the basket and is well on his way to entering the "best big man in basketball" conversation. 
He's an All-Star. Forget the Sacramento Kings record, Cousins has earned his spot in spite of his bad team. That's how good he's been.
Green left the Warriors' opening night game vs. Houston with what the team is calling a knee...

Portis left Nikola Mirotic with facial fractures and a concussion after an altercation in Tuesday...

Bill Reiter and Reid Forgrave react to Hayward's injury and discuss Celtics, Cavs, Rockets...
In his Cavs debut, Rose's timely cut opened up Kevin Love for a 3-pointer which sealed the...

If the 21-year-old wing takes the next step, Washington could be much more dangerous this time...

Minnesota is another team poised to make the leap from pretender to contender