Trend Watch: Two MVP candidates, two mindsets
LeBron, Durant and differing mindsets, along with who the third best team in the East is, and who the third MVP candidate is.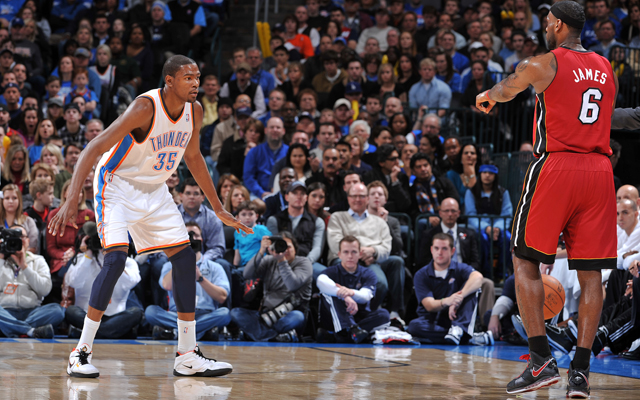 More: MVP impact? | Watch every bucket | Twitter reacts | Heat beat Bobcats
The big thing this week: LeBron James and his quest to close the gap on Kevin Durant in the MVP chase. So allow me to oversaturate the discussion with one more viewpoint:
A difference in MVP mindsets?
So LeBron scored 61 this week and got lots of people talking about the MVP and if the investigation was reopened. With a month and a half to go, the award is still up for grabs it seems, as the four-time MVP makes his push. 
But something pretty interesting happened on Tuesday in Oklahoma City. A night after LeBron erupted for his 61, his MVP contender Kevin Durant, sat on 42 points on 14-20 shooting against the hapless 76ers after three quarters, sparked by 21 in the third. The Thunder led 98-76 going into the final frame, and with the game seemingly put away barring a late push, Durant started the fourth on the bench and never re-entered the game.
Compare that to LeBron's 61-point night. The Heat led 98-79 going into the fourth quarter, with LeBron on 49 points points after a 25-point third quarter. LeBron, though, started the final quarter, and played 10:36 of it, finally checking out with 1:23 left in the fourth.
Obviously, two different games, two different opponents. But Durant clearly had an easy opportunity to fire back at LeBron's 61, going for 50 (or more) himself just 24 hours after. Instead, the Thunder superstar sat on his 42 points and watched garbage time play out. 
"I follow the league, I watch a lot of games, I saw [LeBron's] game. It was a phenomenal game," Thunder coach Scott Brooks said after Tuesday's game. "I don't judge other teams what they do. Kevin had a special game. There's no question. He had 42 points. If he would've made his free throws he would've had a chance for 50. It's his fault. I would've ran one more play for him to get 50 if he would've made his six free throws.

"But I don't do that," Brooks said of playing his starters in a blowouts. "Not that I'm complaining. We had a 22-point lead. And I thought the game was comfortable in our favor."
Durant, if you recall, had a 30-point streak that was captivating the sports world in January, but he let it expire in Brooklyn, as he sat the entire fourth on 26 points while the Thunder blew out the Nets. Last season, Durant let the opportunity to win a fourth consecutive scoring title slip as he sat out 22 fourth quarters in blowout wins. It's obviously just an organizational, and player-driven philsophy. 
"We trust our bench. We trust those guys. Scotty is one of those guys, if they've got the game, there's no need for us to put the starters back in. And I've been on board with that for three years now," Durant said last night. "I've sat out, starters sat out at least 20 fourth quarters last year. You know, it really doesn't matter, man. We just play to win. That's all we say. We play to win. We had a nice lead going into the fourth and we trust, Reggie, Lamb, CB now, Fish, Nick to keep the lead. If they would've went on a nice little run, I'm sure coach would've put us back in. But I think we had the game."
No one is judging LeBron for playing the fourth against the Bobcats. For one, there's a lot more danger in Charlotte making a fourth quarter push than the 76ers making one. Al Jefferson was dominating, and the game wasn't entirely secure. The most the Heat led by in the fourth was 23 and the Bobcats cut it to 13 with 4:30 left. Plus, it was what we all wanted to see. LeBron was 8-8 from 3 entering the fourth and clearly feeling something. We wanted to see him go for 60, and that's what he did. 
At the same time, Durant and the Thunder made a clear choice to not try and play the match game. It would've been easy to leave Durant on the floor for the opening three or four minutes and let him try and at least get eight quick points for an even 50, which is a number that pops. Instead, Durant put on his long-sleeve shooter shirt during the break, and plopped down in his chair to watch Hasheem Thabeet and Andre Roberson see out the 76ers.
Durant has been the leader in the MVP chase since his incredible January, and while LeBron has four of them already, it's Durant that is acting like it. With the comments LeBron has made the past couple months -- his "jealousy" stuff, the Mount Rushmore thing, how Durant won't feel title pressure until he retires -- it seems like LeBron is at least a little annoyed someone could potentially knock him off his MVP perch. So he's playing with a point to prove. And a motivated LeBron is a very, very scary LeBron.
(Now, if one were so inclinced, they could make a point around the fact the Heat fell to the Rockets on Tuesday in the second game of a back-to-back, with LeBron scoring just 22 on 9-18 shooting with six assists and only one rebound. He looked a bit ragged at times, going scoreless in the fourth quarter on 0-3 shooting. The point being, LeBron played 41 minutes against the Bobcats, with almost 11 of those coming in the fourth quarter as he went for 61, while the Heat led by 20 almost the entire way. I'm not saying, I'm just saying.)
Durant wants to win the MVP. There's no question. Tuesday night, with his chance to nab back a little spotlight, he had to feel the insatiable urge to try and put up a number. But that would've been out of character to the extreme, and clouded what's made his push for the award so organic and clean. Durant has emerged as the only true challenger LeBron has felt in years. This is the first time anyone dare utter even a wandering question about LeBron not being the best current player. And because of it, LeBron is taking things to another level himself.
It's going to be a fun month and a half ahead.
So, we know who No. 1 and 2 are, but who's third in MVP?
Paul George, LaMarcus Aldridge, Blake Griffin, even Goran Dragic maybe? 
Here's who I'd give my hypothetical vote to: Joakim Noah. 
His numbers don't do much for you -- 12.0 points, 11.4 rebounds, 4.7 assists, 1.4 blocks, a PER of 19.67 -- but there's no denying what he means to the Bulls. And if your criteria for MVP still includes the V, as in valuable, Noah has to be in the mix.
Consider: The Bulls don't have Derrick Rose, and they traded Luol Deng. Yet since Jan. 1, they're 21-9 and have risen to fourth in the East, and only half a game out of third. 
The Bulls are the second-best defensive team in the league allowing 97.9 points per 100 possessions, and they do that with lousy defenders like Kirk Hinrich and Carlos Boozer playing big minutes. How? One, because Tom Thibodeau is a diabolical genius and two, because Noah is an anchor.
Noah is the heart and soul of the Bulls, the unquestioned spirit of the team, and the only thing keeping them from being complete lottery fodder. Thibodeau obviously deserves a lion's share of the credit for his defensive brilliance, but Noah is what makes that engine run. 
Can the Timberwolves make a late postseason push?
It's probably too late for the Wolves. But they're only four back of the Suns in the loss column now having breached the .500 mark this week at 30-29. They're healthy again in getting Nikola Pekovic and Kevin Martin back, while Kevin Love continues to play wonderfully. 
Their schedule lines up fairly nicely from here on out, with 14 of their final 23 games at home. Their +4.1 margin of victory is the seventh-best in the West, and if they could only consistently sort out to win close games more often, they'd probably be firmly in sixth or seventh. 
The Suns are starting to slip a bit, opening the door for the Grizzlies, but it also means the Wolves at least have a shot. It would probably take something like a 16-7 finish to realistic get in position to unseat either the Suns or Grizzlies, but with the Wolves back to mostly full strength, there's a chance. 
Who is the third best team in the East?
Raptors, Nets, Bulls, Wizards -- take your pick. 
If you're using margin of victory to determine it, it's the Raptors at +3.1. If you're using road performance, it's either the Wizards or Raptors, both at 16-14. If you're using record since Jan. 1, it's the Nets who are 19-8, followed by the Bulls who are 21-9, followed by the Raptors at 19-11, followed by the Wizards at 17-15. If you're going by talent on paper, it's probably the Wizards, who have John Wall, Bradley Beal and Marcin Gortat. 
So who is it? No idea. And I'm not sure it really matters. 
Greek Freak scores career-high 44 points and reaches scary level to finish the game

It was an ugly finish as the Warriors fell to 1-2 on the season -- both Curry and Kevin Durant...

Mirotic was hospitalized with facial fractures after an altercation with Portis during pra...
Irving had some choice words for a fan who heckled him in Philadelphia

Several teams were reportedly interested in Nelson after he was waived by the Nuggets

Cousins got into a heated exchange with a fan during the Pelicans' season opener