Trend Watch: What's so special about LaMarcus Aldridge this year?
Time to check in on the trends that were last week as the NBA season hit its quarter mark, with Christmas right around the corner.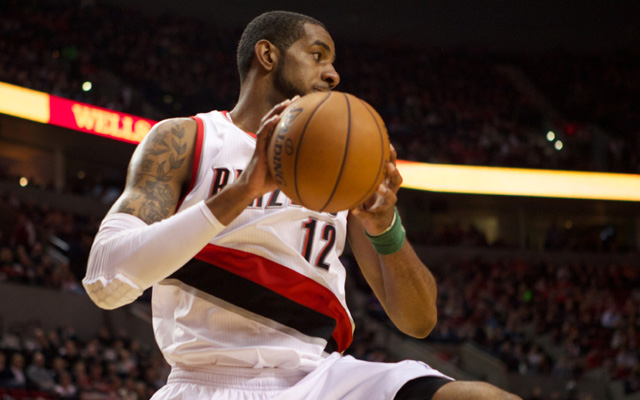 Time to check in on the trends that were last week as the NBA season hit its quarter mark, with Christmas right around the corner.
What's gotten into LaMarcus Aldridge? 
Nothing, actually. 
He's having a massive season, averaging 23.5 points and 10.9 rebounds and planting himself in the MVP discussion alongside LeBron James, Kevin Durant and Paul George. 
Interesting twist, though: As Couper Moorhead of Heat.com pointed out on Monday, is he really doing anything all that different than previous seasons? 
Aldridge is certainly rebounding better, and he's getting more shots. But he's still shooting 48.5 percent from the floor, which isn't a big leap. In fact, it's almost identical to last season (48.4) and down from plus-50-percent seasons before. 
So why are we all drooling right now? Probably because the Trail Blazers are 21-4. Don't misunderstand: This isn't a slight to Aldridge. It's more of an indictment on the fact that he played at a similar level to this the past three seasons and it went underappreciated because his teammates weren't as good. How cynical we can be. 
Aldridge's usage is up this season, so therefore, it's equating to more production. But what's helped the visibility and positive press is that those 24-point, 14-rebound games are now impacting wins, rather than feeling like empty stats in a loss. That goes a long way in altering perception. 
Don't get me wrong: This is probably Aldridge's best season yet, at least in terms of completeness. He's shown real fortitude as a team leader and has been tough in situations where the Blazers needed him to step up. But so much of this spotlight is because of Damian Lillard, Wesley Matthews, Nicolas Batum and the rest of what's become a really solid team. 
The Suns might actually be kind of good
Five wins in a row for the team considered by many to be the worst in the West coming in to the season. 
The wins: At Houston, home against the Raptors, at the Lakers, home against the Kings, home against the Warriors. Not overwhelming opponents, but not all pushovers either. 
Jeff Hornacek has basically already put dibs on Coach of the Year and though tanking for a top 10 draft pick could be critical to building a strong foundation, the development of players like Eric Bledsoe, Markieff Morris and Miles Plumlee is far more important. Tanking for an unknown when you have real talent that can be your future is really unwise. So the Suns are doing the smart thing and trying to win now. 
Are the Suns a playoff team? Probably not. But the way they're competing and how hard they play goes a long way in establishing a culture. Bledsoe looks like a star, Morris is solid and role players like Gerald Green, Goran Dragic and Marcus Morris are putting in quality work. There's a great feel about the Suns. Fun team with positive results. 
Is Kobe helping or hurting so far?
With Kobe Bryant back, the Lakers are 1-4. Hard not to want to read in to that, so here's a snapshot of what his return has done:
With Kobe on the court this season (five games, 145 minutes), the Lakers are scoring 97.3 points per 100 possessions, and allowing 110.9. That's a net rating of minus-13.6. That's terrible.
With Kobe off the court (1007 minutes), the Lakers are scoring 102.0 points per 100 and allowing 103.6 for a net rating of minus-1.6. Not so terrible. 
Before Kobe returned, the Lakers were averaging 24.1 assists a game. Since, 21.4. 
There are a bunch of numbers to read into with Kobe back, but there is this key disclaimer: The Lakers don't have a healthy point guard on the roster right now. Three of those five games have been with Kobe handling the bulk of the point guarding duties himself. 
The defensive slippage though, that's significant. And with Kobe being a bit of a liability on that end right now because of his conditioning and general health, he may not have enough to make up for it on the other end.
Damian Lillard, overtime savant
Great bit of research here from Dan Feldman of Pro Basketball Talk: Damian Lillard, fresh off a winner against the Pistons in overtime, is 15-of-19 from the floor in his career in overtime. And he's never missed from 2-point range in an extra frame (10-10). 
The Blazers are 7-1 in OT with Lillard. I'm sensing a connection here.
Kevin Durant is crushing the NBA right now
Durant in December: 29.3 points, 8.8 rebounds and 4.7 assists on 55.6 percent from the field, 51.6 percent from 3 and 88.2 percent from the line. So KD's December is close to going 29 points, nine rebounds and five assists on 55-50-90 shooting splits. Hang on, I need to splash some water on my face. 
Durant's ability to score in chunks and do it efficiently is what's always separated him from players like Carmelo Anthony, but now he's going to other levels as a complete player. He doesn't get much credit for his defense, but it's actually really good. He's rebounding the ball, playing three and four positions at different times throughout the game and scoring almost at will. 
Oh, and his team's 19-4, 12-0 at home and has won 14 of 15. 
The 76ers have discovered their calling
Remember that one time they started 3-0 and beat the Heat? Now they're 7-19, have lost seven straight and just took a 130-94 whipping by the Nets, which followed up a 139-105 blasting by the Blazers. 
You're finally on the right track, Sixers.
Kyle O'Quinn has reportedly drawn interest from the Warriors

LeBron James will try to finish off his 30,000 point milestone tonight when the Cavaliers play...

The old rivalry of Celtics-Lakers is renewed once again, but the stakes are still pretty l...
David Blatt thinks Cleveland players aren't doing enough for Tyronn Lue and the rest of the...

SportsLine's Mike McClure, a DFS pro with more than $1M in winnings, gives optimal lineup...

Lillard has a private meeting with owner Paul Allen over the future direction of the organ...