Trending: Are the Rockets asking too much of Dwight Howard?
New York City is a combined 6-14. It's time to panic, isn't it? Plus other emerging trends after week three of the NBA season.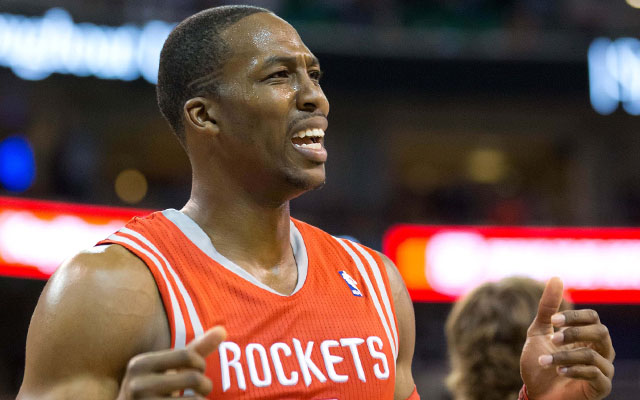 The Knicks stink, the Nets stink more, the Bulls are getting better and Roy Hibbert is the best defensive player in basketball right now. Trending in week three in the NBA: 
The Rockets are relying too much on Dwight Howard
Defensively, the Rockets have been wildly inconsistent this season, allowing 101.3 points per 100 possessions, ranking them 13th in the league. That's mid-level, which is fine with their explosive offense. 
But they're falling into the same habit the Lakers did last season, playing a soft defensive shell and hoping that Howard can just bail them out. For example, per SportVU, Howard sees more opponent field goal attempts per game at the rim than anyone else in the league (11.6). One would hope this isn't an actual strategy that Kevin McHale is deploying, because while Howard is still very good, he's not the same defensive monster he was four years ago. 
With Howard on the floor, the Rockets are better defensively (99.9 points allowed per 100 possessions), but not by much (100.7 with him off). Howard is one of the most influential defenders in basketball, but sometimes, I wonder if having a player like that causes perimeter defenders to overplay, gamble or even play too soft, expect help in the paint. 
Houston doesn't really have top level defensive guards as James Harden can be lazy on the defensive end and Jeremy Lin just isn't very good. Patrick Beverley is a menace, but he can only guard one spot at a time. 
Having Howard anchor your defense is a luxury basically every team in the league would love to have. But you have to take advantage of it, not rely on it. 
It's time to worry in New York
Officially. I'm calling it. You may now start your panic machines. Combined, the Nets and Knicks are 6-14, both sitting at 3-7. Both are terrible on the offensive end right now (Nets 20th in efficiency, Knicks 18th) and they're equally bad on the defensive side (Nets 22nd, Knicks 26th).
For the Knicks, the fix seems to be sitting on their bench in a suit as Tyson Chandler is out with a stress fracture and should return for the second half of the season. It's not that Chandler will fix everything, but he certainly will fix a lot. Problem is, the hole could be deep by the time he returns. 
The Nets problems don't seem as curable at the moment. Brook Lopez is completely killing it (averaging 20.5 points with a PER of 27.8) but other than that, no one else has been remotely good. Kevin Garnett is shooting 32.6 percent from the field and has attempted 89 shots, scoring only 62 points. That's 27 more shots than points. 
The way out for the Nets appears to be Deron Williams getting completely healthy and snapping out of his funk to remind people he used to be included in debates with Chris Paul, but we've all been waiting for that to happen for two years now. 
I'm starting to wonder if the Nets are this season's Lakers. Great on paper and champions of the offseason, but reality doesn't agree. The Nets are old and even worse, they don't really fit. 
The Bulls are getting right
Five straight wins is the most important and obvious thing right now in Chicago, but really, it's about their performance. Four of the wins came against poor teams, but the loudest was against the then-undefeated Pacers, who they waxed, 110-94. 
But over their last five games, they've gotten back to their defensive roots, allowing just 85.8 points per 100 possessions, while the offense has improved, scoring 103.2. That's the way they win. Completely suffocate the life out of your offense, score with moderate efficiency and eventually just grind you down. They have a style and a philosophy, and it appears they're getting back to those basics. 
Thing is, though, Derrick Rose still hasn't even been all that great, even in the five-game streak. He had 20 against the Pacers, which included six 3s, but in his last five games, he's averaging 15.4 points on just 38.6 percent shooting. It seems like he's getting closer, but isn't quite there yet.
But the good news is, when he does, the Bulls are already back winning the way they do. 
Could the Heat be in position to rip off another crazy winning streak?
They're sitting on four straight already, but with an upcoming schedule that includes two against Orlando, two against Detroit and games with the Suns, Cavs, and Bobcats mixed in, it seems likely the Heat could get to 11 straight without breaking a sweat. For the Heat, it's often about focus and motivation, and if they start piling them up, that's just something extra for them to play for, because in November and December, boredom is their biggest enemy. 
The Eastern Conference is bad
The West is 32-14 against the East so far this season, which is already an incredible gap, but consider this: The current fourth place team in the East is the 76ers, who sit at 5-7. That's right, if the postseason started today, the 5-7 Sixers would have homecourt advantage in the opening round. Things will look better if the Knicks and Nets get their acts together, because as of right now, it's not hard to imagine the eight-seed in the East getting in with 35 wins. Or even worse, the six-seed having a losing record.
Here's another example of the East's awfulness: At 4-7, the Raptors are just a half game back of the Atlantic Division lead. The 3-7 Nets are just a game out. 
Yikes, East.
So much for that, Boston
After starting the season 0-4, the Celtics ripped off four impressive wins to get back to even and kind of had the look of a nobody-believes-in-us team coming together. Brad Stevens was working a little Cinderella magic and after a lineup switch, the Celtics were playing together and inspired. 
Now they've lost four straight again to fall to 4-8 and look like they might be the worst team in the league, non-Utah division. 
Feast or famine in Minnesota
Even at 7-5, the Timberwolves still somehow have the third-best margin of victory in the West at 7.3 points a game. 
But what that says about the Wolves is that they're either handling teams, or losing close. Typically, that's a really positive sign, except for a lot of the losses have been against inferior opponents. The Wolves have only had one of their wins decided by two possessions or fewer -- and that was the first game of the season against Orlando -- while four of their five losses have come in a two possession game. 
Roy Hibbert is obliterating offenses everywhere
Hibbert's 4.6 blocks a game are a nice defensive stat, but check this one: Via SportVU, opponents are shooting just 35.0 percent against Hibbert at the rim. Keep in mind, league average at the rim is about 55 percent. 
The idea in the NBA is to get into the paint. Get to the rim and finish, or draw a foul. A sound plan, unless you're playing against the Pacers and Hibbert. Because at this point statistically, you're better off taking a 20-foot contested jumper. 
The Blazers look awesome
They've won seven straight, which is great. The competition, though, has been subpar with the wins coming over the Kings twice, the Pistons, the Suns, the Celtics, the Raptors and the Nets. 
But on the other side of that, five of those wins came on the road. So it kind of balances it all out. 
Here's the thing, though: The Trail Blazers are playing some beautiful basketball. LaMarcus Aldridge is back at his All-Star level, putting up close to 22-10. Damian Lillard is picking up where he left off as Rookie of the Year. Wesley Matthews is shooting 52.6 percent from 3 (!). And finally, their bench is producing in positive ways. 
Sustainable at this rate? I don't think the Blazers are headed for 60 wins or anything. But they are firmly a Western playoff team and potentially a candidate to push the Thunder a bit in the Northwest for a top four seed. The question is, can they match up with the top tier teams or will they just beat up on the bad ones?
KCP can't leave California for 25 days due to the terms of his pleading guilty to a misdemeanor...

Keep it right here for all of the news, notes, scores and highlights from around the leagu...

LeBron tried to keep what he said a secret, but one mic on the court picked it up
SportsLine's Mike McClure, a DFS pro with more than $1M in winnings, gives optimal lineup...

'It's not just about me, it's for the next crew as well,' LeBron said

Kobe the rookie had no fear facing off against Michael Jordan the legend. Then he gave up a...