Trey Burke's move to bench has Jazz headed in promising direction
The Utah Jazz are showing improvements and versatility as they learn to battle in the West.
MIAMI -- The process of becoming a good team in the NBA is all about learning and applying. Even bad teams, at different points and in varying capacities, will experience periods of success over the course of an NBA season. They'll find rhythms, make shots, settle in defensively. The key is understanding what precipitated that success, that it didn't just happen accidentally, and figuring out what you can do to make it happen more often. Consistency, basically -- which can be very fleeting. 
The Utah Jazz are in the middle of this very process. Finishing the 2014-15 season with a 19-10 record after the All-Star break was encouraging. Rolling through that span with a historically great defensive rating was even more promising. The defense, as we could've reasonably expected given the roster, particularly with Rudy Gobert in the middle, has carried over this year. The bigger question centered on the offense, and very early on Jazz coach Quin Snyder shook things up on that end.
Specifically, Snyder inserted rookie point guard Raul Neto and second-year wing Rodney Hood into the starting lineup -- which, by extension, sent Trey Burke and Alec Burks, two lottery picks, to the bench. This was a risky move. A starting position in the ego-filled NBA is wildly coveted. It's not easy to ask talented players to swallow their pride. But the move has paid off in significant ways, and not just in pure basketball terms. It was the type of flexibility and selflessness Snyder wanted to introduce to the team's culture.
"To me it's an interesting thing to think about," Snyder explained before Utah's game against Miami on Thursday, "because there's so much -- I won't say drama -- but so much attention surrounding which one of them would start. I think it's a good statement about the value of being a part of a team. For myself, personally, spending time in Europe, starting lineups change weekly, daily, based on matchups. 
"It's like a pitcher that starts one night and then there's another guy in the rotation that starts another night. We somehow have missed that. For our team, (Burke and Burks) both [have] value early in the game because the way we're structured they can enhance that second group. I think they both understand that. It says a lot about their character."
Snyder loves to mix up lineups, often throwing multiple playmaking wings on the court at the same time, sometimes without a traditional point guard at all. In fact, a lineup that features no point guards -- Burks, Gordon Hayward, Hood, Derrick Favors, and Rudy Gobert -- has obliterated the competition with a net rating of plus-59.1 points per 100 possessions in 17 minutes this season.
Burke, who has embraced the move to the bench, has furthered this versatility and has been a major beneficiary of these lineup alterations. No longer the starting point guard charged with having to run the team and make split-second decisions, his role has become very clear: score. Burks, Hood and Hayward are now the de facto playmakers when Burke is on the floor, turning him into an undersized but dynamic scoring guard who is asked to follow a simple script that tells him when and where to shoot. The result? The head of a young player is no longer clouded. 
It's similar to what we saw in the early stages with Ricky Rubio in Minnesota last season before he hurt his ankle. Flip Saunders removed the decision-making that can cause hesitation with poor shooting guards. When Rubio got to certain spots on the floor in certain sets, his job was to shoot the ball. That's it. It worked for the most part, even with the injury, as Rubio's jumper saw an improvement of six percent that season.
Similarly, Burke's career 37.4 field goal percentage has shot up to 46.4 percent, while his 3-point percentage has gone from 32.4 to a remarkable 48 percent in the early stages of this season. He's embodying the selfless identity of a team headed in a great direction, despite a couple tough road losses.
"That's part of becoming a good team," Snyder said. "Being able to go and play well and lose. Then come back and play well again and lose. At some point if you keep playing hard and playing better, you're going to win."
They learned that last year. They're applying it this year.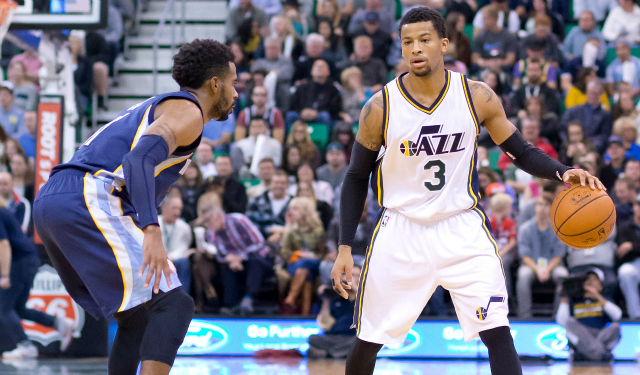 CBS Sports HQ Daily Newsletter
Get the best highlights and stories - yeah, just the good stuff handpicked by our team to start your day.
Please check the opt-in box to acknowledge that you would like to subscribe.
Thanks for signing up!
Keep an eye on your inbox for the latest sports news.
Sorry!
There was an error processing your subscription.
Dealing with pressure and expectations instead of doubt, the Pacers are trying to block out...

Ingram was suspended four games for his role in Saturday night's brawl, while Rondo got three...

The Bucks opened up their new arena, Fiserv Forum, this season
The outspoken 76ers star grew up dreaming of being an astronaut

The Red Hot Chili Peppers' frontman was seen yelling and flipping the bird on the floor after...

Carmelo Anthony was seen suspensions for fighting be a lot longer than two games