Troubled Knicks: Woodson's fault? What about Carmelo ... and Dolan?
There was plenty of blame to go around after the Knicks' latest meltdown, but not enough of it has been directed at Carmelo Anthony and the man who built this sinking ship -- James Dolan.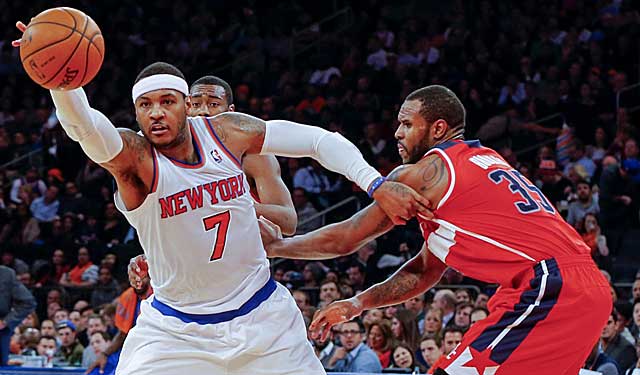 What's that saying, the cover-up is worse than the crime? With the Knicks, the aftermath is worse than both.
And there have been a lot of crimes and a lot of cover-ups and all too many aftermaths over the years, but this one ... well, this was another one.
The Knicks got burned in the final seconds of regulation on Monday night because nobody came over to help Beno Udrih's futile attempt to guard the Wizards' Bradley Beal, and then everyone associated with the organization who had anything to say about the outcome forgot the basic rules of basketball. You know the story by now: Mike Woodson didn't call a timeout, none of his assistants called a timeout, Carmelo Anthony didn't call a timeout. Not even Chris Webber called a timeout. Melo froze, walked the ball up the court, heaved a brick as the final buzzer sounded and the Knicks lost again.
Then came the cover-up and the aftermath, which were both worse than the 102-101 loss itself -- the Knicks' ninth loss in 13 home games this season.
Anthony at first seemed to say it was the players' fault for not following orders. "We were supposed to call a timeout," he said, according to published accounts. Then, after being informed that Woodson had already taken the blame for that one, Anthony played along. "If he said it's his fault, it's his fault," Anthony said.
With the Knicks, it's always important to get your stories straight. If someone else has already taken the blame, it's best just to keep quiet.
Some writers whose basketball opinions I respect wrote that Woodson should be fired for failing to call a timeout in that situation. That's fine. Coaches get paid a lot of money, and Woodson fired his longtime agent so he could get that money. Thus, he should be accountable for at least the basic fundamentals that grade-school coaches understand.
But to say this train-wreck of a season is Woodson's fault is just as senseless as saying his coaching acumen was the reason they won 54 games last season. If you want to blame Woodson, then blame the deckhands on the Titanic, too.
In the immortal words of Micheal Ray Richardson, this ship be sinking, and it be sinking for a whole lot of reasons other than Mike Woodson.
What about the man who built the ship, one James L. Dolan? He didn't call a timeout either, except when he decided that time was up for Donnie Walsh as the captain of this ship -- and decided the same for Glen Grunwald. 
What about the supposed best player on the floor, the franchise cornerstone, the soon-to-be $130 million man? Why did Carmelo Anthony, purportedly one of the best basketball players on the planet, turn into JaVale McGee in the final 6.9 seconds of that game on Monday night? What in holy heck was he doing?
You see, there was plenty of blame to go around. And when it comes to the Knicks, there is always plenty of spin. On Tuesday after practice, Woodson mentioned that Amar'e Stoudemire would be "out a while" because his knees had swelled up after playing three games in four nights, including a back-to-back.
Sounded reasonable. Except that Stoudemire took to Twitter to announce the he's "NOT INJURED," in call caps, and that he wasn't going with the team to Milwaukee because it's a stretch of six games in nine nights. "Body & knees feel great," Stat tweeted.
If only the Knicks could say the same.
George suffered a similar injury in 2014, and immediately offered Hayward encouragement

A certified athletic trainer says Hayward is 'hard-pressed to get back this season'

Mike McClure, a DFS pro with more than $1M in winnings, gives optimal DraftKings and FanDuel...
The two have been trained together in the past and still keep in regular contact

Anthony opened up about finally leaving New York after years of rumors

Jonah Keri talks to with Ringer author, and Grantland alum Shea Serrano