Trying to get Melo math to add up in Miami
If Chris Bosh left Miami for Houston, could the Heat squeeze Carmelo Anthony into a new Big Three? The Melo math is possible, but challenging to say the least.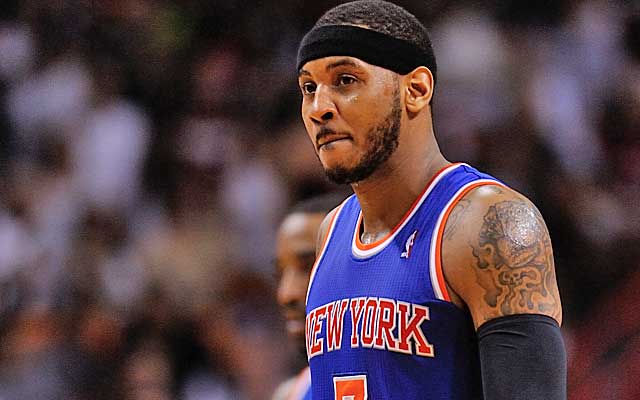 UPDATED 10:34 a.m. ET
More free agency: Riley, LeBron to meet | Lebron's agent likes Cavs? | FA Tracker
As we wait for Carmelo Anthony to make his free-agent decision (he's making Dwight Howard seem decisive, by the way), it's worth trying to decipher the salary cap logistics of a popular theory:
If Chris Bosh left Miami for a four-year, $88.4 million max deal with the Rockets, could the diabolical Pat Riley steal Anthony from the Knicks and squeeze the seven-time All-Star into Bosh's vacated cap space?
It's possible, though not as simple as it might seem.
LeBron James is seeking a maximum salary next season to stay in Miami. Based on his $19.1 million salary last season, James' max for '14-'15 is approximately $20.7 million.
Anthony, who made more than James last season, is thus eligible for a higher max -- $22.5 million -- in the first year of his new contract. 
Given LeBron's stature, it seems unrealistic for Melo to join him in Miami at a higher number. Of course, giving Melo a higher starting salary would allow him to recoup some of the millions he'd be losing by accepting a four-year deal with lower annual increases (totaling $88.4 million) vs. the five-year, $129.5 million deal he could get in New York. But it would also leave a potentially insufficient slice of room to retain Dwyane Wade.
For the sake of argument, let's say the Heat got James and Melo at identical $20.7 million salaries for next season. Here's how the cap gymnastics would play out:
The Heat would have to account for Norris Cole ($2 million), Justin Hamilton ($816,000) and the 24th pick, Shabazz Napier (about $1 million). That's $42.5 million for five players.
There's currently an $8.25 million cap hold on Miami's books for free agent Udonis Haslem. The easiest way to make that go away and preserve room to retain Wade would be to renounce Haslem. With seven minimum cap holds, the Heat would then be at $48.8 million.
With a $63.2 million projected cap, that would leave Riley with $14.4 million for Haslem and Wade combined. Though Wade is expected to take a pay cut, it seems unrealistic that he'd come back for less than $14.4 million. So let's assume for the sake of this illustration that the Heat persuade Haslem to re-sign for the veteran's minimum of $1.45 million, which they would not need to fit under the cap. (Teams can go over the cap to sign minimum players.)
It would be a tough sell for Haslem, who opted out of a $4.6 million deal for next season, but A) he is represented by the same agent as Wade, Henry Thomas, B) isn't likely to get that kind of deal on the open market, and C) could recoup most of it with a multi-year deal.
As was always the case with the Heat's efforts to keep their superteam going under the current CBA restrictions, everyone is going to have to sacrifice.
So let's say Wade signs a four-year deal starting at $14.4 million; that's a four-year, $64.1 million deal, which seems reasonable for a 32-year-old player on the decline. (Easy for me to say. I'm not Wade or his agent.)
In a perfect world -- a pre-2011 lockout world -- the Heat would then use their cap exceptions to formally bring aboard Josh McRoberts ($5.3 million) and Danny Granger ($2.1 million), then fill out the roster with minimums. Not so fast.
Under the current rules, once the Heat became a "room" team (i.e., created cap space with Bosh's departure), they would lose the ability to sign McRoberts with the full mid-level exception. Thus, LeBron, Melo, McRoberts and all the other salaries and cap holds previously mentioned -- including Wade -- would have to fit under the cap. So between James, Anthony and Wade, they'd have to come up with $5.3 million more in paycuts. Adios, Nuevo Tres Grande.
Was any of this realistic to begin with? Roster-wise, the Heat's new Big Three would've been LeBron, Melo and Wade. They'd have McRoberts starting in the middle and Cole -- or possibly a free-agent pickup if they can find one for the minimum -- at point guard, with Napier waiting in the wings.
Financially, it's absurd to think that Anthony would leave $30-$40 million on the table depending on which max he started at -- much less an amount higher than that to it McRoberts under the cap.
That's why, if Bosh left, it would seem more practical for the Heat to add multiple players -- perhaps Luol Deng or Trevor Ariza, plus Marvin Williams -- rather than use Bosh's $20 million slot for one player. Depending on how all of this came together, they'd alternatively be in a position to deliver an offer sheet to either Chandler Parsons or Gordon Hayward, both restricted free agents seeking in the $13-$14 million range.
Perhaps those more expertly familiar with cap mechanics than I will have components of this illustration to add or subtract, but one thing is clear: The Melo math in Miami is possible, but challenging to say the least.
Davis left the Pelicans' game against the Nuggets in the third quarter

Popovich was upset about an out of bounds call

Wall went 3-for-12 from the field, and had just eight points in the Wizards' loss
Noah was reinstated from his 20-game suspension on Monday, but is yet to play for the Knic...

In his first season with the Cavs, Rose has not played since Nov. 7

Keep it right here for all your Friday NBA scores, updates and highlights