TV guide and game rundowns for Friday's Sweet 16 games
You want to know when and where to watch the last of the Sweet 16 games? Matt Norlander has the rundown on Friday night's four games.
• 2 min read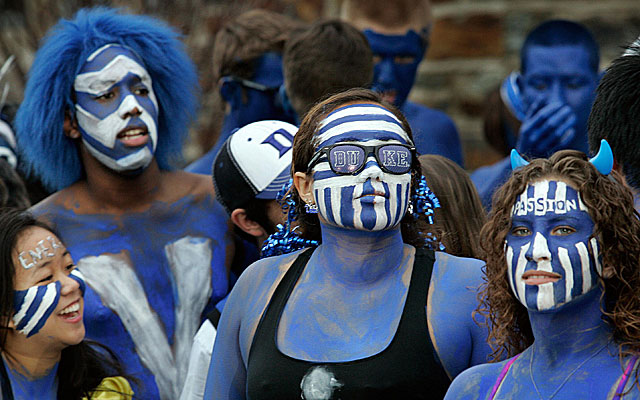 OK, by the end of the night we'll know the Elite Eight matchups. Four more games tonight, with big-time programs and the darling of the tournament, Florida Dunk Coast.
Here's a look at when and where to watch:
FRIDAY
No. 1 Louisville vs. No. 12 Oregon (7:15, CBS). Friday gives us two mismatches, this one and the last tip of the night. Louisville looks as good as any team in this tournament. No. Louisville looks the best of any team in this tournament. That's why it got the No. 1 overall seed after rolling through the Big East tourney. I don't believe in momentum when it comes to college hoops (I think the opponents can have a lot to do with winning streaks), but I do have belief that Louisville is using recent play and the drive from last year's Final Four run to key in on another. Oregon fans: Be happy with the Sweet 16 and hope you can keep it within 15.
No. 1 Kansas vs. No. 4 Michigan (7:37, TBS). Suddenly errrbody's loving Michigan again. I had this team going to the Final Four about 30 minutes after I first saw the bracket. Now, the Wolverines have been cursed. Kansas is way too good to be this much of "underdog" in the minds of many. Bill Self is way too good to be put in doubt as a No. 1 seed in his team's third tournament game. I know Kansas has been felled before in games that it shouldn't lose. But in games that it should win, it has done very well under Self. Call this one a toss-up, I guess? Trey Burke is the best college player on the floor (and I think he could very well be a better pro than Ben McLemore), so I ride with UM.
No. 2 Duke vs. No. 3 Michigan State (approx. 9:45, CBS). This is the biggest toss-up according to KenPom.com and the oddsmakers. Final Four-worthy. National title game-worthy. Two coaching greats and two teams with tons of talent in their starting fives. We could very well get the best game of the entire weekend here, which, of course, means it won't happen. Rarely does the one that we think formulate into the one that is, indeed, the best of what's around. Duke will have a physical go of it. I think the Blue Devils will step out and try to win by the 3 here, a common scheme with K teams of old.
No. 3 Florida vs. No. 15 Florida Gulf Coast (approx. 9:57, TBS). Is it a good thing or a bad thing that the TV bosses on the CBS side of things saved the biggest story for the final tip, on a Friday night? If it's a blowout late, then, yeah, I see the reason. But if it's close? Well that'll be cool, too. Florida's probably gonna win this 81-63, though. I'll be there, so I'd love to get Dunk City all up in and around my face, but I can't shake the feeling that Florida's seen this little school some ways down Alligator Alley act like it's Final Four-bound. Billy Donovan's team will be angry, so angry that Kenny Boynton will probably take 14 hate shots to get the frustration off his chest.
Keep it right here for all your Friday NBA scores, updates and highlights

The Celtics have won 14 games in a row

Shaq posted a picture of his 'Broken Rim Tree' to Instagram
SportsLine's Mike McClure, a DFS pro with more than $1M in winnings, gives optimal lineup...

Paul may be getting a late start in Houston, but he promises to unlock some key role playe...

Lonzo doesn't want to throw away money for a tech, which isn't a great look for the rookie