Two-thirds of original superteam, KG and Pierce, return to Boston
Often imitated (See: LeBron, Heat), Kevin Garnett and Ray Allen once joined Paul Pierce to form a Celtics' superteam. KG and Pierce return to rebuilding Boston with the Nets.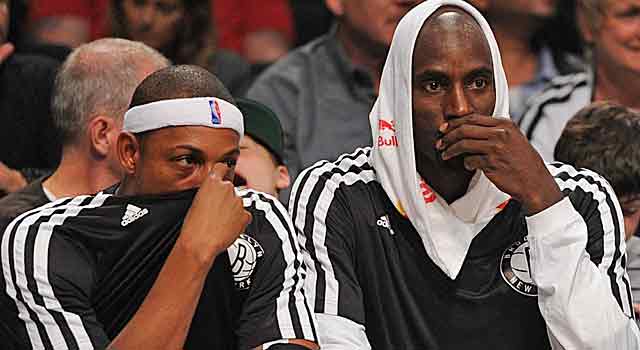 The moment will come and go, just like they all do. It wouldn't be the player-movement-crazy NBA without stars returning to their former stomping grounds to make amends, settle scores or simply play a basketball game and move on down the road to the next opponent -- the next storyline.
This will happen Wednesday night in Boston, on a larger scale than it happens in most places. It is only a preseason game between the Brooklyn Nets and Boston Celtics , but so much more than that with Kevin Garnett and Paul Pierce returning to the building where they raised the franchise's 17th championship banner together -- though they are expected to sit out the exhibition.
The Celtics' run -- one championship, two Finals trips and three trips to the Eastern Conference finals -- was a special time in Boston sports, and will forever be a part of the basketball fabric for all involved. But as the Celtics slowly broke down and finally broke up this past summer, there is a measure of closure to be had on Wednesday night at TD Garden.
"You take for granted what you've done there in the great times, or even the bad times," former Celtic Ray Allen told CBSSports.com this past week. It was Allen who was the first to go in this inevitable remaking of the Celtics, jumping to rival Miami as a free agent in 2012 and winning his second championship.
"You want to go back and see old friends, old teammates," Allen said. "As much as you -- not regret -- but as much as you look at every other game on the schedule and think about this game and think it's a poignant part of the season, it's almost a great time for a conclusion. You get to see everybody and move on and then you can start focusing on what you can do for your team."
This is what Allen went through last season, when he returned to Boston as a villain after leaving Garnett, Pierce, Rajon Rondo and Doc Rivers for, ahem, greener pastures. Much was made last week when LeBron James pointed out the hypocrisy of vilifying Allen for leaving Boston while praising Garnett and Pierce. What's important is that all these stars who leave their cities -- LeBron included -- have to go through what Garnett and Pierce will experience on Wednesday night.
And then, yes, everybody has to move on.
"I think that we're already there," Celtics president Danny Ainge said on the phone this week. "I think they're there and we're there. They're moving forward and they're expecting to win a championship, and we're moving forward in our direction."
That direction is the dreaded "r" word, as in "rebuilding." Ainge has done it before, and he has no compunction about doing it again -- even though he's aware there are no guarantees it will work out as famously or as quickly this time around.
"I don't know exactly how much pain there will be, but I think that another thing that this time gives us an advantage is the fact that we have a lot more draft picks and better young players as we start this process," Ainge said. "Ownership, management and coaching communication is great, so that's huge that we're all on the same page."
Looking back, it seems like the last time Ainge went through this with the Celtics, it was a rapid-fire process. Trust me, Ainge will tell you now, it didn't feel like that when he was going through it. After Ainge was hired in May 2003, he endured two consecutive first-round exits followed by two seasons in the lottery. Then, in the summer of 2007, everything changed when he acquired Allen from Seattle and Garnett from Minnesota in separate, blockbuster trades that sent ripple effects through the NBA for years.
A series of playoff disappointments at the hands of those Celtics led James to leave Cleveland for Miami, where he continued to battle them -- and finally beat them in the playoffs, twice. The superteam that James formed in Miami in response to the Celtics' Big Three is an idea that other franchises have tried to emulate -- with mixed results.
The Lakers tried and failed when they paired Dwight Howard and Steve Nash with Kobe Bryant and Pau Gasol . The Thunder and Pacers have grown organically. It's a pivotal year for the Knicks' Big Three of Carmelo Anthony , Tyson Chandler and the broken-down Amar'e Stoudemire .
Now, here come the Nets, with a familiar take on an old idea. They've imported two of the Celtics stars who started this trend six years ago, pairing them with Deron Williams , Joe Johnson and Brook Lopez with a massive luxury-tax bill and, essentially, a one-year window to cash in with a championship.
Meanwhile, the coach who won a title in his first year with the Big Three in Boston has found his own superteam in Los Angeles, where the Clippers are serious contenders to come out of the West.
"It worked out great for Doc," Ainge said. "He's got a team that in my opinion is the best team in the West and is going to win 60-plus games. He's got a lot of friends out there and he landed in a very good situation."
And the Celtics' situation? Ainge isn't fearful. He chose a young coach, Brad Stevens, with whom he plans to form the kind of bond that he and Rivers enjoyed. He's stockpiled draft picks -- as many as three from Brooklyn, plus the right to swap first-round picks with the Nets in 2017, and another first-rounder from the Clippers as compensation for Rivers. He held onto the franchise's most valuable asset, Rondo, who may or may not ultimately be sent packing if the right deal presents itself.
"He's our best player," Ainge said. "And he's been our best player for the last year or two. I know that he'll come back -- he's working extremely hard -- and we've got to be patient with that [knee injury], too, and make sure we're not rushing him back. He's too important to us."
When I asked Rondo recently why he hasn't pushed for a trade in the face of the Celtics' rebuilding, he said, "This is my team. Why would I want to leave? Why would I want out?" But how long the ultra-competitive Rondo and rebuilding will be able to co-exist remains to be seen.
"It's hard to find the perfect situation for everybody," Ainge said. "It's my job to build the Celtics, and Rondo is a big part of that. Will everything be as perfect as he would like it? I don't believe so, but it's not perfect for us, either, the fact that he can't play.
"I think Rondo is with us. I think he likes a lot of the core guys on our team now, and I think he is optimistic and looking forward to a new chapter."
New chapters, all around -- from Boston to Brooklyn to Los Angeles. The clock starts now on the Celtics' rebuild, with Ainge's clear-eyed, unwavering leadership at the center of it all.
"We've been through it, and the patience that's required -- that's the hardest part," Ainge said.
In a quiet moment before the Celtics faced the Nets in Brooklyn last week, Ainge spent some time with Garnett, Pierce, Jason Terry and their wives. Afterward, he said, "They'll always be special to me."
Ainge also chatted with the rookie head coach charged with squeezing one more title out of those proud, old champions. In another time, Ainge coached Jason Kidd in Phoenix. Now, they're on opposite sides of a narrative that has come full circle -- as they so often do.
With 2K18 out everybody wants to know who has the 10 highest ratings in the game. Here's the...

Durant noted in an interview that all of the criticism in the immediate aftermath hit him...

Want the swagger of LaVar Ball? "NBA 2K18" lets you copy his absurd run from his WWE appea...
Durant apologized for a few tweets in which he criticized OKC and his former coach Billy D...

Lue does not expect the Cavs' big trade to affect the team's starting frontcourt ... at least...

Dwight Howard wants to be a farmer in his future and retire with his donkeys