Two weeks after skipping his basketball camp, Dwight Howard is heading to China
Good thing Dwight Howard's annual Adidas promotional tour isn't in Orlando. Because he only skips things there.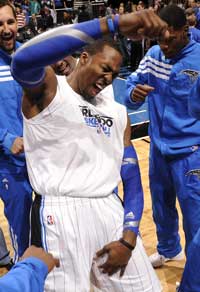 Dwight Howard isn't skipping his promotional trip to China.
(Getty Images)
Good thing Dwight Howard's annual Adidas promotional tour isn't in Orlando. Because he only skips things there.
Howard was supposed to have his annual kid's basketball camp in Orlando a couple weeks ago. Instead, he skipped out on it, claiming his back needed more rehab in Los Angeles and that he wasn't able to travel yet. We all know what happened shortly after. He was traded to the city he was already in, in a four-team deal that sent Howard to the Lakers.
Two weeks after he missed the camp, Howard is now traveling. Very far, in fact. To China. Via the Orlando Sentinel:
The former Orlando Magic superstar is visiting China as part of his annual promotional tour to the Far East for adidas, the shoe and apparel company he endorses.

Dan Fegan, Howard's agent, deferred to adidas officials when asked why Howard flew overseas but did not appear two weeks earlier at his Orlando day camp. In a statement issued to the Orlando Sentinel, adidas officials said Howard was cleared to travel "just last week."
Convinient! Good thing he was just cleared to travel in time for this promotional tour.
Now, it's kind of unfair to insinuate that Howard was faking the back travel issues to get out of the kid's camp. But with the way things have gone lately with Howard, it's kind of hard not to think the worst right? When something stinks, it stinks. And with Howard, it's like head-under-the-covers-next-to-Stan Van Gundy level of stink here. Can't just wash that off right away.
Adidas officials put this statement out in order to get in front of all our assumptions: "Since Dwight's injury our focus has been on his recovery. His health has continued to improve and just last week he was cleared to travel. We are excited that Dwight is now able to participate in fan and community events as he continues to prepare for the NBA season. Dwight is an amazing athlete and outstanding partner with fans around the world."
Howard underwent surgery to repair a herniated disk and remove disk fragments from his lower back in April. His camp was originally set for July 1-2, but that was later postponed to Aug. 13-14. On Aug. 6 campers were emailed that Howard would not be attending. On Aug. 10, he was traded to the Lakers.
On Aug. 30, he's headed for China.
The Kings' big man says he was wrongfully arrested in August for possessing marijuana with...

George appeared to show some frustration with the Pacers following the trade to OKC

It's worth wondering whether or not Wade will be in the Cavs' starting lineup
Nurkic is confident Portland will be a tough team to beat, and says it must begin on defen...

Wade, recently bought out by the Bulls, could finalize decision as early as Wednesday

James said nothing has changed from 2014 when he said he'd retire a Cav