Ty Lawson and Denver continue to adapt in a tough playoff race
Ty Lawson scored 21 points, 19 in the second half in a win over the Clippers. Are the Nuggets evolving into a dangerous playoff opponent?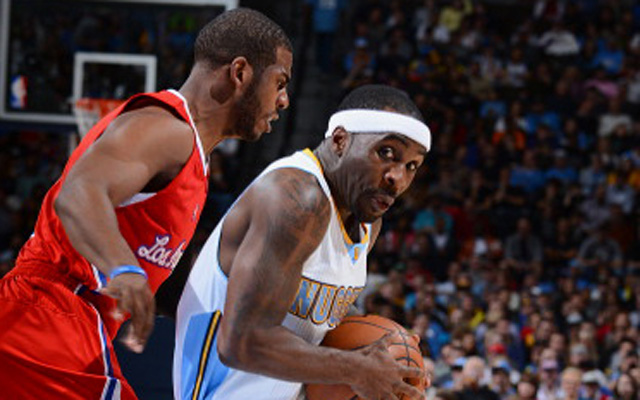 Playtime is over in the Western Conference. There's no more "finding yourself" or "working out the kinks." In a playoff race with five teams separated by just seven and a half games, every game is pivotal, especially between the combatants.

And in these games, you need someone to be aggressive. In Denver on Thursday, as the trend has been developing for the Nuggets, it was Ty Lawson.

Lawson was 8 of 9 from the field in the second half vs. the Clippers in a 107-92 win, finishing with 19 second-half points. The Nuggets were plus-19 in Lawson's minutes in the second half. Lawson worked the Clippers' defense over, creating open looks with five assists and no turnovers in the second half as Denver pulled away. That, paired with the scoring barrage featuring the rarely-used mid-range jumper for Denver, spelled a victory over the West's third seed, schedule loss or no.

"[Lawson] started us off with the 3-ball in the second half," coach George Karl said. "And in the end of the game, when we we would run the clock and play a possession game, we'd get a jumper for him, he was knocking them down. There aren't a lot of games where we shoot as many jumpshots, but fortunately tonight we made enough of them."

That was certainly true in the second-half as Lawson went away from the Nuggets' typical system of focusing on dunks, layups, free throws and 3-pointers to adapt to the Clippers' defense.

Turns out "second half" may be a bigger designation for Lawson than just in this game.

Lawson got off to a horrendous start this season, averaging just 13.6 points the first two months of the season. But since Jan. 1, Lawson has averaged 20 points and 7.4 assists on 49.2 percent shooting.

"I'm not going to lie," Lawson said after the game. "I think I'm a second-half kind of player for the season. In the first half, the last two years was kind of terrible, but I grow into myself and get a lot better."

For Lawson, that mid-range jumper goes against the central team philosophy the Nuggets try to instill philosophically, but there has to be a point where it's required to break the defense.

Karl admitted post-game that Lawson, along with Danilo Gallinari (20 points on 15 shots) and Andre Iguodala (14 points on 10 shots) are the players he trusts to take those mid-range jumpers. Lawson said it's part of his development, even after clashes with his coaching staff.

"For me to grow," Lawson said, "I can't just be shooting 3s and going to the basket, because it's easy to guard. And that's what we had an argument about, for about a year, because I felt like everyone was guarding me for only the drive and the 3.

"So when I step back, it confuses the defense. I've seen Chris Paul do it all the time. Russell Westbrook does it. And it's hard to guard, because he's so far back, you don't know if I'm going to shoot. And if they're up close, I'm going to the basket and getting layups. For me to mature, I have to get that part of the game."

Lawson's shooting 51 percent on mid-range shots since Jan. 1, the Nuggets are 2 1/2 games back of the No. 3 seed, and a game back of homecourt in the first round with the fourth seed. They're 27-3 in the altitude a mile high.
There will be time to wonder if Denver has the makeup to win the playoffs, to analyze matchups and starpower. Until then, it's about staying alive in a brutal Western Conference battle for playoff positioning.
"So much of these last 19, 20 games is to stay strong," Karl said. "We can have a moment to enjoy it but we have a lot of areas to improve and a lot of good teams coming after us."

Welcome to the Western Conference playoff race. Adapt, improve, and battle ... or fall away.
SportsLine's Mike McClure, a DFS pro with more than $1M in winnings, gives optimal lineup...

LeBron had 29 points, 11 rebounds, and 10 assists in the Cavs' 109-100 win over the Jazz

The montage showed Carmelo's best Knicks moments before playing the Thunder game
KCP can't leave California for 25 days due to the terms of his pleading guilty to a misdemeanor...

Keep it right here for all of the news, notes, scores and highlights from around the leagu...

LeBron tried to keep what he said a secret, but one mic on the court picked it up