Ty Lawson signs four-year extension with the Nuggets
Ty Lawson has signed a four-year extension to remain with the Nuggets, according to -- Ty Lawson.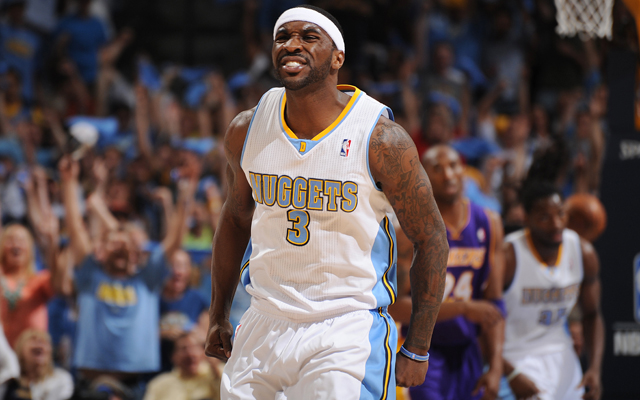 Lawson will be a Nugget for the next four years.
(Getty Images)
Four more years -- for Ty Lawson in Denver.
Lawson has signed a four-year extension to remain with the Nuggets just a day before the Oct. 31 deadline, preventing him from going to restricted free agency, reports -- Ty Lawson.
It Looks like im going to be a nugget for another 4 yrs..Thanks to the Kronke family, Masai, nuggets fans and everybody 4 believing In me ?

— Ty Lawson (@TyLawson3) October 30, 2012
According to Yahoo! Sports, Lawson's extenson is four years and $48 million.
The 24-year-old has quietly risen to be one of the better point guards in the league, blossoming in Denver's unique system as a terrific scorer and distributor. He definitely fits into the Nuggets' long-term construction plan.
The number is fairly perfect for Lawson, too. He's a quality starting point guard and if the Nuggets had waited, he could've exploded and found himself as a max player next summer. At the same time, Lawson had to like the offer because sometimes in a contract year like this the pressure and distraction can hurt production.
That puts Lawson making roughly $12 million per year spread out over the life of the contract. Comparitively, against other top point guards in the league, it's a solid deal.
Chris Paul ($17.7 million per year) and Deron Williams ($17.1 million) are the highest-paid point guards in the league. After that, there's Derrick Rose ($16.4 million), Russell Westbrook ($13.6 million), Tony Parker ($12.5 million) and Rajon Rondo ($11 million).
Mike Conley signed a four-year, $45 million deal last season and up against that, it seems that Denver got great market value for Lawson.
Lawson averaged career-high numbers across the board last season for the Nuggets, putting up 16.4 points, 6.6 assists and 3.7 rebounds per game in 61 appearances.
The Lakers were just 2-14 from the stripe

The Cavs are reportedly looking to acquire numerous players -- even Teen Wolf?

SportsLine simulated Saturday's Rockets-Warriors game 10,000 times
Two underperforming squads will square off on Saturday afternoon

The West's two top teams will meet in prime time on Saturday night

Our advanced computer model simulated Saturday's Thunder-Cavs game 10,000 times