Tyreke Evans, coach Monty Williams haven't discussed Evans' role
New Orleans Pelicans' wing Tyreke Evans says he and coach Monty Williams haven't discussed his role on the team. It's February.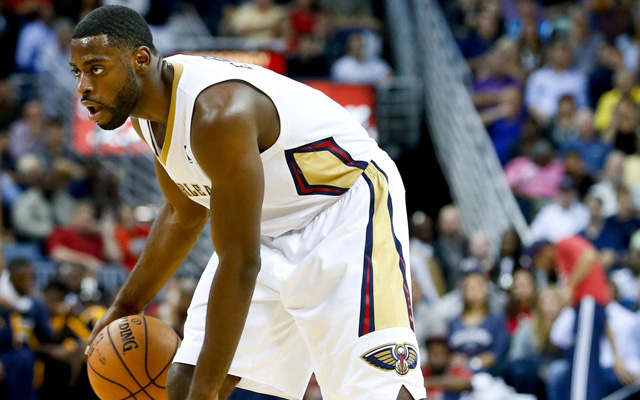 The NBA schedule is brutal. There are back-to-backs, road back-to-backs, four games in five nights, tons of travel, and often not enough to practice and rest the body and mind of players. Sacrifices have to be made and for some teams that means practice gets cancelled from time to time. That's just how the grind of the regular season treats the players and coaching staffs. Perhaps that's the reason the New Orleans Pelicans haven't discussed roles with all of their players.
What other reason could their be for Tyreke Evans saying that coach Monty Williams hasn't discussed Evans' role on the team with him? After being benched in Sunday's loss to the Brooklyn Nets, Evans told reporters that he hasn't talked to Williams about his role yet and players need to know their roles on the floor. From Sheridan Hoops:
Now as we approach the All-Star break, Evans appeared frustrating with his injuries, "fluctuating" playing time and his communication with Williams.

"He's trying to figure me out still," Evans said of his head coach before the game. "Most of the guys that came here are pretty much new [to the team] so he's trying to fit everybody in and put me in the best position he can."

But when asked whether he and Williams ever discussed his best role on the team openly, Evans said it's never been brought up.

"No, we never talked about that," Evans told Sheridan Hoops. "I haven't talked to him about it. We talk here and there but I haven't talked to him about what role is whose on the team."

Asked if the communication with Williams has to improve, Evans said that it needed to improve. "It has to get better. We have to know our roles on the team."
It's February and he doesn't know his role.
Whatever role Evans does have with the Pelicans, he hasn't exactly excelled in it. He's averaging 12.4 points on 40.1 percent shooting with 4.3 rebounds and 4.1 assists in 24.5 minutes. The Pelicans have a net rating of -2.6 points per 100 possessions with him on the floor as they've struggled to figure out how to harness Evans' ability to fit in totally with the team. Whatever reason Williams has for not letting every player know his role on the team, it can't be a good one.
Either that or Evans is doing an equally poor job of voicing his concerns and questions to the head coach. With so many injuries for the Pelicans this season, it's understandable that the team may be unclear on the fluctuating tasks bestowed upon them on a nightly basis, but you can't have guys saying they don't know their roles and haven't discussed that with the coach.
The Pelicans are currently 22-28, 12th in the Western Conference.
Leonard's relationship with Spurs also reportedly strained because of how injury has been...

San Antonio hasn't missed the playoffs in 20 years, but the road is rocky this season

Last year's MVP finalist has missed all but nine games this season
The design for the patch is still being worked on

The explosive forward and upcoming free agent is having a career year

Cuban said on Dr. J's podcast that losing is Dallas' 'best option'