Tyson Chandler forced to wear Ravens cap after Super Bowl bet
Tyson Chandler had to wear a Ravens cap after losing a Super Bowl bet with Carmelo Anthony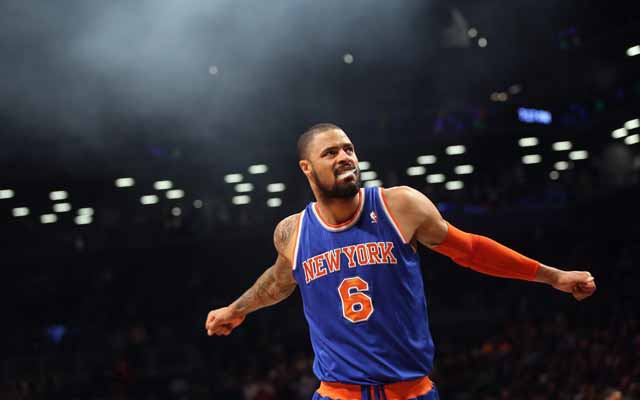 Chandler got the wrong end of the Super Bowl.
(Getty Images)
Tyson Chandler lost a bet to Carmelo Anthony on Super Bowl Sunday, and the result was a very unhappy starting center for the New York Knicks. Anthony bet on his hometown Ravens, while Chandler, a California native, backed the Niners. You know how that worked out. 
For the postgame interview following the Knicks' blowout win over the Pistons, Chandler was forced to wear a Baltimore Ravens ballcap with Super Bowl XLVII stitched in purple lettering on the side.

"This is it,'' Chandler said. "I just have to do the interview so the whole world can see it.''

As Amar'e Stoudemire walked into the locker room and saw Chandler addressing the media in a purple and gray Ravens cap, he cackled. "I know, it hurts,'' said Chandler, who grew up in Compton, Calif. a diehard Niners fan.
(via Knicks' Chandler forced to wear Ravens hat after losing Super Bowl bet to 'Melo)
Anthony would have had to wear a Niners helmet, apparently, which would have been hilarious. The Ravens beat the Niners 34-31 despite being underdogs for the third game in a row.  
HT: TBJ
Cuban weighed in on the ongoing feud between the basketball dad and the POTUS

Embiid has taken his trash-talk game to the next level this season, but he's not scared

Last year Durant said returning to his old home was 'never going to be a regular game'
The All-Star forward injured his wrist during Sunday's loss to the Lakers

Steven Adams believes he's the problem with the Thunder struggles in the clutch

LaVar claims that Luke Walton has been 'soft' on Lonzo so far