Tyson Chandler will try to convince Carmelo Anthony to go to Dallas
Newly re-acquired Tyson Chandler is already trying to help the Dallas Mavericks. He's going to try to convince Carmelo Anthony to sign with the Mavs.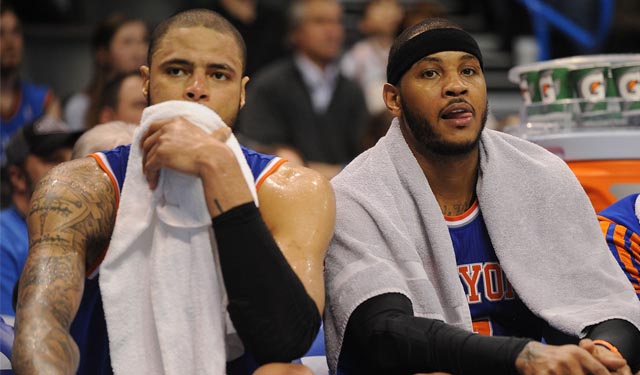 More Offseason Analysis: Coaching changes, news | Free Agency | Draft
The Dallas Mavericks have been lacking a defensive center who can make a consistent impact since Tyson Chandler left the 2011 champs and signed with the New York Knicks. After re-acquiring Chandler along with getting Raymond Felton in a trade this past week, the Mavs could already be putting their center back to work. The former Defensive Player of the Year is going to try to help Dallas woo Carmelo Anthony away from the Knicks this summer.
Chandler says that Dallas is "not a hard place to sell" and he's going to do what it takes to help the organization. With Anthony looking at Dallas as a possible free agency destination, reuniting with a good teammate could certainly help ease the transition or any worries. From CBS New York:
Anthony has been linked to Mark Cuban's squad — the Bulls, Lakers, Rockets and Heat have also been rumored to covet the dynamic scorer — and Chandler plans to help recruit the 2013 NBA scoring champion to Big D.

"Absolutely, I'm going to do whatever I can to help the team and the organization," Chandler told reporters on a conference call a day after Phil Jackson dealt him to the Mavs. "At the end of the day, free agency is kind of an individual thing. And I know that I was once there and it comes down to your family and what's best for you career-wise.

"But I'll tell you one thing: Dallas isn't a bad place to be. It's a great opportunity, and clearly we've done it in the past. It's not a hard place to sell. I'm going to do whatever it takes."
Chandler and the Mavericks will certainly sell Anthony on their 2011 title run and one of the best run organizations in the NBA. They can also sell Carmelo on playing with Dirk Nowitzki. Nowitzki, even at this advanced stage in his career, would be the best player Anthony has ever played with and he wouldn't have to shoulder so much of the scoring load. If Chandler is able to return to the form that won him the 2011-12 Defensive Player of the Year award in his first season with the Knicks, it could be one of the most formidable front lines in the league.
Carmelo opted out of his contract with the Knicks this past week and is expected to consider his former team, as well as the Mavericks, Rockets, and Bulls.
Markieff Morris was already in line to miss the start of camp due to a pending assault cas...

The 76ers should hopefully get a lot of play out of their young guys this season

Okafor's been on and off the trade block for over a year and doesn't seem to be in Philly's...
Fisher is the fourth NBA player to compete for the Mirror Ball trophy on the show

Barkley commends the NBA, sarcastically, for extending the season and reducing back-to-back...

Enes Kanter isn't seeing much comedy in the Kevin Durant social media situation