Udonis Haslem tried to get Patrick Beverley to quit yapping
Heat forward tries to tell Beverley to chill out.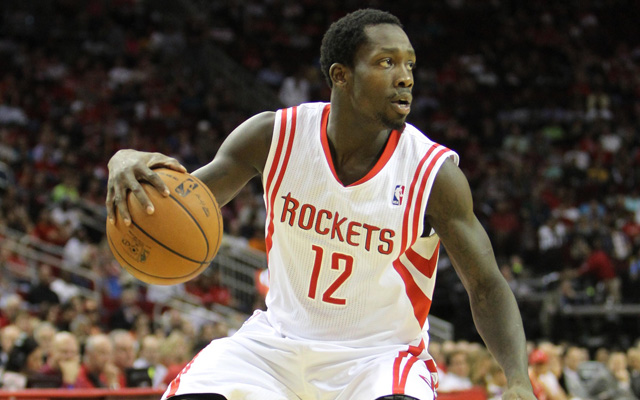 More: MVP impact? | Watch every bucket | Twitter reacts | Heat beat Bobcats
Houston Rockets guard Patrick Beverley likes to run his mouth. The scrappy, tough defender did stints in Europe and the D-League before finding his way to the Rockets, where he emerged as the defensive bloodhound they need last spring. 
Beverley spent time with the Miami Heat in trainIng camp in 2010 but didn't make the roster. And while he made some friends, one of his friends, Udonis Haslem, didn't appreciate his chirping Tuesday night. 
So, Beverley was jawing with the Heat's players pretty much every second he was on the court, which was exactly 1,972 seconds. At one point, it appeared like Heat coach Erik Spoelstra subbed Cole out of the game so Cole wouldn't completely lose his mind and do something stupid. Cole might be the most level-headed player in the NBA, by the way.

After the halftime buzzer, Udonis Haslem walked over to Beverley for a brief conversation. I asked Haslem about that conversation ...

"I was just giving him a hard time," Haslem said. "It was nothing serious. I just told him to stop talking crap and looking over at our bench. I know Pat. I think he the spent the summer with us. He's a hard-nosed kid, a real competitor, and I respect the road that he took and the success that he had, but he was just doing a lot of yapping and I told him to stop looking at our bench and talking crap.

"It wasn't nothing personal. I got a lot of love for Pat Beverley, but he was just looking over at our bench and talking and he's always got something to say. We're cool off the court, but in between the lines, I don't like it.

"You play against a team that you worked out for, or you felt like you should have been there, or they made a mistake by letting you go, you try to prove something. And I guess he came out tonight with a chip on his shoulder."
via Heat Check.
Beverley has become something of a controversial figure, particularly after his aggressive play resulted in the injury of Russell Westbrook in last year's playoffs. He's routinely involved in dust-ups with opponents. But the Rockets need that kind of toughness. James Harden, Dwight Howard, Chandler Parsons... they're full of cuddly, face-friendly teddy bears. They need a pitbull with a snarl. 
But it's interesting to see Haslem say it's "nothing personal" when it's a personal affront that sparks the anger from players towards Beverley. Playoffs should be fun. 
Trevor Ariza and Gerald Green are reportedly both suspended two games

We've got all the scores, highlights and news from the night's games

Jonah Keri talks with NFL and NBA broadcaster Ian Eagle
SportsLine simulated Wednesday's Nuggets-Clippers game 10,000 times

Galin Dragiev has his finger on the pulse of the Lakers and just locked in a play for Wedn...

No more McNuggets allowed in the Barnes household