Unable to move Asik on their terms, Rockets now face real deadline
Unable to trade unhappy center Omer Asik by their own deadline, the Rockets now face the only real deadline that matters -- and it's two months away.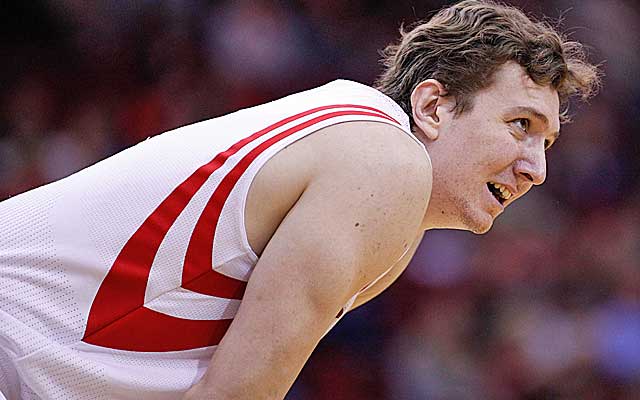 After backing out of trade talks for Omer Asik on Thursday, the Rockets are faced with the same dilemma they had before: Two months to trade their unhappy center.
So, nothing really changed except that Thursday's self-imposed deadline to satisfy the Turkish big man's trade request wasn't much of a deadline.
And the teams Houston was dealing with knew it.
League sources say Asik's new agent, Arn Tellem of Wasserman Media Group, left Houston Thursday morning after efforts to get his client routed to greener pastures -- Boston, for example -- did not come to fruition. Houston GM Daryl Morey's desire to move Asik by Thursday so he could subsequently repackage any players involved before the Feb. 20 trade deadline did not outweigh the paucity of unattractive deals on the table.
Rival executives were dubious from the beginning of a scenario that would've sent Asik to Boston for Brandon Bass, Courtney Lee and a first-round pick. Bass and Lee are two contracts that Celtics GM Danny Ainge is trying to unload, and league sources say he'd probably have to give up a draft pick to find a taker for Lee, anyway. So a deal that would also shed Bass and bring in Asik, a defensive center who is only 27, would be "a great deal for them," one executive said.
If that was the deal Morey wanted, it would've been done already. Clearly, it wasn't. One person familiar with Morey's thinking said the Houston GM did not covet Bass or Lee, and likely only considered such a deal if he could have flipped one or both of them in future deals. Of course, A) he couldn't do that unless he acquired them by Thursday under NBA rules, and B) league sources say the market for both players would've been minimal, anyway.
So, having tried to create a market for Asik with this fictitious Thursday deadline -- another mundane negotiating dance being characterized as a "sweepstakes" -- Morey hoped another team would step up with a sweeter offer. Perhaps his old buddy and co-worker, Sixers GM Sam Hinkie, would oblige by offering Thaddeus Young. Maybe Hawks GM Danny Ferry would throw Paul Millsap's name into the mix -- though, if he was bidding against a package of Bass and Lee, it's not clear why he would do that. And evidently, Ferry didn't, because the Rockets would've have ended the talks on Thursday.
Cleveland was volunteered as a potential suitor, except that it wasn't -- not in a deal that would involve Anderson Varejao, the player the Rockets wanted. There was even a "mystery" or "wild-card" team -- oooooh, tell me more -- but that one never came to fruition, either. Let's just say that when that supposed team was identified as the Portland Trail Blazers, I didn't even have to make a phone call to know that it wasn't them.
The truth is, Morey made a valiant effort to do his job -- create a market for a player he has to trade. It's not going to work now -- as of 2:10 p.m. ET on Dec. 19 -- but that doesn't mean it won't work eventually. The simple fact is that there is no such thing as ending trade talks on Dec. 19. There are only two things that end trade talks: 1) a trade, and 2) the trade deadline.
Both scenarios remain in play.
LeBron and Durant both responded to a newswoman's recent comments, telling them to 'shut up...

Mitchell's Slam Dunk Contest win was the icing on the cake of an incredible run of success

Dennis Smith Jr. had a great dunk contest, but the judges didn't feel the same way
Mitchell was awesome, but Larry Nance Jr. and Dennis Smith Jr. had some serious moves of their...

Silver noted that there are many factors at play with the issue affecting both the NBA and...

Jazz rookie Donovan Mitchell came in as a replacement and ended up winning the whole thing