Uniqueness of Anthony Davis' offense is what makes him promising
We haven't seen many players like Anthony Davis come into the NBA and his advanced offensive game shows great promise in becoming a two-way player.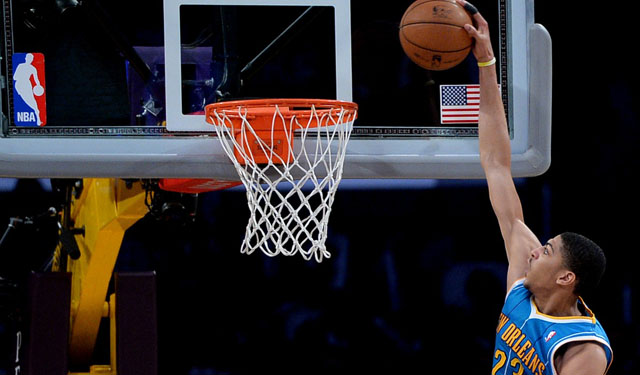 It's not groundbreaking analysis to tell you that Anthony Davis is unique. No, it's not just because of the unibrow. 
There aren't many people in the world that are 6'10.5" with a 7'5.5" reach. There aren't even many people in the NBA with those kinds of measurements. The New Orleans Pelicans' future was selected No. 1 overall in the 2012 draft because his physical measurements combined with his skills and athleticism make him a potential franchise player. Hitching your wagon to a unique specimen like Anthony Davis isn't something many fans or analysts are going to fault you for doing.
While Davis struggled with typical rookie woes in his first year playing NBA defense, there really aren't any people around the league that are concerned he won't eventually show the same defensive impact that we saw when he was at Kentucky. Where the questions for Davis surface are surrounding the offensive end of the court. Because he doesn't have much of a post game yet, he's not a big man you just throw it into the block and let him get you a bucket.
Davis is a man that makes his offensive impact on the move and finds a way to take away space on the offensive end in a similar way he does on defense. He has a great feel for the area around him and where he should be next in that area. It's part of the reason Davis is such a weapon on offense as a more agile version of the Tyson Chandler role we've seen with the New York Knicks.
The uniqueness of his production fits right in line with his unique game on the court. 
There was only one player in the NBA last season that had a Player Efficiency Rating over 21 with a usage rate under 22 percent. That was Anthony Davis. In the shot clock era (from 1954 to the present), only 22 players (it's happened 44 times by those players) have had a PER over 21 and a usage rate under 22 percent when attempting at least 600 shots in a season. Anthony Davis is one of those players. He has pretty incredible production considering how little he's used (relatively speaking, of course) within the flow of the Pelicans' offense.
He only turns the ball over 10.3 percent of the time, something only Brook Lopez and Carmelo Anthony were able to do less often last season with that kind of production. The reason Davis is so efficient with the ball is because he never tries to do too much with it. He stays within his lane and lets the game come to him as he learns to refine his offensive attack. 
Cutting down the court with long legs
Davis runs like a giraffe in open space. He's not the fastest guy on the floor but he allows his length and long strides to shrink the distance he has to go to get to the basket. Once he catches the dump-off pass or the pass that gets the ball out to him on the break, he keeps it high to utilize his arm length to protect the ball from defenders. This allows him to finish at a high efficiency rate.
In his rookie season, he finished second in the NBA in points per possession in transition at 1.56 and made 77.8 percent of his shots in transition. Part of the reason he's so good in transition is his body control. He runs upright and when he catches the ball, he doesn't try to do too much with it. He rarely takes an extra dribble that a lot of big men take in order to feel some type of rhythm in their movement to gather and rise for the attempt at the rim.
The fact that the Pelicans can choose to push the tempo more this season with recently acquired guards Jrue Holiday and Tyreke Evans and feel confident that they have arguably the best transition big man in the league trailing the play or filling the lanes gives them great potential to be one of the most efficient fast break teams in the league. And everybody likes quick, easy points.
Screen, turn, and you're at the rim
Anthony Davis gets most of his offensive opportunities on pick-and-roll plays, which shouldn't surprise anybody. You don't need to be a basketball expert to watch him set a pick, roll on those plays, and realize why he's such a devastating player in this action. He finished 33rd in the NBA in points per possession as the PnR roll man, scoring 1.11 points per possession and making 55.9 percent of those shots. Nearly a quarter of Davis' offensive possessions (24.6 percent to be precise) comes as the roll man.
It's a play so easy even Austin Rivers can run it!
You'll notice on a lot of these plays that Davis actually shortens his stride a bit before he's ready to catapult himself into the air. A lot of big men do this to gain balance in their gather steps before they launch, but few do it while keeping the motion of the play so fluid. Davis doesn't lose any of his momentum as he's gathering and it allows him to catch pretty much any lob or pass over the top in perfect stride. 
Perhaps this is from being a guard most of his life or maybe he just has a naturally high basketball IQ, but Davis also is very good at reviewing the area of the floor between him and the basket and knowing when to slip the screen and just dive straight toward the hoop for a quick bucket that catches the defense off-guard.
How quickly Davis recognizes this and aborts the secondary transition screen is just impressive.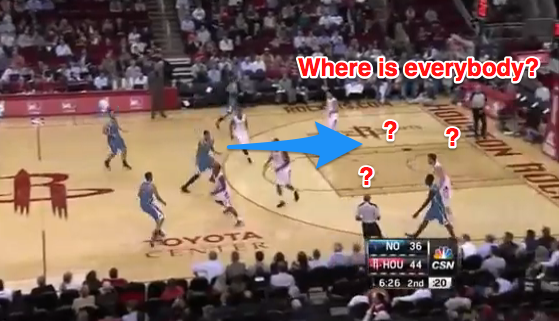 His defender is in no position physically to retreat and cut off the lane. Once Davis gets below his defender, there isn't a Rocket in sight that can flash over and stop this play from happening. 
Turning dead possessions into points
The Brow is also one of the best players at converting offensive rebounds into second chance points. He finished 45th in the NBA in points per possession on offensive rebounds, scoring 1.19 PPP on 61.0 percent from the field. Despite missing 18 games, he finished 28th in total second chance points and was 18th in the league in second chance points per game.
There are two reasons why Davis is such a gifted second chance scorer: 
1) His spacial awareness, especially when it comes to offensive rebounding, is very advanced.
2) He has the wingspan of a gangly pterodactyl.
On this game-winning tip against the Celtics back in March, Davis showed his ability to stay vertical, as to not go over the back of his opponent, and how his Go-Go Gadget arms allow him to meet the ball right when it comes off the rim from tough angles of positioning.  
Cutting through the defense
In the same way Tyson Chandler spaces the floor so well on offense while not actually being a threat from the outside, Anthony Davis operates so well off the ball and on the weak side of the floor. Because the Pelicans can run so much pick-and-roll or pick-and-pop action with their personnel, it means they can use Davis as a weapon without him being directly involved in the play. This could suffer a bit without Robin Lopez beside him, but they still have plenty of direct action with Davis waiting to cut in for the easy basket.
Davis was ranked 69th in the NBA in PPP on cuts scoring 1.26 points per possession and making 61.9 percent of his shots. This accounted for 20.6 percent of his offensive possessions, easily the second highest percentage of where his offense came from as a rookie.
He rarely clogs the lane and he always seems to know where he should be in relation to the action his teammates are running and where the defense is shading because of that action. Considering he was a rookie still learning the schemes and speed of the game, it's astounding how tuned he was to the flow of the majority of his team's offense.
Can he improve in the post to complete the package?
While all of this supplementary style of offensive effectiveness is great now, you still have to wonder if he'll ever develop the isolation or post-up game that would break him to a top tier of NBA player during his career. Can he be a franchise player with just a great off-ball game and eventual defensive dominance? Isolation and post-up positions only made up a combined 9.9 percent of his offensive possessions last year and he wasn't good in those possessions (25.3 percent from the field).
His slight build provides a lot of the issue, not because he doesn't have the bulk to handle the positioning battles inside but because he doesn't have the strength. Bulk and strength don't always go hand in hand. Kevin Garnett was a wiry frame playing power forward and center, but he eventually developed enough strength to stand his ground on post moves and not lose balance when he went into his shot attempt and felt resistance from his defender.
Davis looks to have put on some muscle this offseason but he'll still have to get comfortable absorbing the contact when a post defender takes away space and tries to use some veteran tricks to slyly knock him off balance.
There is still a lot of improvement for Davis to make on the offensive end, but his understanding of his limits right now and where he needs to attack the defense is incredibly advanced. It doesn't mean he'll turn into a dominant offensive player some day, but it's easy to like his chances with what we've seen so far. 
We just don't see someone like him come around very often, even if he doesn't realize his full potential.
* - Synergy Sports, NBA.com/stats and Basketball-Reference provided the data for this post
The NBA All-Star Game is here. Follow our live updates to keep up with the action

Bryant says he was looking at schools in Chicago and was ready to meet Jerry Reinsdorf and...

The 76ers guard is in hot water after a controversial video surfaced showing him using a racial...
James Harden is the only player representing the best team in the NBA

Adam Silver sees a 1-16 playoff as a real possibility in the future if they can figure out...

Galin Dragiev is SportsLine's No 1. NBA expert and locked in a pick for Team LeBron vs. Team...