Up 2-0, Melo has opportunity to solidfy greatness even further
Unburdened by the leadership role that he doesn't have to fill, surrounded by players who complement him and thriving in an offense that is built around his immense talent, Carmelo Anthony has arrived at a career crossroads.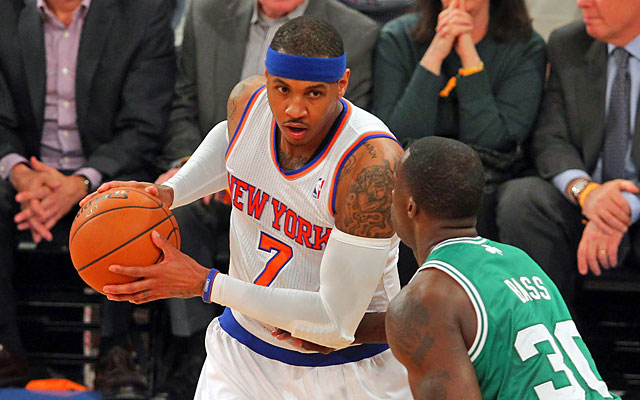 NEW YORK -- He's perhaps the most polarizing figure in the NBA, and also one of the most dangerous. Especially now.
 Unburdened by the leadership role that he doesn't have to fill, surrounded by players who complement him and thriving in an offense that is built around his immense talent, Carmelo Anthony has arrived at a career crossroads.
 Getting out of the first round for the second time in his career won't satisfy the critics or silence the doubts about his greatness. Nothing short of a collision with LeBron James and the Miami Heat in the Eastern Conference finals will do that. But the Melo who eviscerated the Celtics in an 87-71 rout in Game 2 on Tuesday night, the one who ruthlessly turned back the bullies from Boston every time they showed some life, has never been more comfortable – never more prepared to write a new ending to what has been a largely unfulfilling journey.
 He has been to the playoffs all 10 years of his career -- had a winning record every year, too, by the way -- and has been knocked out in the first round eight times. It's only the third time in his career he's been up 2-0 in a playoff series. Seven of the eight first-round ousters have come in five games or fewer; three were sweeps.
 Even when he added a scoring title to his resume this season, it was received with a yawn. We all knew Melo could score; but can he win?
  The Knicks are winning with him now. They will go to Boston for Games 3 and 4 with the best chance anyone's had of knocking the Celtics out in the first round since the Big Three came together and won a championship in 2007-08. That year, the Celtics cruised to a 66-win regular season and were pushed to seven games by the Hawks; things were so different then.
 "I was concerned going into the '08 playoffs," Celtics coach Doc Rivers was saying before the game, "because we had about as easy a year as you could possibly have. We hadn't really been tested. Game 6 in Atlanta, we came apart, and I actually thought that was a good thing, as crazy as that sounds."
 Rivers knew the championship potential of that Celtics team, and he wanted that group to stumble, gather itself and march onward. This time, he walked into the postseason with a very different kind of uncertainty, and walked out of Madison Square Garden with an 0-2 deficit and epic problems on his hands.
 "They didn't let us throw a knockout punch," Rivers said. "And then in the third quarter, they turned that on us and threw a knockout punch at us. Several of them, actually."
 The one delivering the key blows once again was Anthony, who outscored the rudderless Celtics by himself in the third quarter, 13-11. When the Celtics got within three, 55-52, Anthony answered with a 3-pointer. After a defensive stop at the other end, Anthony sealed off Paul Pierce in the post and had the great Celtic at his mercy as he wheeled toward the baseline for a fallaway jumper. Lethal.
 The quarter ended with the Knicks leading by 15, 74-59. Before long, Shavlik Randolph was on the floor for the Celtics; Quentin Richardson and James White for the Knicks. It was like the old days at the Garden -- garbage time, only backwards.
 When Kevin Garnett picked up his fifth foul with 6 1/2 minutes left, the Garden erupted with its loudest "KG sucks!" chant of the night -- so much pent-up frustration pouring forth from the building after so many years of the Celtics wiping the court with a team that was its rival only in theory.
 It was Garnett, rendered a non-factor by foul trouble, who said after the game, "Boston, here we come." But Anthony is the driving force as this series shifts there -- one of the game's dominant players, finally positioned to do more than score empty baskets for a teams going nowhere.
 "He doesn't have to lead, and that's the biggest difference," Rivers said outside the Celtics' locker room. "He does lead, but he has a lot of leaders. He doesn't have to bear the brunt of all that. You've got Kenyon [Martin] leading, Jason Kidd leading. Tyson Chandler's a great leader. And he can just play. Plus, he listens to them, and that's good for Carmelo."
 The closest Anthony has come to lifting this albatross was 2008-09, when the Nuggets lost to the Lakers in the Western Conference finals in six games. Not coincidentally, this Knicks team is constructed quite like that Denver team. Chauncey Billups, still in his prime, and Martin took care of the leading. Nene and Chris Andersen took care of the paint. J.R. Smith provided the points off the bench.
 Anthony simply put the ball in the basket. It's what he does, better than almost anyone alive. It's what he's paid to do.
 "My guys know I trust them a lot, especially when things are not going well for myself," Anthony said. "I rely on my teammates to pick me up offensively when I don't have it, defensively when we are not doing that. That is something we have been building since training camp -- trust and believing in one another, and that is what we are doing right now."
 For Anthony, this is something that has been building for much longer – for a decade. The opportunity to break free, to unburden himself from unfulfilled promise, has never been more real.
We've got all the scores, highlights and news for Thursday night

The Sixers big man got his first All-Star selection -- and maybe some revenge -- on Thursd...

It appears some players are not entirely taking the All-Star voting process seriously
There were some weird discrepancies between the fan, media and player votes

LeBron and Steph will be the captains for the 2018 NBA All-Star Game

Arron Afflalo was involved in an altercation with Timberwolves big man Nemanja Bjelica on...