USA barely survives Lithuania: Why was it close and how did they escape?
USA Basketball barely escaped against Lithuania on Saturday, pulling out a 99-94 victory. What went wrong and how did the USA escape?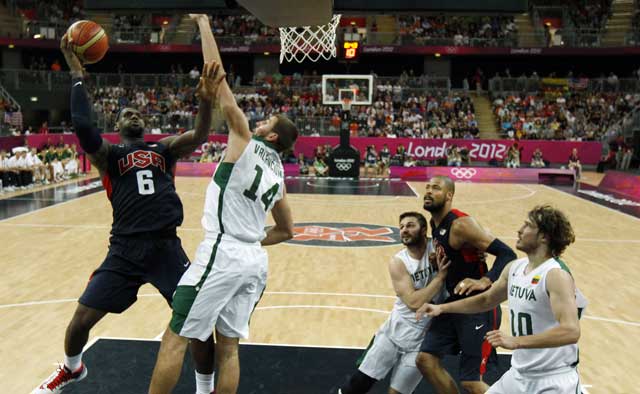 LeBron James helped USA escape Lithuania on Saturday.
(Getty Images)
Just 48 hours later, USA Basketball almost made a different type of history.
Perfection is the expectation for a team that set an all-time Olympics record with 156 points in destroying Nigeria on Thursday, but they very nearly slipped up in calamitous fashion on Saturday, eking out a 99-94 win over Lithuania on Saturday.
Of course, USA, now 4-0, is still in group play and a loss wouldn't have damaged their gold medal hopes in the slightest. But losing a game, now or later, takes them out of the historical conversations and debates that they have welcomed. A loss would mostly be a reflection of the strength of international competition in the modern era but it would also be a humbling experience, one that would immediately transform the team's journey from succcess to total failure, from Dream Team competitor to punchline.
Those stakes are at play in every game. Let's look at how Lithuania threw such a scare into USA and how they escaped.
Why was it close?
1. The foot was off the pedal. Everything came very, very easy against Nigeria, with USA scoring points and hitting shots at a level of intensity last seen during the sneaker-sponsored lockout exhibition tours. The quality of the opponent ratcheted up a good three or four notches on Saturday and USA responded initially by being back on its heels rather than raising its game. USA was lackadaisal right from the beginning, when Kevin Durant missed a 3-pointer and then half-heartedly jogged back as Lithuania scored a run-out basket off the miss behind him. There were plenty of other instances of USA operating at less than perfect focus: Tyson Chandler conceding a basket by completely losing his man completely on an inbounds play, Russell Westbrook hitting the side of the backboard with a baseline jumper, [insert the name of virtually any USA player] settling for a jumper.
2. Lithuania is both fearless and talented. Quick weekly recap: a Tunisian player asked Kobe Bryant to autograph his shoe on Tuesday and USA coach Mike Krzyzewski had to defend his team from accusations against running up the score on Thursday. Lithuania -- a country with one of the best basketball histories to its name and with the most ardent fan support in the world hands down -- wasn't going to be starstruck or punked for a single second. While the team is led by a marginal NBA player, Linas Kleiza, they compete extremely hard on both ends. Lithuania is now 1-3 in London but they pushed France in a similar manner, attacking the basket and moving the ball possession after possession. On Saturday,
Lithuania shot an astounding 58.5 percent from the floor, aided by 21 assists on 38 field goals, a tribute to their zeal for competing against the best team in the tournament as well as their unselfishness. All that shot-making kept this game tighter than it looks in the box score, considering that Lithuania was -14 in turnover margin and -16 in free throws attempted. They just kept plugging and plugging on offense and briefly held a fourth-quarter lead. They didn't flinch when the USA picked up its play considerably down the stretch and simply got out-gunned at the finish. There's no shame in that, considering the talent disparity.
3. You live and (nearly) die by the three. Breaking news: it turns out that you can't effortlessly make 29 3-pointers in every game. USA went 29-for-46 from deep against Nigeria for a whopping 63.0 percent. There was only one way to go from that summit, of course, but it was a steep fall for USA on Saturday. All told, USA hit 10-for-33 from deep against Lithuania (30.3 percent) with three of those makes coming in the game's final six minutes. After starting 7-for-28 (25 percent) from deep, Chris Paul's three with 5:41 remaining gave the USA a lead it wouldn't relinquish.
USA wouldn't have been in such a tight spot had they exercised more patience and applied more diligence in their shot selection. After notching 41 assists on 59 baskets against Nigeria (again, outstanding numbers), USA managed just 13 assists as a team on 35 baskets. There's no way any team with Chris Paul, Deron Williams or LeBron James should ever finish a game with 13 assists -- and this team has all three of them.
How did USA escape?
1. LeBron James saved the day. This was a petri dish for the "Who will be the alpha dog?" discussion that leads basketball discussion everywhere these days: tough opponent, tight game in the fourth quarter, points are badly needed and all the best scoring options are on the court simultaneously. So who takes over?
It was James, the 2012 MVP and Finals MVP, who delivered the victory in the closing minutes. After Paul's three put USA ahead for good, James hit a 3-pointer, converted a Lithuania turnover for a transition dunk, spun past the Lithuanian defense for a pretty left-handed on the move and went one-on-one in a clear out to hit a runner off the glass. All told, James scored 9 of the USA's final 12 points in the game's final four minutes, shooting 4-for-5 from the field to do it.
"I play an all-around game and wait for my offense to come," James said in an NBC post-game interview. "Today was one of those instances where i needed to step offensively. i was blessed enough and my teammates found me and I was able to make a couple buckets."
James finished with 20 points, 5 rebounds and 3 steals.
2. All play-makers lineup. The USA's closing lineup was particularly interesting: Chris Paul, Deron Williams, Kobe Bryant, LeBron James and Kevin Durant. Krzyzewski sacrificed size and strength (and maybe defense) for a lineup composed entirely of elite play-makers and shot-takers. Williams' presence might have been the biggest surprise -- considering that he doesn't start and is a second point guard next to Paul -- but it worked very well. USA was able to completely spread out Lithuania's defense, creating driving lanes for James and open threes for Paul and Williams. They even managed to secure two key offensive rebounds in the stretch and also forced multiple turnovers with quick hands on the perimeter.
Is this undersized quintet the ideal closing group against a bigger and longer Spanish team? That's an open question. Did USA need more than just eight minutes of play from Tyson Chandler given how well Lithuania shot from the field? That's definitely a fair question too. But there was no second-guessing this lineup in this situation, given the results it delivered.
3. Turnovers. This game would have been upgraded from "legitimate scare" to "nauseating nightmare" if it hadn't been for the turnover differential. Paul uncharacteristically turned the ball over twice in the final 40 seconds, with the game already decided. Before that, USA committed just 7 turnovers as a team compared to 23 for Lithuania. All those extra possessions -- plus 13 offensive rebounds, eight more than Lithuania, and the 31 free throw attempts -- subsidized USA's relatively poor shooting. 
"You need a little bit of adversity to make it through the stretch," James said. "We didn't shoot the lights out like we did the other night but we still found a way." 

Pressure defense was that way, especially once the USA locked in later in the game. That intelligent aggressiveness needs to be there every game, regardless of whether the shots are falling. That's one of the most oft-repeated basketball maxims and it's one that the USA coaches should be repeating ad nauseum after this one.

We've got all the scores, highlights and news from all of Sunday's games

The Rockets beat the Warriors 116-108 on Saturday night

The Cavaliers gave up 148 points in their loss Saturday afternoon to the Thunder
Blatt made the comment before coaching in the All-Star Game in Turkey

Is this rock bottom for the Cavaliers because it sure feels like it is

Wade, as he's done so many times in his career, threw it up to LeBron for the thunderous f...