USA Basketball challenged with regrouping after Paul George injury
Paul George's gruesome injury leaves USA Basketball trying to forget that memory quickly and regroup as a team.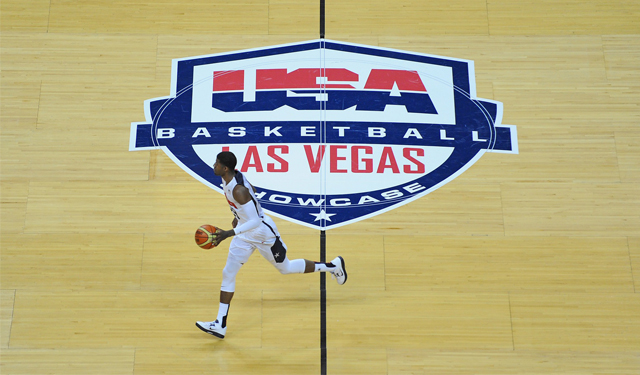 More on Paul George: George suffers serious injury | Players from across NBA react
Paul George's gruesome injury leaves all of us speechless. With USA Basketball, the roster decisions aren't important and won't be for some time. Director of USA Basketball Jerry Colangelo stated as such in the press conference after the Team USA scrimmage was ended early due to the injury.
"We need to take a step back before we do anything at all," Colangelo said. "Our first concern, our primary concern, is Paul George."
George's health is the priority here, even with decisions for Team USA scheduled to come relatively soon before their tune-ups heading into the FIBA World Cup in Spain. There is an abundance of talent in the roster pool of 20 players, especially at the wing position where George was slotted to start for Team USA. Regardless of what gets decided, USA Basketball will be fine on the court with the type of player they choose.
Once they know the severity of George's health status and whether he'll even be able to play this season, the players, coaches and everybody involved with USA Basketball will have to reconcile with the horrific event and figure out how to get themselves back in the game mentally. Assuming they decide to still play, which is a pretty safe assumption, players just watched a good teammate and friend go down in an awful way right before their eyes. The looks on the faces of Derrick Rose, Kevin Durant, John Wall, Kenneth Faried and others were as solemn as you can imagine.
The players on this team play for exposure and the chance to play in a different environment like this, but mostly they play for the pride of "playing for their country." But now there is another level of emotion involved.
There's the chance the team can rally around it and use him as their inspiration to take home the gold. Playing for George and giving him the gold medals for the tournament could be something USA Basketball uses to galvanize its play and get in the right frame of mind to compete. I'm not sure anybody would blame the USA players for going the other way and deciding it's too hard to shake that experience of when George went down.
No matter what they decide, you know the leadership from Colangelo down to Mike Krzyzweski and his coaching staff to the veteran basketball leaders on the team will make the right decision for them and in honor of George. The team has the Nike World Basketball Festival in Chicago from Aug.13-17 and the FIBA World Cup begins Aug. 30. While the clock is ticking, USA Basketball has plenty of time to make the right decision for them.
"There's a brotherhood in the NBA," Krzyzweski said following the scrimmage. "In moments like this, a brotherhood shows its heart and it shows its depth."
Here's to a speedy and full recovery for Paul George.
Warriors' forward doesn't understand the reasoning behind the all-too-common double technical...

Hardaway Jr. gave a 'safe' call like he was an umpire in baseball

Barnes hits the trey with less than a second left to lift Mavericks to dramatic 95-94 vict...
Kevin Durant was once again back in Oklahoma City

Gregg Popovich has never seen an injury lead to the issues that Kawhi Leonard has been fac...

Kobe Bryant, of course, had his 81-point game against Rose and the Raptors back in 2006