USA Basketball: No additions to player pool for 2012 London Olympics
Despite recent injuries, Team USA chairman Jerry Colangelo says no additions will be made to the player pool in advance of the 2012 London Olympics.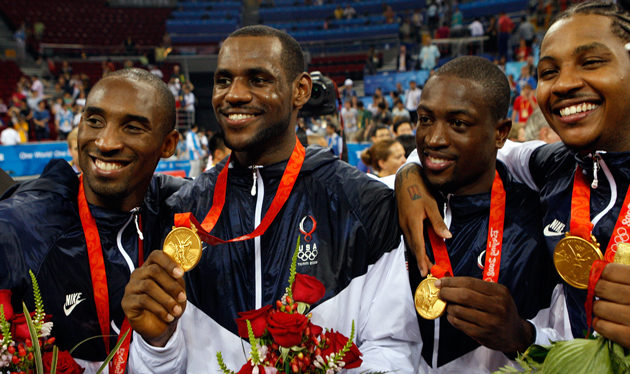 Team USA for the 2012 Olympics won't see any changes to its player pool.
(Getty Images)
We are who we are.
That was the message from USA Basketball chairman Jerry Colangelo, who said this week that he would not be making any additions or changes to his player pool in advance of the 2012 Summer Olympics in London.
ESPN.com with the quote
.
"We're not going to add anyone," Colangelo said Wednesday. "Even with the losses, we still feel like we're pretty well covered."
Back in January, a preliminary group of 20 finalists for the team's 12 roster spots was set. Since then, forward
LaMarcus Aldridge
(hip), guard
Chauncey Billups
(knee), center
Dwight Howard
(back) and
Lamar Odom
(Kardashian-related symptoms) have all been eliminated from consideration. Aldridge has expressed a hope that he will be able to return from an upcoming hip surgery in time for the Olympics, but also admitted: "I'm not going to push it."
The remaining 16 players break down like this.
Point Guards:
Chris Paul
,
Derrick Rose
,
Russell Westbrook
,
Deron Williams
Shooting Guards:
Kobe Bryant
,
Eric Gordon
,
Dwyane Wade
Small Forwards:
Carmelo Anthony
,
Kevin Durant
,
Rudy Gay
,
Andre Iguodala
,
LeBron James
Power Forwards:
Chris Bosh
,
Blake Griffin
,
Kevin Love
Centers:
Tyson Chandler
Seven players from that group were 2008 "Redeem Team" members: Paul, Williams, Bryant, Wade, Anthony, James and Bosh. Durant and Chandler figure to be locks. Rose, too, is a lock if healthy and available to play. Griffin and Love would seem to be the odds-on favorites to complete the roster, leaving Westbrook, Gordon, Gay and Iguodala as the four cuts.
In addition to Rose, who has missed nearly half of the 2011-2012 with various injuries, Bryant, Wade, Anthony, Bosh and Chandler have missed time off and on with various ailments.
Beverley handcuffed Lonzo on the court, and the emotion carried into the locker room

Ball's eagerly awaited first NBA game didn't go the way Laker fans hoped

Griffin can still hand out posters with the best of them
The Knicks forward is a bucket-getter in the truest sense of the term

On the TNT broadcast, even Shaq finally admitted that he likes Joel Embiid's game

The Warriors new Nike classic uniforms will be revealed Thursday