VIDEO: Carmelo Anthony cooks the Pelicans in the fourth
Knicks forward goes for 42 including 13 in the fourth.
Carmelo Anthony decided he'd had enough. The Knicks are at the center of trade rumors, coach firing talk, and his impending free agency. After a miserable loss to the Grizzlies Tuesday, the Knicks responded in New Orleans with a win, and Melo dropped 42, including 13 in the fourth. 
The Pelicans took the lead briefly late, and then after Anthony Davis blocked him at the rim, Melo went to work. 
I especially like how he passed up the pull-up three for a closer, better shot that was more open. Just great work from Anthony who was awesome all night long. 
Here's his shot chart from NBA.com: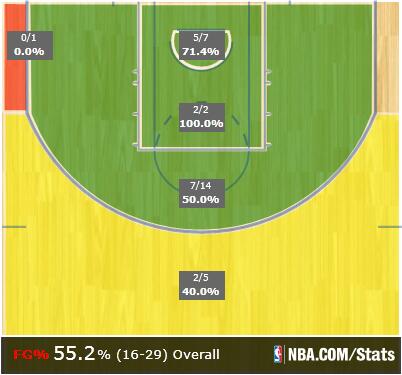 T.J. Warren gets paid big money by the Suns in a four-year deal

Melo didn't hold back on his feelings about President Donald Trump and urges for help in Puerto...

The Wizards star says the NFL won't change until important players like Brady and Rodgers speak...
Popovich spoke at length about sports, race, culture, and politics during Spurs media day on...

Carmelo Anthony finds the idea of coming off the bench very funny

Several teams spoke about Trump's recent comments about protests and the Warriors' White House...