VIDEO: Derrick Rose says he wants to play for Team USA in 2016
Bulls star reiterates that he wants to be a part of Team USA in Rio.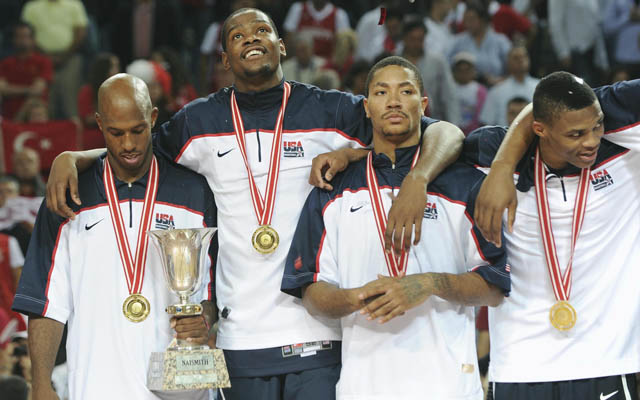 As the tremendous hype around Derrick Rose's return to a full regular season continues (22 points in preseason action Wednesday night), the conversation is now turning to the future. How good can Rose be this season? Can he be an MVP candidate? Can the Bulls win the title? We're all rushing to get ahead of ourselves, but even beyond this season, there's reason to be excited about Rose resuming his stellar career track. Part of that includes his involvement in Team USA, and Rose said Wednesday he'd like to be a part of Team USA in 2016 in Rio. 
From CSN Chicago:
"For sure, I would love to play on the team," said Rose. "It would be an honor. But at the same time it'll take me trying out for the team and Coach K and this coaching staff along with Thibs would pick the players and allow me to play for them. So, if I have the opportunity to play for them, I will, but it's just going to take me trying out for the team."

With Thibodeau on the coaching staff, it might be something Rose will have to get used to.

"It's going to be a little bit weird, but at the same time it should be cool and we should grow — our relationship should grow — with us being two other leaders driving this team."
via Rose: I'd love to play on the Olympic team | CSN Chicago.
Rose has made similar comments before. Here's what he said during a promotional tour of the Philippines: 
"I mean, if they pick me, yeah," Rose said Monday in Manila when asked if he wants to join Team USA. "If they select me on the team, it will be an honor."

According to USA Basketball chairman Jerry Colangelo, Rose can still be a part of Team USA, as he "qualifies in a lot of ways" for the national squad.

"He knows our system. He's been part of USA Basketball. He's a terrific guy. He's a great competitor," Colangelo told USA Today back in July. "We have to wait and see what he looks like. How quickly does he get back to that level, and then it's going to be up to him as to whether he wants to be with us next summer."

Rose stressed that he is more than willing to join the team.

"I definitely will be on the team if Coach K (Team USA head coach Mike Krzyzewski) wants me," he said.
via Rose would be honored to play for Team USA | ABS-CBN News.
I also love that he acts like if he says he wants to, he has to get selected. Dude, you're a former MVP, Adidas' main athlete, a lock for All-Star when healthy. You're in. The humble act is adorable and all, but come on. 
Rose last played on Team USA in 2010 in the FIBA World Championships, winning gold. His style isn't perfect for international play which relies on smoother passers and the fact that other stars like Kevin Durant (and possibly LeBron James) are likely to have the ball in their hands more, but he can definitely make an impact with is speed and physicality, as well as his scoring potential. If Rose's defense gets to where he knows it needs to be, he'd be especially valuable against the quick passing guards other teams routinely employ. 
Stephen Curry, who grew up in North Carolina, wants to be part of the next Panthers ownership...

Vince Carter is destined for a Raptors reunion; he doesn't know when it'll happen

Thomas has a target date for his return, and with the Cavaliers scorching, this could be h...
LeBron James once again is using his platform to be socially active

Not many games, but still plenty of action and intrigue Sunday in the Association

Kobe Bryant had a solid piece of advice for back in 2016 when he left OKC for Golden State