VIDEO: Flagrant foul call on LeBron James for elbow to Roy Hibbert
The rare offensive flagrant foul called on Heat star which results in blood and dizziness for Pacers center.
In the second half of a brutally physical game between the Heat and Pacers, LeBron James drove into Roy Hibbert -- known for being a rim protector with his so-called "verticality," the rule stipulation that allows him to go straight up and absorb contact without a foul. 
James' elbow went high, whether to make contact or to try and get around Hibbert for the layup, and hit Hibbert under the chin. Hibbert landed and seemed disoriented. He tried to get up, and then fell back down. 
James was charged with an offensive flagrant foul, which is rare. 
More Heat-Pacers: Paul George dunks past LeBron | Wade and Stephenson T'd up
Hibbert would go to the bench, be treated, leave for the locker room, then return to shoot the free throws for the flagrant. He would then leave again, presumably for the NBA's concussion test protocol, and then return to the game. He eventually closed out on Chris Bosh on the Heat's last second game-winning attempt.
Here's a shot of the elbow.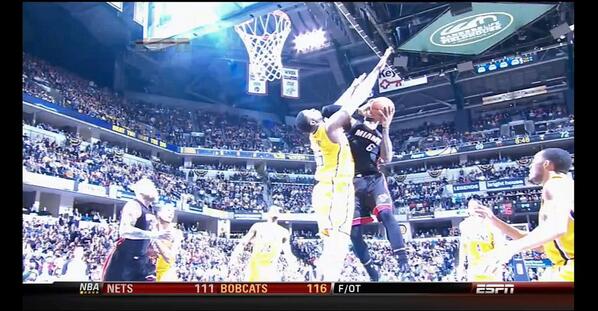 Thomas took to Twitter to let the Celtics know he doesn't want to ruin Pierce's night

The Hall of Famer was a seven-time All-Star with the Celtics, and was MVP of the 1976 Fina...

It's rare to see a legit punch in an NBA fight, but this was definitely one of them
We've got all the scores, highlights and news from an NBA Tuesday

The former Slam Dunk Contest champion will take his talents to Tri-State

Do NBA players have look-a-likes from famous paintings? We found out on the new Arts & Culture...