Video: How Hero-Ball doomed the Rockets and the Heat maximized LeBron for the win
LeBron James uses space to hit the winning layup while Houston tries to do too much on the shoulders of James Harden in the Rockets' loss to the Heat Monday.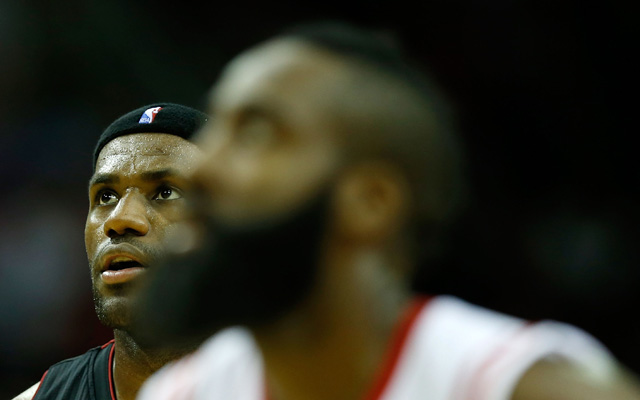 James and Harden had different approaches late Monday.
(Getty Images)
Here's how the Rockets almost won their game against the Heat Monday night. 
They found a mismatch with Chris Bosh guarding Harden (how does that happen?) used it to suck the defense in, and then Harden found the open man with a terrific jump pass to the corner. It was a great play, and found a great shooter with a great shot. (Great great great.)
There's a common thought that late in games, the only option is to put the ball in your star's hands and have him go into isolation to try and get a shot, usually a mid-range jumper, off. Here the Rockets go with a different approach. They create an open look using a mismatch and a good shooter in a high-percentage shot. 
Here, you'll see LeBron James take a pull-up three. But watch how that shot comes about. 
Now that's still a contested three, but the Heat at least use the screen to create separation, and that little gap that's created is enough to let James nail a monster three. 
Of course, running a playset doesn't always work. Here the Rockets run a great play, have excellent perimeter passing, find an open look from their second-best player... and...
So that's not so great. Tough miss there for Lin.
But the bigger issue arises when the Rockets, in true clutch time, go away from trying to create a play and just hope for Harden to take over. First,  you'll see Harden try and get to the rim to either score or draw a foul. This isn't a terrible plan to start with as Harden finds himself against the slower Battier. But he forgets that this isn't the 90's and help defense is much better than it used to be. Especially when the help defender is LeBron James. And what happens after is the entire ball-game. 


Harden tries to go one-on-team and winds up with a bad miss that turns into a Heat possession, then James runs a side pick-and-roll with Bosh, gets the mismatch, gets the edge on the switch, and that's all she wrote.

The Heat would never trail again.
It should be noted that James also went one-on-one late and drew a foul. Again, nothing is 100 percent effective or ineffective. But one has a higher probability of success  than the other. Creating space leads to good things. 
Finally, here's the last Rockets' possession, their chance to tie the game and send it to overtime. They have shooters. They have a drive-and-kick player. But what ends up happening is James Harden trying to hit a step-back three over the best basketball player in the world. 


The best player in the world uses teammates to create high-percentage looks. The Rockets who need to be greater than the sum of their parts opt to try and topple the Heat one-on-Bron.
Green helped KD through the tricky situation but not without enjoying his teammate's blund...

Vonleh reportedly suffered a shoulder strain during a pick-up game at the team's facility

OKC and Westbrook have until October 16 to agree to the deal
The league is implementing the 'Zaza Rule' and 'Harden Rule' in 2017 geared toward player...

Thunder GM Sam Presti went on to say the procedure on the MVP's right knee was "nothing se...

Hayward credited the Cavs guard as a big reason why he chose Boston in free agency