VIDEO: Joe Johnson hits winning shot over Thunder
Brooklyn guard goes isolation and knocks down the fadeaway jumper as time expires.
The Brooklyn Nets are undefeated in 2014 thanks to his shot by Joe Johnson over Serge Ibaka, capping a 16-point road comeback. Whoo boy. 
Check out the behind-the-back. 
Here's how close that was to a block.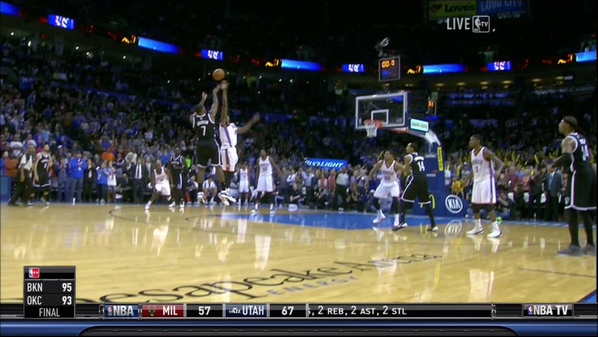 Easily the Nets' best win since their win over Miami the first week of the season. That's back to back home collapses for the Thunder. 
Barkley commends the NBA, sarcastically, for extending the season and reducing back-to-back...

Enes Kanter isn't seeing much comedy in the Kevin Durant social media situation

Iggy nearly joined the Rockets before giving the Warriors a final chance to raise their offer,...
The Celtics guard is leaning towards siding with his new teammate but has questions about the...

Knicks media day and the first day of training camp in New York is Monday

A former Michigan State football player is suing Green over an alleged 2016 assault