VIDEO: Klay Thompson scores 29 in the first half of Game 2
Klay Thompson can shoot. And score. And score some more. He had 29 in the first half of Game 2 against the Spurs, including 7-8 from 3.
Mark Jackson called Klay Thompson and Stephen Curry the "best shooting backcourt in NBA history" recently. A lot of people scoffed at that. 
But Curry and Thompson are making everyone believers now. We all know about Curry's scoring exploits, but Thompson was the one putting on a shooting show in the first half of Game 2. Thompson went 11-18 from the floor for 29 points, and hit 7-8 from 3. 
Check out Thompson's shot chart too: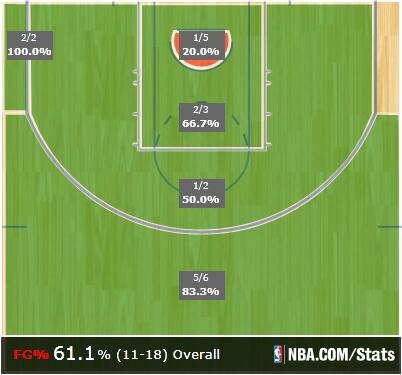 Apparently, he needs to stay 25 feet from the basket. Because point blank range is no good for him. 
And here's something to watch: The playoff record for 3s in a game is nine. As he is whenever he steps on the court, Thompson is in range. 
Jeremy Lin is out for the season after only one game

Hayward is expected to make a full recovery, but don't expect to see him on the court this...

Well, Suns fans ... it can only go up from here
Teague no longer plays the game, however, because he's mad about his rating

Our NBA scribes break down what we've learned from the first two nights

Imagine if the Orlando rookie ripped off his warmups and stepped on to the court topless