VIDEO: Kobe passes Wilt for fourth place in career scoring
The Lakers' Kobe Bryant passed Basketball Hall of Famer Wilt Chamberlain on the NBA's career scoring list on Saturday night to move into fourth place.
Kobe Bryant passed Wilt Chamberlain to move into fourth place on the NBA's career scoring list during the Lakers' 103-98 victory at Sacramento on Saturday night. Here's video: 
In a continuing trend, it's mostly about Bryant's longevity that put him here. Bear in mind that Chamberlain reached his 31,419 points in 14 seasons; Bryant is in his 17th. Chamberlain boasts four of the top five all-time highest scoring seasons in NBA history (Michael Jordan holds the third highest, Bryant the seventh highest).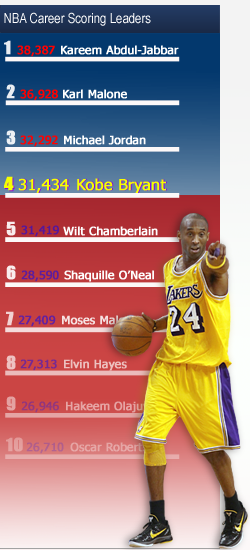 Bryant continues his climb and every indication leans toward the possibility that Bryant will eventually pass Kareem Abdul-Jabbar for the all-time career points leader. He would have to play several more seasons. But considering his performance in his 17th season, you have to think he can pull it off if he decides he wants to. 
Bryant has leaped a literal and figurative giant in the league's history. Chamberlain's career averages were 30 points and 23 rebounds (!) per game shooting 54 percent in a markedly weaker league. Bryant, of course, says he just wants the championships. 
"I just want No. 6, man," Bryant said, referring to his championship count, when asked where he wanted to finish on the all-time scoring list when he retires. "I'm not asking for too much, man. Just give me a sixth ring, damn it."
via Kobe Bryant of Los Angeles Lakers passes Wilt Chamberlain on scoring list - ESPN Los Angeles.
Kris Dunn somehow took a chunk of the Bulls court out with his teeth, but didn't lose any in...

The fallout from the Rockets-Clippers tussle continues; no Clippers were disciplined

DH12 is picked for free throws after a teammate gets ejected. He makes both, and lets Scott...
Bell was injured defending a Robin Lopez dunk and had to be taken off the floor in a wheel...

Trevor Ariza and Gerald Green are reportedly both suspended two games

We've got all the scores, highlights and news from Wednesday night