VIDEO: Mark Jackson beats Stephen Curry in shooting contest
Golden State Warriors' coach Mark Jackson beat Stephen Curry in a 3-point shooting contest. In 2014. Seriously.
More NBA: Power Rankings | Expert Picks | Latest news, notes
I was only 8 years old when Buster Douglas beat Mike Tyson in a boxing match in Tokyo, so I wasn't totally aware of just how big of an upset it was at the time. I knew who Tyson was and I knew he was the best in the world. I knew he was a wrecking force whom people feared. When it was explained to me what a monumental upset it was, it was one of those sports moments that taught me anything was possible. 
Fast forward to 2014 and we just had a similar moment happen. On the practice court at Bankers Life Fieldhouse in Indianapolis, the Golden State Warriors were putting in their daily work. At some point, Stephen Curry ended up in a shooting contest with 48-year-old coach Mark Jackson.
Just as a refresher, Curry has the third most accurate 3-point percentage (43.9 percent) in NBA history and set the record for 3-pointers made in a season in 2012-13 with 272. Mark Jackson played in a much different era but he made only 734 3-pointers in his 17 seasons in the NBA and shot 33.2 percent from beyond the arc. Curry has already hit 837 triples in his four-plus seasons.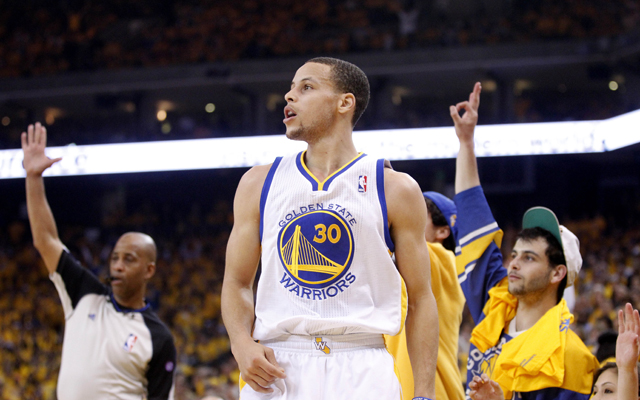 And yet, in this shooting contest, Jackson not only prevailed but he swept Curry. A common shooting game after practice for NBA players is best-of-5 from three different 3-point spots on the floor, just like you would in the 3-point contest. Curry made two of five from the left corner while his coach made three of four, not even needing a fifth shot. Curry made three of five from the left wing; Jackson made four of four -- once again, not needing a fifth shot. Curry made one of five from the top of the key while Jackson hit two of two from the top, completing a 3-0 sweep in the best-of-5.
Jackson even walked away before the last shot went through the hoop, channeling his inner Larry Bird. Remember this moment and try to figure out how to explain it to the kids out there, who are too young to realize the moment that just happened. 
The Rockets apparently aren't going to rush their new point guard back

The Bucks are going all in on retro with their jerseys and court design

Mike McClure, a DFS pro with more than $1M in winnings, gives optimal DraftKings and FanDuel...
LaVar's son couldn't live up to LaVar's hype. But there's more to this story

Carmelo Anthony is hoping for Kristaps Porzingis to see success on his own

Bill Reiter and Reid Forgrave break down the debuts of Lonzo Ball and OKC's new big 3, plus...