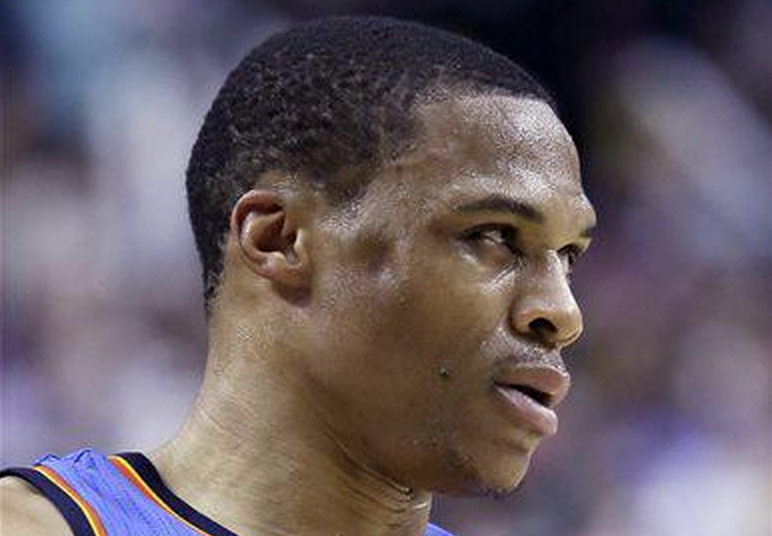 While recording his third straight triple-double, Thunder point guard Russell Westbrook took a nasty shot to the head, which was being evaluated. His status is in doubt for Sunday's game vs. the Lakers.
Despite the injury in a 115-112 loss (on a back to back) at Portland, Westbrook was incredible -- once again. In a little over 24 hours (including Thursday's 117-113 OT loss at Phoenix), Westbrook collected 79 points, 27 rebounds and 22 assists and OKC somehow went 0-2. To make matters worse, after missing the first of three free throws that could have tied the score vs. the Blazers on Friday, Westbrook tried to attack the rim for the rebound, and wound up getting kneed in the head. 
The weird thing: the injury didn't draw blood. Instead it ... well, it made a dent. 
No, seriously, a dent.
AP's Don Ryan with a good shot of Russell Westbrook's face: pic.twitter.com/2xAfRC5ukQ

— Anne M. Peterson (@AnnieMPeterson) February 28, 2015
There's some discussion it could be a facial fracture, which might need surgery.
Westbrook is leaving everything on the court with Durant out trying to keep the Thunder in the West's No. 8 seed, including the normal structure of his face. While this situation pumps up Westbrook's legend, facial injuries are no joke. Rudy Tomjanovich took a vicious punch from Kermit Washington in 1977. 
Tomjanovich was sent to the hospital, and was still fuming over the fight when doctors told him they had to operate immediately to save his life. This is why the NBA is so cautious when it comes to head injuries. We'll keep you updated on Westbrook's condition.