Video Quick-Take: Serge Ibaka is still working on surviving the pump-fake
Serge Ibaka is one of the best shot blockers in the NBA. But is his man defense too vulnerable to pump-fakes?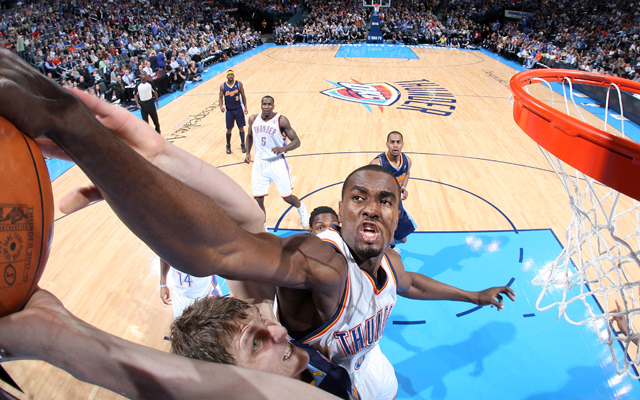 Serge Ibaka is a supreme shot blocker, but you can get him in the air with the fake.
(Getty Images)
A nice hoophead debate going around is about Oklahoma City's frontcourt defense. It's a pretty divisive issue. Many point to Kendrick Perkins' bullishness and Serge Ibaka's supreme athleticism and block timing and conclude that along with capable backups like the excellent Nick Collison, Cole Aldrich and Nazr Mohammed, they're a powerful opponent. Others point to Perkins' lack of mobility and height along with Ibaka's sometimes faulty instincts and have concerns. 
Ibaka's one of the few players in the league who can effectively guard Pau Gasol due to his athleticism and physicality. He is an elite help defender who can absolutely ruin good possessions just with his timing and leap. He has relentless energy and a terrific set of instincts for help. But there are some issues with his man defense. 
Specifically, the defense was exposed against the Memphis Grizzlies' duo of Marc Gasol and Zach Randolph in last year's playoffs. Thunder head coach Scott Brooks essentially had to bench Ibaka during that series because of the damage Zach Randolph did to him with his pump-fakes from short range.
Ibaka's improved a in a ton of areas, and is still so young, he's only going to get better. But there are certain forwards that continue to give him trouble. A nice example of this came Tuesday night versus the Jazz when Paul Millsap did this:  
Now, again, this is one play. It's not like this shows conclusively that Ibaka is a terrible defender who falls for any pump-fake you throw his way. But it happens enough. He's an eager defender, which is a good thing. But you can tell he's still not comfortable guarding a face-up defender in space from short-range. He wants you at the rim, or on the move. He's arguably the best help defender at the rim in the league, with apologies to Tyson Chandler. 
But he does have trouble with players specifically like Millsap, guys wth size and range who can attack aggressively with both their jumper and on the drive. Millsap and Randolph aren't much alike, but their ability to score with touch and get to the rim do provide a model for what Ibaka struggles with. 
Tim Duncan on a good day, DeJuan Blair, Randolph, Luis Scola, Lamar Odom with his head screwed on, and Al Harrington are all players of this model OKC could run into in the playoffs. He can match up with Blake Griffin and Pau Gasol well, and he's going to be a force in any series he's in. But there are still question marks about OKC's defense that an be exploited, and this is one of them. It's a simple cold vs. the malaria that is OKC's backcourt defense, but it's going to be something to watch over the next three months. 
Then again, there may not be anyone else in the league who can do this:  
The fifth-year forward has continued his growth on both sides of the floor

Former Vegas bookmaker Micah Roberts just locked in his pick for this huge Wednesday night...

Another tough blow for a Clippers team that has lost nine games in a row
The All-Star forward injured his wrist during Sunday's loss to the Lakers

LaVar said recently that Walton doesn't know how to coach Lonzo

Kevin Durant returns to OKC to take on his former team