Video Review: How the Rockets ran the ball down the Mavericks' throat
Houston got out in transition, stayed out in transition, and racked up points vs. the Mavericks in Game 1. Can Dallas adjust in Game 2?
In Game 1 vs. the Dallas Mavericks, the Houston Rockets took an old-school football approach to win. They ran the ball down Dallas' throat. The Rockets racked up 29 points in transition, scoring 1.036 points per possession on 28 attempts. That efficiency isn't superb, but the number is. The Rockets basically went to the running game like the Texans with Arian Foster a few years ago. 
It was an all-out blistering, led by James Harden and Corey Brewer. Harden's 11 shot attempts don't reveal how instrumental he was in pushing the ball, drawing fouls (Harden alert!) and causing defensive collapses to open up the perimeter. 
And the problems weren't isolated. They were collective. Watch what happens when Brewer gets loose here. Amar'e Stoudemire can't catch up. Al-Farouq Aminu is worried about the lob, so he gets caught in "the fall's gonna kill you, Butch" territory. Monta Ellis is caught in no-man's land having to decide between stopping the ball and staying within range of Harden on the perimeter. Devin Harris just doesn't realize that he's got to help down and doesn't get down fast enough. Aminu doesn't commit until it's too late. Disaster.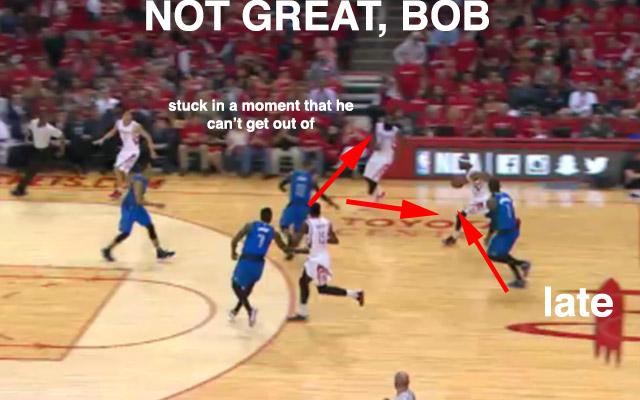 There are three key issues with the Mavericks' defense, though. Dirk Nowitzki, Rajon Rondo, and Monta Ellis. 
Nowitzki's speed is a basic issue. The Rockets hurt Nowitzki on off-ball cuts where Nowitzki though he could stay with his guy only to find Father Time hanging onto his leg like a toddler. And in transition, watch Harden just burst in front of him and how Nowitzki winds up twisted around. (Also Rajon Rondo slows up instead of going to get around Nowitzki to try a block if Harden gets the edge.)
Transition was the biggest issue, and if the Mavericks don't clean that up, they're in big trouble. But the problems extend into half court defense, and Dallas knew they were struggling, because they started fighting about it.
I'll be honest, I don't know what the problem is here. Dirk gets ticked off with Tyson Chandler, who was basically in no-man's land. If he steps up to guard the floater (as he kind of does, he gives up the lob. Even if he lunges to disrupt the lob, he's risking a foul. If he plays back to protect the lob, he gives up the floater. Someone's got to tag the roll man here. No one does. 
But Nowitzki wasn't the only tossing glares. Tyson Chandler gives Rajon Rondo the ol' staredown here when Rondo just watches the roll man get to the rim for Harden's dumpoff. Tyson contains the weakside, Nowitzki holds Harden off ... and the Rockets score.
So many problems. And some of it's simple stuff. 
Don't use the cliche, Matt. Don't do it. There's no need for it... I can't help it!
HAND DOWN, MAN DOWN, MONTA ELLIS!
And if the other team is pushing like the Rockets did? You had better not fall down, because then they hit you with the play-action deep ball, because it's like your corner fell down. Ellis goes to the floor forcing a fadeaway, and the result is this:
Let's play a game.
These are the things the Mavericks must improve in Game 2. The Mavs stayed in range in Game 1, and could have won. But Dallas has to stop the ball, keep contain, and communicate better. Without that, they're toast in Game 2 and this series.
The question is whether this is about communication, execution, or personnel. Rondo should be a great defender, but we haven't seen that player in three years. Nowitzki has been a solid defender, but he's getting up there in age and just doesn't move as fast. Ellis needs to be a better defender, but it may not be in his DNA. 
If the Mavericks can't find a higher level of execution with their personnel ... Dallas is going to be giving up touchdowns all day in this series. 
For more on Mavs-Rockets, check out Josh Bowe's excellent breakdown of Dirk Nowitzki's struggles at Mavs Moneyball, and Jake Garcia's work on how James Harden gave Dallas fits.
CBS Sports HQ Daily Newsletter
Get the best highlights and stories - yeah, just the good stuff handpicked by our team to start your day.
Please check the opt-in box to acknowledge that you would like to subscribe.
Thanks for signing up!
Keep an eye on your inbox for the latest sports news.
Sorry!
There was an error processing your subscription.
Kawhi Leonard wants to go to Los Angeles, but teams in L.A. are reportedly worried about his...

The 2018 NBA Draft, slated for Thursday, June 21, is fast approaching

O'Neal doesn't want LeBron to do what he did at the end of his career
Ayton may be taken first overall, but Doncic is the best passer and possesses the highest...

The Warriors once again defeated LeBron in the Finals and the Bay Area is feeling cocky

The NBA will only allow collegiate players in the Green Room this season