VIDEO: Spurs' Gregg Popovich gets a technical foul in Game 4
San Antonio Spurs' coach Gregg Popovich gets upset in Game 4 and earns himself a technical foul.
Perhaps Gregg Popovich really thought the San Antonio Spurs weren't getting the calls they should be getting against the Oklahoma City Thunder or maybe he was trying to find a way to fire up his team. Regardless of what his reasoning was, Pop earned another technical foul, this time in Game 4 of the Western Conference finals.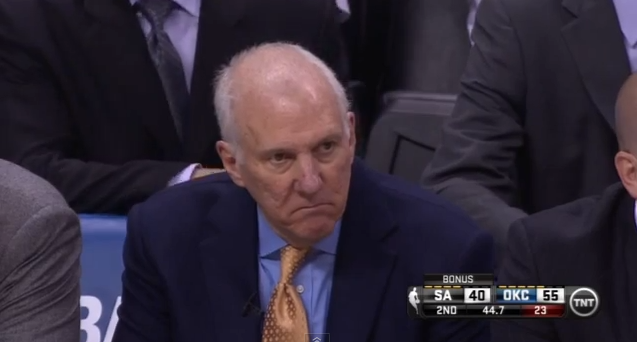 Pop is not a happy camper.
The Rockets are gunning for their 10th consecutive win

Victor Oladipo just wants to live his life and enjoy his breakout season with his new team

Keep it right here for all of the news, notes, scores, and highlights from around the Asso...
LeBron has a player option for next season, and is expected to opt out and become a free a...

The Pistons will be looking to snap a five-game losing streak when they host the Celtics on...

Bryant offers some advice for Ball and other rookies about having a sense of urgency in the...