VIDEO: Stephen Curry owns the third quarter in Game 1
Stephen Curry had another one of those third quarters.
Stephen Curry is Mr. Third Quarter. He owns them. 
Against the Spurs in Game 1, Curry scored 22 points in the third, and assisted for eight more. So of the Warriors' 39 points, Curry had a hand in 30 of them. He went 9-12 from the floor, had three assists, and scored 14 straight at one point. 
Here's his third quarter shot chart: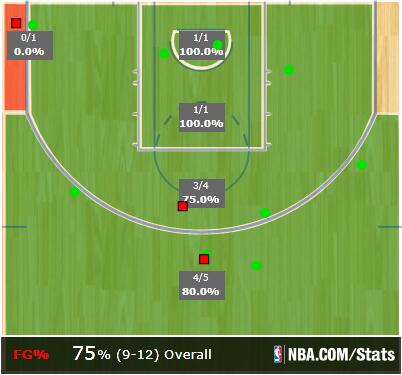 Stephen Curry, y'all. I'd say try stopping him, but you can't. You just can't. You can only hope he misses. 
Stephen Curry, who grew up in North Carolina, wants to be part of the next Panthers ownership...

Vince Carter is destined for a Raptors reunion; he doesn't know when it'll happen

Thomas has a target date for his return, and with the Cavaliers scorching, this could be h...
LeBron James once again is using his platform to be socially active

Not many games, but still plenty of action and intrigue Sunday in the Association

Kobe Bryant had a solid piece of advice for back in 2016 when he left OKC for Golden State