Video: Tony Parker nails the game winner over Thunder
Tony Parker nails the game winner over the Thunder to lift the Spurs to victory.
Russell Westbrook had a bad night. In the first game without James Harden, Westbrook tried to pull the Thunder to a victory late, going into the things he's most often criticized for when he misses, and never rewarded when he hits. He missed a lot. 
And Tony Parker had a pretty good night. After a Kawhi Leonard steal of a Westbrook pass to Kevin Durant (who came in soft and too deep to receive the pass), the Spurs, who had blown a late lead to allow the Thunder to tie the game, set up a play. And it was a beauty. 


The Spurs go to 2-0, the Thunder fall to 0-1.
Here's what happened on that play with Russell Westbrook, with a little illustration from us: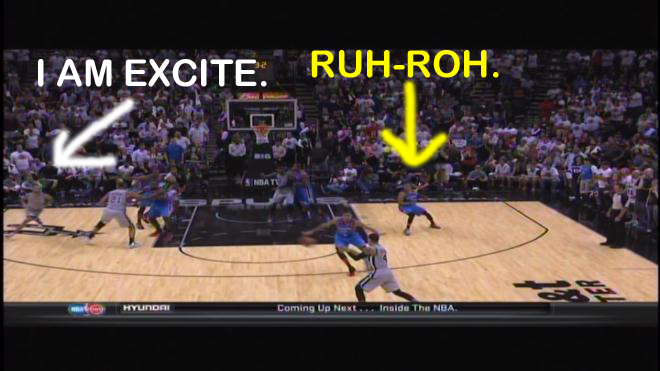 Westbrook tried to jump the pass when Green circle right, and Parker reversed course in the paint in between two screens and spit out. By the time the Thunder figured out what was happening...
It was all over. 
Wade opted in to his $24 million player option earlier this summer

Barkley spoke to the NFL Today crew about the response the president received in his home...

The restricted free agent has a deal in place that will keep him with the Bulls after a st...
James' support continues his trend of social activism on social media

The newly-acquired All-Star thinks the addition of Anthony boosts the Thunder in the NBA's...

The Knicks were asking for the house in discussions for Carmelo Anthony