VIDEO: Watch Terrence Ross tie franchise scoring record with 51
Raptors guard goes off for 51 vs. Clippers.
It's been a crazy scoring weekend in the NBA. Friday night Carmelo Anthony set a franchise record with 62 points. Saturday night, Terrence Ross did the same for the Raptors with 51, tying Vince Carter's franchise mark. 
How, you might ask?
Here's how. 
Here's how Ross' performance shook out: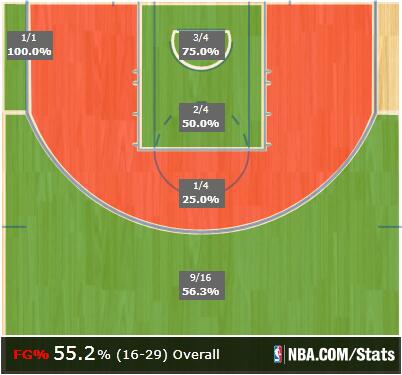 Yup, 17 three-pointers. That'll help get you there. You have to like that he didn't start going all "isolation mid-range jumper" and waste his efficiency. He started forcing some shots late trying to get that record. You can't blame the kid, DeMar DeRozan was out with injury, and he's 22 trying to make a name for himself. 
Still, a crazy fun performance in a weekend full of them. 
Kevin Durant says he doesn't agree with what President Donald Trump agrees with

Evaluating where the future Hall of Famer might land up if he is freed from Chicago's rebuilding...

Adam Silver said his piece with the schedule out; we address that and what the slate looks...
The Hawks and Sharecare reportedly agreed to terms on a five-year deal

A look at the context of the schedule and who plays who when, and how far they travel during...

Durant took on rapper Lil Dicky and actually might have lost