Vogel doesn't expect to rest Pacers for stretch run
Pacers coach Frank Vogel says the biggest grind is behind them, and doesn't expect to give nights off to his first-place team.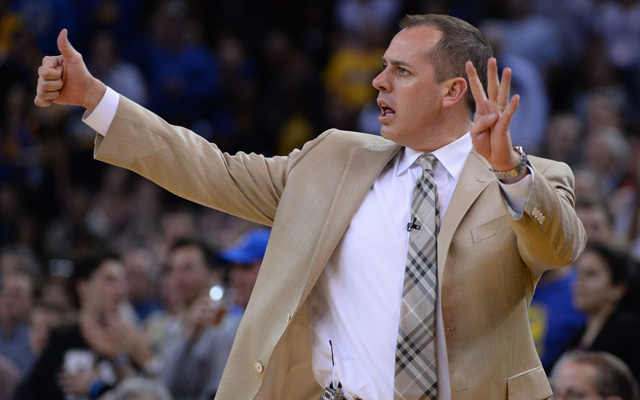 The Indiana Pacers entered the All-Star break with a lot to feel good about. At 40-12, the Pacers lead the Eastern Conference standings with a 2½-game lead over the Heat for home court in the East playoffs.
As Paul George and Roy Hibbert wrap up a weekend of fun and games (and a lot of media availability and parties involving loud music), Indiana will need to rev itself back up for the final stretch of the season. Some coaches have said that the toughest part is All-Star weekend until March 15-ish, when teams can finally see the finish line.
But Pacers and East All-Stars coach Frank Vogel said Saturday that's not the case in his mind.
"To me," Vogel said, "the biggest grind is behind us. From New Year's to All-Star, those dog days of winter. Now we can get revved up for the home stretch."
Vogel, who has impressed insiders over the past three seasons, really wowed media with his honesty and intelligence this weekend. He talked about the development process that has yielded stars in players like Hibbert, George and Lance Stephenson.
"Well, having good players," Vogel joked. "That's what makes it easy. The guys understand, they're easy to get well coached and well organized. You have to build on every little success they have and make sure they are walking out with their chest out and feeling good about.
"To do that you have to let them make some mistakes sometimes and encourage them. But these guys have all bought in."
Eventually, the gap between Miami and Indiana will likely grow. Miami is unlikely to push all the way to the end of the season; they'll want to get time off to rest their stars before the playoffs. But Vogel says that no matter what happens, he'll monitor minutes for injury but isn't really focused on getting guys games off for rest.
"We'll keep an eye on it. We've got a fairly young team so I don't know if guys want to take any games off like Popovich does with his guys. We'll look at some the energy of some of the veterans."
Don't count on David West being one of those guys, Vogel said.
"If I ever told David West to take a night off, he'd probably strangle me."
The Warriors used a huge third quarter to come back from a 23-point deficit to get the win

Three takeaways from Golden State's 24-point rally past the Sixers

Okafor has played only 25 minutes this season
Capela's shoe slipped off, and was sitting near the free throw line

The Magic will instead play in the Las Vegas Summer League

Ball walked away from an altercation between the Lakers and Suns on Friday night