Wade and Ginobili, rejuvenated stars, face off in key Finals matchup
Dwyane Wade and Manu Ginobili are healthier than they were last year, and who manages to gain the advantage could decide the Finals.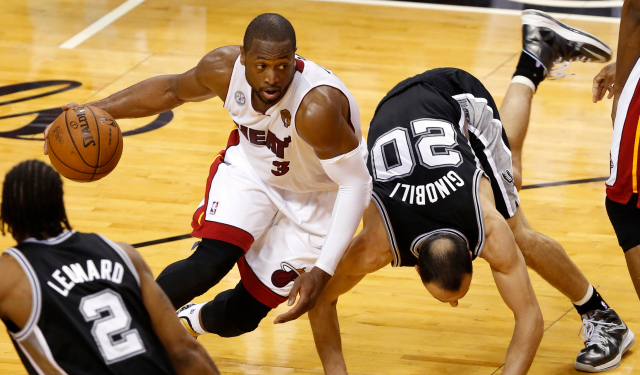 More postseason coverage: Playoff schedule, results | Latest news, notes
SAN ANTONIO -- They are legends, each representative of the two finest teams in the NBA, and in many ways, the beating hearts of these two franchises that stand poised on the edge of adding yet another championship. The San Antonio Spurs' Manu Ginobili and the Miami Heat's Dwyane Wade face off Thursday in a battle that will not carry with it the same level of attention as what LeBron James will face, or Tim Duncan's and Tony Parker's brilliance.
But it is their matchup that may hold the most intrigue when the NBA Finals begin Thursday night as the Heat and Spurs host a rematch of last year's classic series. And for both men, it's a chance at reclaiming what they feel is their rightful level of excellence after physical struggles last year.
In their first meeting last June, neither player was himself.
Ginobili talked at length last year about how much of the struggle last season was, and in particular, the Finals. He averaged just 11.6 points vs. the Heat, with 4.3 assists and 3.1 turnovers, looking overwhelmed at times by the Heat's athleticism. But after a much better season, Ginobili has averaged 14.3 points per game, only 2.2 turnovers per game, and shot 38 percent from three. He shot 25 percent from deep last season.
On Wednesday, Ginobili said he feels about the same as he did last year at this time.
"I'm the same, no big difference from last year," he said. "I did have a tougher time the entire season, however. But I feel I'm in a good situation."
Wade averaged 19.6 points per game vs. the Spurs last year and shot 48 percent from the field. But the Heat were outscored by 7.7 points per game when Wade was on the floor, 7.8 points per 100 possessions. Many thought this was the beginning of the end for his career, that age was the culprit, not injury, while the Heat maintained he was merely dealing with a sore knee that had been hit several times in the regular season and playoffs.
In the offseason, the Heat put together a plan to get Wade healthy. He missed 28 games this year for Miami, which Erik Spoelstra says was part of a long-term design to prepare him for this moment.
"Dwyane was coming off a procedure," Spoelstra said Wednesday, "OssaTron therapy for his knee. We knew he wouldn't be available, we knew he wouldn't be at a top health level at the beginning of the season, but we wanted him to be available for training camp, whatever that meant.
"Might be a day, two days, he ended up doing a lot more than we thought, but we knew he would have to manage it, he wouldn't be able to play in 14 or 15 games in that first month, and our objective was t get him healthier and stronger as the season went on. We put together a program; if he couldn't pass a series of tests, then he wouldn't play that night. It was as simple as that. We would all look smarter to say it was built for this moment, it was built to get better and build him up, coming off a procedure to do it intelligently and also do it with flexibility."
Wade was asked if he felt better this season.
"I feel better. No percentages. I feel better. That's my Gregg Popovich moment," Wade joked.
But Spoelstra had more to say on the subject.
"He is [in a better place with his body] and we talk about it all the time," Spoelstra said. "And I mention it to him, you just have to find a way. Is he feeling better about himself physically this year than last? Yes. Did he have a big impact on last year's series even when he had to do 24 hours around the clock of treatment? He still had a big impact, particularly at the end. Dwyane is competitor. He knows that no matter what happens hat he has a chance to impact the game."
Wade is averaging 18.3 points per game this postseason, down from that Finals mark, but shooting 51 percent from the field with a 21.0 PER, up from 18.7 last year in the playoffs.
But beyond the numbers, Wade and Ginobili look like better players, more like themselves. Ginobili is carving up defenses in the pick and roll, slipping to the rim like a ninja and leaving defenders frustrated. He's bombing threes from behind the pick and making plays with his passing that shows that his mind isn't hampered by physical struggles.
Wade is slicing off the ball, getting out in transition. He has become much better finding shots in the mid-range area, his sweet spot, and has even hit some threes, miraculously. He's locked in on defense and looks like the athletic playmaker of old. He looks athletic and spry, and that version of Dwyane Wade is a whole other problem.
Wade's health is also reflected in how he's playing. He's averaging more time spent in post-ups and isolation than last year's playoffs, with increased effectiveness in the post. That can be problematic for Ginobili when guarding Wade.
Meanwhile, Ginobili has been much more effective on-ball in these playoffs. He has spent 40 percent of his time in the pick and roll as the ball handler, according to Synergy Sports, and is averaging .87 points per possession. That's compared to only 29 percent of the time and only .56 points per possession in the pick and roll last year. He struggled in the pick and roll last year; this postseason, he's been deadly in it.
Each has difficulty defending the other. Wade struggles with Ginobili's craftiness, which requires Wade to remain mentally engaged on him for the entire possession; slack of help off for just a second, and Manu will find a way to make you pay for it. And Ginobili can be overwhelmed by Wade's size and athleticism. Wade can attack his dribble and still impede his progress. Ginobili hasn't faced a defender nearly as effective as Wade in these playoffs; Wade hasn't had as crafty an assignment.
The two go beyond scorers, passers, leaders for their teams. They are playmakers. They create with their presence and their gifts. In this Finals rematch, the battle between two legends, rejuvenated in the twilights of their careers, could swing the balance of these Finals.
Davis left the Pelicans' game against the Nuggets in the third quarter

Popovich was upset about an out of bounds call

Wall went 3-for-12 from the field, and had just eight points in the Wizards' loss
Noah was reinstated from his 20-game suspension on Monday, but is yet to play for the Knic...

In his first season with the Cavs, Rose has not played since Nov. 7

Keep it right here for all your Friday NBA scores, updates and highlights