Want to save a life with Wolves point guard Ricky Rubio?
Minnesota Timberwolves point guard Ricky Rubio is helping spread awareness about what to do if you see someone suffer a sudden cardiac arrest.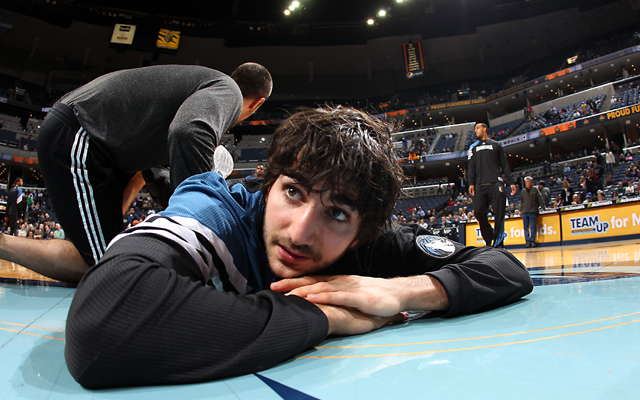 Minnesota Timberwolves point guard Ricky Rubio will help on and off the court.
(Getty Images)
Minnesota Timberwolves point guard Ricky Rubio is all about assisting the people he's around.
In his rookie season, he finished sixth in the NBA in assists per game with 8.2 before blowing out his ACL with 25 games left in the season. As he works his way back from the serious knee injury, he's slowly rounded his way back into racking up assists. He's averaging 6.0 on the season, 8.8 per 36 minutes (8.6 per 36 his rookie season), and has a career assist percentage of 37.6 percent. 
But that's not the only place Rubio is lending a helping hand. He's helping spread awareness about cardiac arrest. The Medtronic Foundation is promoting the Heart Rescue Project online with a website that walks you through what to do if you witness someone at the gym or in the mall or in any public environment suffer a cardiac arrest.
By going to this website, you can basically go through a "choose your own adventure" type video of saving someone at the gym with the help of Rubio, who is working out next to you. Choose the wrong option and you'll gravely endanger the victim and possibly even see them pass away.
There are options like chest compressions, sending Rubio to go find help, or asking Rubio to help get an AED (automated external defibrillator) machine to bring the person back to life. To be honest, the first time I tried this exercise on the website, I may have picked a fatal decision by accident. 
(HINT: Do not send Ricky for help.)
This is a good cause and a cool way for players like Rubio to get involved in promoting it. Learn some necessary tips to help someone who has suffered a cardiac arrest, and pick up a few assists of your own.
Cousins suffered a torn Achilles tendon on Jan. 26, and will miss the rest of the season

Ingram has become one of the team's go-to players with Lonzo Ball sidelined with an injury

Giannis skipped EuroBasket last summer, and has missed four games this season with knee so...
Some of the best and worst from the league as we head into the home stretch of the season

Cuban acknowledged that tanking is 'brutal' and that he will no longer do that after this...

Cho has been the GM in Charlotte since 2011