Warriors' Andre Iguodala to return Tuesday against New Orleans?
The Warriors really need Andre Iguodala back, and they may get their wish Tuesday against the Pelicans.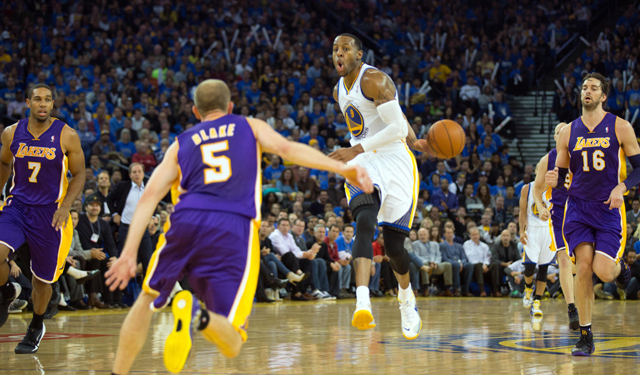 The Warriors have been without Andre Iguodala since November because of a hamstring issue, and they've felt it greatly. 
They've gone from an apparent Western contender to a team barely hanging on above .500. 
But they could be getting him back Tuesday against the Pelicans. 
Per CSNBayArea.com, Iguodala practiced at shootaround and might be back in the lineup.
Warriors forward Andre Iguodala was among the last players to walk off the court after the team's Tuesday morning shoot around, and he looked as if he's ready to rejoin the lineup after a 26-day absence.

That could happen, according to several Warriors sources, as early as Tuesday night's game against New Orleans at Oracle Arena.
Iguodala was a significant addition to the roster in the offseason, solving a lot of the Warriors' perimeter defensive issues. And with him, they were a top five defensive team for most of the first month. Without him, they've fallen into defensive mediocrity and with Stephen Curry and Klay Thompson not being able to shoot the Warriors to wins every night, the team has struggled. 
The Warriors have been bit hard by the injury bug early this season, and while they're a team that has its eye on April and May, they're starting to run the risk of not only acquiring an unfavorable playoff seed, but finding the playoffs at all. Which seems incredibly unlikely, but they need to shape up sooner than later.
And a big part of that would be having Iguodala again. He fixed a lot, both on the defensive end and offensively with his cutting, passing and ball-handling. So if he's back on Tuesday, which it sounds like he will be, the Warriors may be able to get right again before Christmas. 
A look at who came out ahead after Tuesday's megadeal swaps the point guards on the East's...

How the addition of IT changes the Cavs and where they go this summer depending on LeBron's...

Ainge said that he expects the start of Thomas' season to be delayed, but he'll be 'fine'...
The NBA MVP odds have shifted quite a bit following the blockbuster Kyrie Irving - Isaiah Thomas...

It's debatable whether Boston gets better right away with Irving, but the future is definitely...

Kyrie Irving was set to grace the cover of this year's video game in a Cavs jersey -- whoo...