Warriors' Andre Iguodala: 'We should not trade Klay Thompson'
Golden State swingman Andre Iguodala said that Klay Thompson is going to be "a Warrior for life."
• 2 min read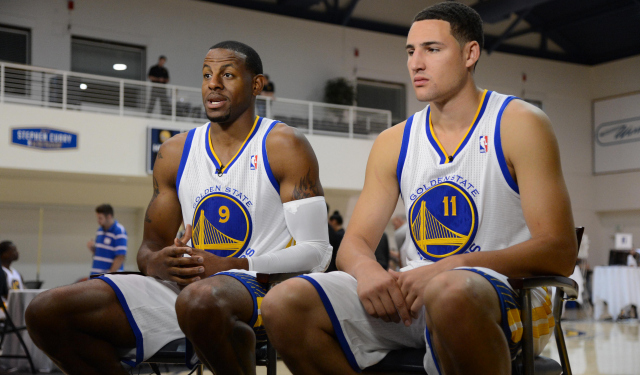 More Offseason Analysis: Coaching changes, news | Free Agency | Draft
Golden State Warriors swingman Andre Iguodala really, really, really doesn't want his team to trade shooting guard Klay Thompson, whose name has surfaced in trade rumors involving Minnesota Timberwolves superstar Kevin Love.. In an interview with SiriusXM NBA Radio, he made that abundantly clear, via the Bay Area News Group's Diamong Leung:
"That's not going to happen," Iguodala told Sirius XM on Thursday. "I want to clear that up right now. We should not trade Klay Thompson. "I tell Klay this every day. I text Klay and say, 'Don't worry. I'm your man. I'm going to make sure you get paid. I'm going to get you the max (contract). You'll be taken care of. Don't stress.'

"Klay really loves it in the Bay, and this is his first time going through trade rumors, and I've been through it many times, especially being in Philly. But Klay is my main man. I love Klay to death. One of my favorite people in the world even though he doesn't speak. But we're going to get Klay paid this year. He's going to be a Warrior for life.

"If I'm any other team, I'd take Klay as well, so I don't know. You've got to look at the pros out of it. I tell Klay this: 'Listen, if they're talking about trading you for Kevin Love, that means you're getting Kevin Love money.'"

…

Asked on radio what the Warriors had to do as a Western Conference team to get better and become a championships contender, Iguodala repeated his desire for Thompson to stay.

"We've got to keep Klay," Iguodala said. "I'm going to reiterate that. We've got to keep Klay first. Then we've got to take care of Klay."
Thompson is eligible for a contract extension this offseason. He will be looking for a maximum deal, according to USA Today's Sam Amick, and Iguodala is looking out for him like a good teammate. The veteran wants to keep building on last season; he doesn't want Thompson to have to go to a mediocre team.
There have been conflicting reports on whether or not the Warriors would be willing to include him in a deal for Love. Regardless of the fact it was reported that discussions were dead, talks between the two teams will surely continue.
While Thompson is a very good scoring guard who is not a liability on defense, Love is arguably a top-five player in the whole league. Obviously, Golden State would prefer to have both of them on its roster next season, but that's probably not possible. Iguodala's correct in that Thompson is going to get big money from some team. The reality is, though, that it won't necessarily be the Warriors. Not if they're serious about acquiring Love, anyway. 
The 13 finalists will find out if they have been selected on March 31

Casey, who has spent six years coaching in Canada, doesn't understand why the gun laws are...

Galin Dragiev is SportsLine's No 1. NBA expert and locked in a pick for Team LeBron vs. Team...
Boston is the only team with multiple All-Stars and multiple Rising Stars

The Mavericks rookie enters the dunk contest with a chip on his shoulder

Beal still scores a ton but he also is running Washington's offense with Wall out