Warriors' Andrew Bogut says he's '100 percent' healthy, not limited
Golden State Warriors' center Andrew Bogut has battled injuries for years but says he's finally 100 percent healthy and not limited to any restrictions.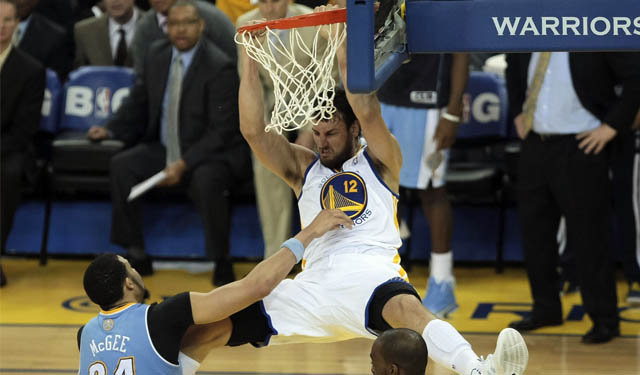 Over the past few seasons, Andrew Bogut has had some pretty serious injuries. In early April of 2010, Bogut slipped off the rim on a dunk attempt, which led to a fall that broke his hand and dislocated his elbow. In January of 2012, Bogut fractured his ankle, which ended his 2011-12 season after just 12 games and limited him to 32 games in 2012-13. Staying healthy enough to be on the court consistently has been a struggle for Bogut the past five seasons.
That struggle could finally be a thing of the past. Golden State Warriors players have been working out at the team facility and speaking to the media recently. Andrew Bogut has been there and working out without restrictions on what he can do or how long he can do it. He told the Associated Press that he's finally healthy and he doesn't expect to have any limitations or restrictions during the 2013-14 season either.
"I'm excited, man," he said.

After splitting time this summer with family in Australia and Croatia, Bogut said he's "100 percent" healthy and feeling the best he has since fracturing his left ankle in January 2012. He also said he has not been limited in any workouts since July and expects "to play a lot of minutes" this season - the final year of his five-year, $60 million contract.

"The most important thing is not having a trainer or coach tell you that there are restrictions on what you're doing," Bogut said. "I can come in here and do what I want. I can come in here and run. I can condition. I can lift. I can shoot. I can play five-on-five and nobody can tell me I can only do one set or play 20 minutes. I have none of that right now and I'm not going to have any of that during the season."
The presence of Bogut on the floor for the Warriors showed very few advantages during the regular season because he just didn't move all that well or have the proper conditioning because of those restrictions on what he was allowed to do in workouts. The Warriors' defense was marginally better with him on the bench while the offense improved by a couple of points per 100 possessions with him on the floor. 
However, in the playoffs we seemed to see a new Andrew Bogut. He was moving incredibly well, attacking the glass with ferocity, and he was even able to have a couple of monster dunks. With David Lee injured for most of their 12 playoffs games, Bogut's presence and increased ability to affect the game were really on display. The Warriors were nearly nine points per 100 possessions better on offense with Bogut playing and nearly eight points per 100 possessions better on defense with him on the floor.
We finally saw glimpses of the old Bogut from the Milwaukee Bucks days that led one of the top defenses around. The key to the Warriors' season of hoping to be a title contender rests primarily on Stephen Curry's ability to be the supernova scorer we saw against the Denver Nuggets, but they'll also rely heavily on Bogut's health and presence as a game-changing center. If he's finally able to stay healthy for an entire season and not have the same restrictions he had the previous few seasons, we'll see a lot more of this:
The Cavaliers gave up 148 points in their loss Saturday afternoon to the Thunder

Blatt made the comment before coaching in the All-Star Game in Turkey

We've got all the scores, highlights and news from all of Sunday's games
Is this rock bottom for the Cavaliers because it sure feels like it is

Wade, as he's done so many times in his career, threw it up to LeBron for the thunderous f...

The Warriors coach added there should be no shame in being picked last since everyone's an...