Warriors' Andrew Bogut to miss the next three games
The Golden State Warriors announced Andrew Bogut will miss the next three games, due to injury.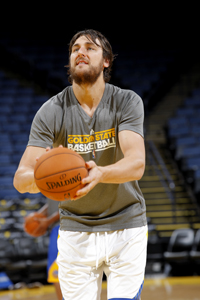 More like Aussie, Aussie, Aussie... Ow, Ow, Ow.
(Getty Images)
Andrew Bogut's surgically-repaired left ankle still isn't quite ready enough for him to resume playing in real games. The Golden State Warriors said Tuesday their Australian center will miss the next three games:
Warriors center Andrew Bogut, who spent several days last week in Los Angeles where he received treatment under the supervision of Dr. Richard Ferkel, will not play in any of the team's next three (3) games as he continues to strengthen his surgically repaired left ankle.

It is anticipated that Bogut will begin running on the AlterG treadmill later this week with the hopes of returning to practice activity with the team next Monday. His progress will continue to be evaluated and monitored by the team's medical staff and updates will be provided as appropriate. 

Bogut has missed the last six (6) games as he continues to strengthen his left ankle following surgery on April 27.
With the Milwaukee Bucks owning a better winning record than Golden State right now, I'm sure Warriors fans would like to see some progress with getting Bogut on the court and keeping him healthy enough to play. The Warriors have done a great job of fighting through his injury to begin this season. The team is 6-5 on the season and 4-3 in games without their starting center.
If Bogut only misses the next three games, he'll miss a stretch of home games against the Nets and Timberwolves sandwiched around a road game against the Nuggets. He would supposedly be back Nov. 29 for a home game against Denver.
That gives Bogut over a week to continue his rehab work, assuming he'll be back after just three more missed games. So far this season, he's played in just four games. In just 18.3 minutes per game, he's averaged 6 points, 3.8 rebounds and one block. He's also made 55 percent of his shots from the field. 
He's missed 137 games over the past five seasons, counting this one.
The third member of the club might come as a surprise

LaVar said Lonzo won't lose again this week, and Marcin Gortat found that pretty funny

Eric Bledsoe is going to be traded at some point and these tweets will explain how it got...
Curry's outburst will cost him some money, but he won't miss any games

A look at the ups and downs for various suitors as Bledsoe has left the team.

Mike McClure, a DFS pro with more than $1M in winnings, gives optimal DraftKings and FanDuel...