Warriors bounce back against Clippers: Five things to know
Golden State dominated Los Angeles for the vast majority of Saturday night.
• 3 min read
A day after the Golden State Warriors' fifth loss of the season, they rebounded with a 115-112 victory over the Los Angeles Clippers at the Staples Center. Klay Thompson started the evening on fire and finished with a game-high 32 points on 11-for-22 shooting, and Stephen Curry had 23 points and nine assists. 
Here are five things to know about the game in which the Warriors got back on track:
1. No Bogut, no Ezeli, no problem. How many teams in the league would be fine without their starting and backup centers? Golden State started Brandon Rush, a wing who barely played last season, and it wasn't a problem. Everyone knows the Warriors' smallball is the NBA's unsolvable problem, but it's worth appreciating just how special this is. The Clippers played fairly well, made a few different runs and still trailed by 18 at one point in the fourth quarter. 
This is possible because 6-foot-7 Draymond Green, a true NBA anomaly, gives opposing coaches and centers nightmares. Unlike that Philadelphia 76ers game in late January, it never looked like Green was chasing stats en route to his 18 points, 11 rebounds and 10 assists. This was his league-leading 11th triple-double of the year.
We've been talking about the "lineup of death" since early in the season, and we're no closer to figuring out how to slow it down.
2. An aggressive Draymond Green is the best Draymond Green. He wasn't the leading scorer -- that was Thompson -- but he might have been the most impactful. That is par for the course for Green. What's notable about this, though, was how confident he was in attacking the basket. The floor was spread all night and he was fearless in one-on-one situations against DeAndre Jordan. Three different times in the first half, Green went right at the 7-footer and finished over the top of him. While Green's passing has stood out all season, he makes his team even more dangerous when he's a scoring threat. 
3. This was nothing like Friday. If Golden State was a different team, you might have thought it would be vulnerable in this situation. After all, it suffered a loss in a late game Friday in Portland. No one likes back-to-backs on the road, but with this particular group, you expected the Warriors to respond. They did. 
Turnovers were the main source of their problems against the Blazers -- they had 13 in the third quarter alone, more than any team had committed in a quarter in eight years. Naturally, against the Clippers, Golden State started the game focused, building a 33-20 lead going into the second quarter with zero turnovers. The Warriors only turned the ball over 14 times Saturday, but a few of those happened in the final couple of minutes. Which brings us to ...
4. It really wasn't as close as the final score indicated. Los Angeles went on a 13-0 run in the final couple of minutes. The lineups for most of that run?
Golden State: Leandro Barbosa, Ian Clark, Brandon Rush, Kevon Looney and Jason Thompson.
Los Angeles: Pablo Prigioni, C.J. Wilcox, Wesley Johnson, Jeff Green, Alex Stepheson. 
I'll bet you don't even know who Stepheson is. The Clippers signed the big man to a 10-day contract Saturday -- he was a D-League All-Star with the Iowa Energy.
In the final seconds, Wilcox stole an inbounds pass and threw up a desperation heave that would have tied the game. It was way short, but it's crazy that Los Angeles even had an opportunity to force overtime.
5. Jamal Crawford can put on a show. The NBA's prototypical bench scorer has been carrying the Clippers' reserve unit for quite some time now, and this was one of his best performances of the season. When he gets going, it seems like he can get his shot off whenever he wants, and it doesn't matter much whether his high-arcing jumper is contested. This Crawford game had a bit of everything: one of his patented 4-point plays, a 30-foot 3-pointer and a scoop shot that had absolutely no business going in.
Crawford is always going to have his critics because of his defense and the fact he hasn't been all that efficient this season, but it's always entertaining to see him get on a roll. He finished with 25 points on 7-for-18 shooting in a team-high 38 minutes.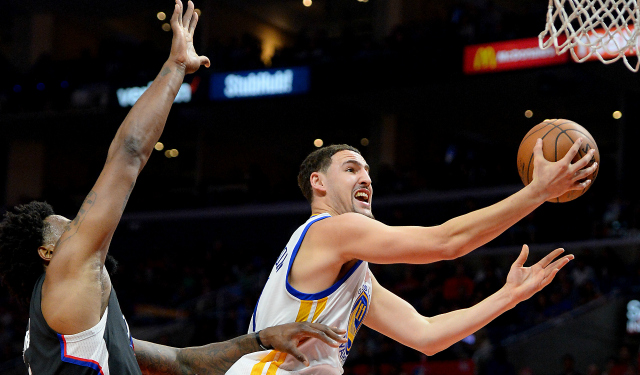 The Ball brothers better put their heads down and focus on basketball, according to Billy...

Paul George returns to Indiana for the first time since his trade to the Thunder

Also, LeBron James' historic season continues, while Kevin Durant reminds us who he is
The Rockets are looking for 11 in a row

Indiana hasn't hosted the NBA's star-studded event since 1985

Is the hype fair, or are these three men really above their peers as the NBA's best sideline...