Warriors, Bucks swap Monta Ellis for Andrew Bogut in 5-player trade
The Golden State Warriors and Milwaukee Bucks have reportedly agreed to a trade that would see Monta Ellis exchanged for Andrew Bogut, among other trade pieces.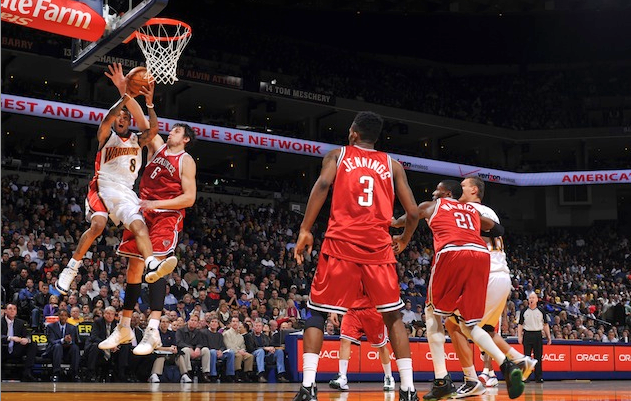 Monta Ellis and Andrew Bogut will be switching uniforms.
(Getty Images)
Call this the "Damaged Goods Deluxe."
The Golden State Warriors and Milwaukee Bucks are reportedly closing in on a deal that would exchange guard Monta Ellis for center Andrew Bogut, and include a number of other fairly well-known names.
Yahoo Sports reports the details
.
The Golden State Warriors have agreed in principle to trade guard Monta Ellis and two players to the Milwaukee Bucks for center Andrew Bogut and Stephen Jackson, league sources told Yahoo! Sports.

The Warriors will send forward Ekpe Udoh and injured center Kwame Brown to the Bucks as part of a package for Bogut, one of the NBA's most talented – but also often-injured – centers. The deal will be officially completed later on Tuesday night, one executive involved in the trade said.
Ken Berger of CBSSports.com has
confirmed the deal's particulars
.
Update
: Early Wednesday morning, the two teams sent press releases announcing the 5-player trade was official.
The deal's centerpieces -- Ellis and Bogut -- have both been in trade rumors regularly over the past few year. Jackson, too, has reportedly been at odds with Bucks coach Scott Skiles since coming to Milwaukee in a 2011 draft day trade.
Golden State has long faced the question of whether pairing Ellis and point guard Stephen Curry in the backcourt was a reality that could maximize the effectiveness of both players. They've also been on a long quest for a quality center, a journey that took them to chase Nene Hilario, Tyson Chandler and DeAndre Jordan in free agency, only to strike out on all counts. The biggest issue with Bogut, of course, is that he's not currently healthy. In fact, it's not clear whether he will be able to play at all this season.  The good news for the Warriors: he's under contract through 2013-2014, so they will get at least two years out of him.
Taking back Jackson and his baggage is a calculated but significant risk. His contract runs through 2012-2013 and he's already made noise about wanting an extension. He enjoyed some of his best years as a pro in Golden State but he has the potential to be a distraction everywhere he goes.  On the upside, he can provide some raw scoring and shot-creation that Golden State will lose with Ellis' departure.
Milwaukee pairs Ellis with starting point guard Brandon Jennings in what will become one of the most exciting backcourt combinations in the league. How effective will it be? That's anyone's guess. Kwame Brown is out for the season due to injury so he's included simply to match salaries. Ekpe Udoh shows promise as a shot-blocker and is a bit of a darling for the advanced stats community, but has so far failed to deliver on his 2010 lottery expectations.
From a salary standpoint, Brown is on an expiring $6.75 million salary, Udoh is still on his rookie deal, and Ellis will be paid $11 million this year and $11 million next year, with an early termination option following that season. Bogut will make $12 million this season, $13 million next season and $14 million in 2013-2014. Jackson is making $9.2 million this year and $10.1 million next year. 
An important footnote:
BasketballProspectus.com notes
that the Warriors' 2012 first round pick is top-7 protected. In other words, if Golden State finishes with one of the league's seven worst records they will keep the pick, otherwise it is transferred to the Utah Jazz. The Warriors will need to drop multiple spots in the league standings to hit that benchmark; Trading Ellis and waiting on Bogut certainly increases the chances that could happen. The 2012 Draft class, of course, is considered one of the deepest in recent years.
Both sides part with old problems and acquire new problems. It's understandable that both Milwaukee and Golden State would be tired of the same old routine. The Bucks, in dealing with a seemingly endless string of injuries from Bogut. The Warriors, in having made the playoffs just once in the last 18 seasons. This amounts to a major chemistry shakeup from two teams either on the fringe or just outside the playoff picture in their respective conferences. For Milwaukee, Ellis represents an instant infusion of talent; For Golden State, waiting on Bogut will be an exercise in delayed gratification.
We've got all the scores, highlights and news from an NBA Tuesday

The former Slam Dunk Contest champion will take his talents to Tri-State

Do NBA players have look-a-likes from famous paintings? We found out on the new Arts & Culture...
Larry Hartstein is on quite a run in picks involving the Suns and the Trail Blazers

Rodman's agent says he is urging the ex-NBA star to check into rehab

The players and referees are working to fix a relationship that has recently been deterior...